The 4th of July is one of my family's most coveted and anticipated holidays.  We spend our summers on Block Island, Rhode Island and the 4th celebration is the kick-off to what is inevitably a fabulous summer of memory making.  The July 4th celebration begins with the watching the parade wind through town and ends with our annual cookout.  The menu is classic cookout fare with a few twists and turns!! Of course we have the obligatory hamburgers and hot dogs with all the fixin's, but one year I decided to mix it up and serve up some 'specialty' burgers – my Spaghetti and Meatball Burgers.  They are comprised of a meatball type mix with actual spaghetti noodles woven through the meat.  They are topped with provolone cheese and a dollop of spaghetti sauce.  The burgers are placed on garlic bread rolls and topped with Caesar salad — it's veritable Sunday dinner at your Nonna's house in every bite!  One year I decided not to make them and there was a literal mutiny, so now they are a staple on the menu every year.  Note – you can click on the photos and bold text in this blog and a link will pop up bringing you directly to the recipe!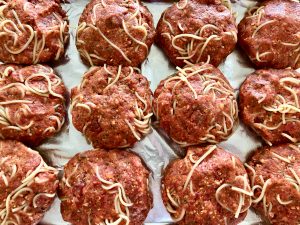 But I am getting ahead of myself!  The party actually starts with a bevy of appetizers.  The menu can vary and friends contribute their specialties, but my 3 go-tos are classic Seven Layer Dip, my award-winning Block Island Stuffies, and my mom always brings Deviled Eggs.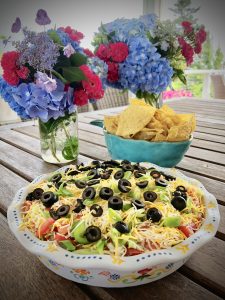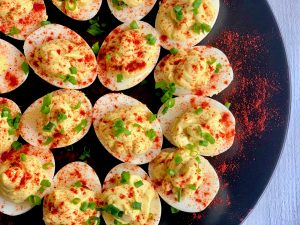 And then, the Salads!  No cookout is complete without a plethora of yummy salads.  I make a variety every year with a few regulars in the name of tradition and to avoid another mutiny like we had with those spaghetti burgers…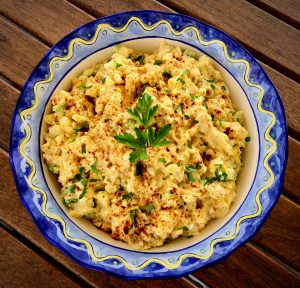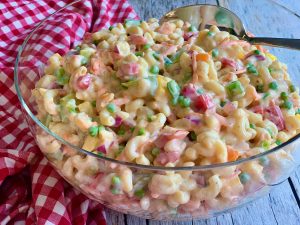 Here are some more fun pics from past 4th celebrations!!