ASIAN NOODLE SALAD WITH RAINBOW VEGGIES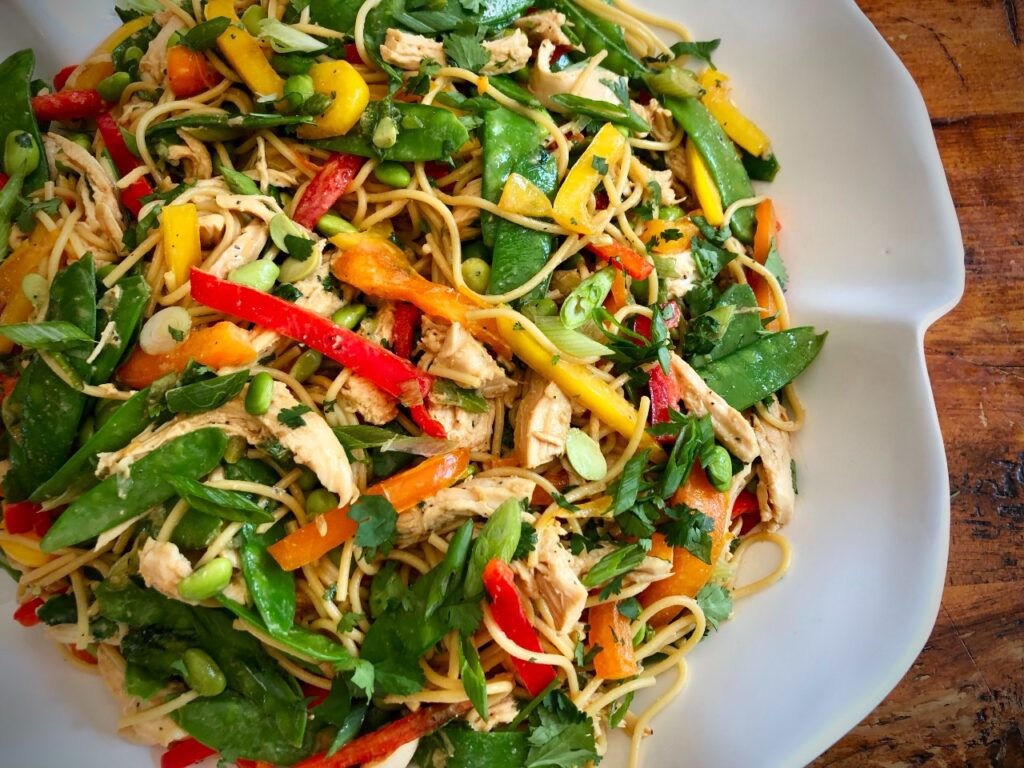 1-pound linguine or spaghetti, cooked al dente
¼ cup olive oil
2 cup snow peas, stringed
3 cups cooked chicken breast, shredded (or cooked shrimp)
3 scallions, white and green parts sliced thin
⅓ cup cilantro leaves, chopped
1 red bell pepper, julienned and cut into about 3" strips
1 yellow bell pepper, julienned and cut into about 3" strips
1 orange bell pepper, julienned and cut into about 3" strips
1 ½ cups edamame beans, cooked and shelled
Dressing:
¾ cup soy sauce
¼ cup creamy peanut butter
¼  cup rice vinegar
1 tablespoon sesame oil
1 tablespoon sugar
1 teaspoon fresh ginger root, grated
1 jalapeño, minced
1 teaspoon black pepper
Place cooked linguini in a large bowl and toss with the olive oil to keep it from sticking together while you prepare the rest of the ingredients.
Place snow peas in a small pot of boiling water until bright green and crisp tender, about 30 seconds.  Rinse with cold water and drain well.  Add to the bowl with the noodles along with all of the other salad ingredients.
Combine all of the dressing ingredients in a small bowl and whisk vigorously until a smooth dressing forms.  Add the dressing to the bowl  with the noodles and veggies and mix thoroughly until everything is well coated with the dressing.  I find it easiest to use my hands for this.  Served chilled or at room temperature.
Select multiple categories to narrow your search! Want appetizers made with chicken? Just select both Appetizers and Chicken!