THAI GREEN PAPAYA SALAD (SOM TUM ส้มตำ)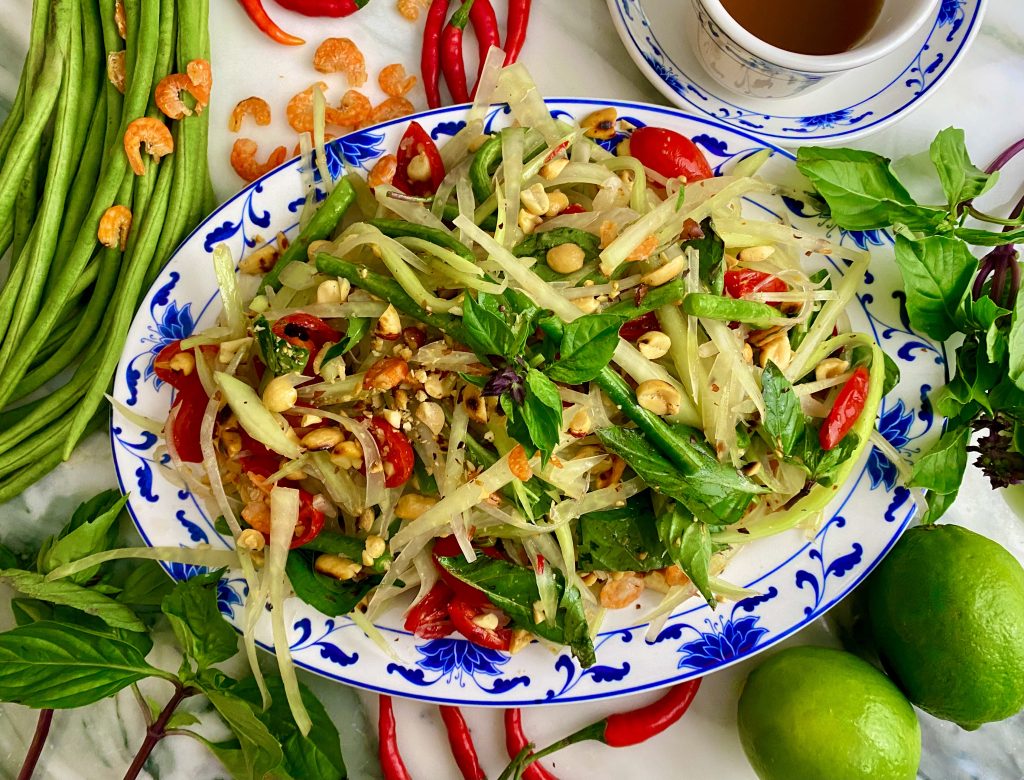 2 cups green papaya, peeled, seeded, and julienned (about 1-pound)
¼ cup peanuts
2 garlic cloves, chopped
1-2 Thai chiles, chopped (I use 1 for light spice, but add more if you like it spicier)
¼ teaspoon salt
1 ½ tablespoons small dried shrimp
1 ½ tablespoons palm sugar, packed (grated on the small holes of a box grater)
3 Chinese long beans, cut into 2-3" pieces
2 ½ tablespoons fresh lime juice
2 tablespoons fish sauce
½ cup grape tomatoes, cut in half
¼ cup Thai basil leaves
2 cups sticky or sushi rice, cooked to package directions
Soak the julienned papaya in ice water for 30 minutes or more.  Drain in a colander completely and then place in a large bowl lined with paper towels to absorb any excess moisture.  Remove the towels before assembling the salad.
Toast the peanuts in a dry frying pan over medium high heat until fragrant and lightly browned.  Rough chop them and set aside.
Place the garlic and chili in a large mortar and pestle.  Grind them with the pestle into a rough paste.  Add the salt, shrimp, and palm sugar and continue pounding and grinding until a smooth paste forms.  Add the long beans and pound until they are bruised.  Add the lime juice, fish sauce, and half of the peanuts to the bowl and mix well, twisting and pounding the pestle until all of the flavors are incorporated.
Add the tomatoes and basil to the bowl with the papaya and pour the dressing over the top (get every bit out of the mortar!).  With a large spoon in one hand and the pestle in the other, toss everything together while pressing and bruising the papaya and tomatoes with the pestle to get the flavor 'into' all of the components of the salad.  When everything is well incorporated, plate the salad and garnish with the remaining peanuts and more basil.
Serve with the sushi rice on the side and us it to soak up the dressing.  I like to serve it over the rice which is not traditional…. But it's yummy!
Select multiple categories to narrow your search! Want appetizers made with chicken? Just select both Appetizers and Chicken!