My daughter, Laura, is a high school junior who plays volleyball and lacrosse.  Each season, the night before each game, a parent hosts the team for a 'Spag Night', aka Spaghetti Dinner, where the girls can carb-load for the next day, but more importantly, bond, laugh, and celebrate their team spirit.  As you can imagine I look forward to these nights and preparing an Italian feast for these great girls!!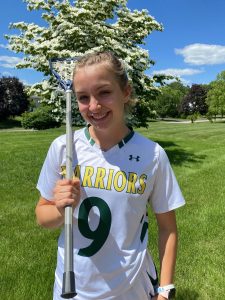 Of course, no 'Spag Night is complete without the namesake dish – spaghetti and meatballs, so I start a couple of days in advance by making a huge pot of my sauce and a ton of classic meat-a-balls!  Note – you can click on any of the photos in this blog and they will bring you directly to the recipe on the website!  Can you smell that sauce cooking?
I also always make Chicken Parmesan as it is the #1 request from the girls when I am making a spag dinner.  Chicken Parmesan (or parmigiana!) is a classic dish of breaded chicken topped with tomato sauce and gooey mozzarella and Parmesan cheeses.  It is said that it originated in American, not Italy, in the early 1900's by Italian-American immigrants.  It's a homerun when serving a large group as almost everyone loves it and the leftovers make the best sandwiches!
I also like to add another entree to the menu to give the girls more choices (and secretly expand their palettes!).  This year I went with a personal favorite of mine – Chicken Milanese. This Italian dish traditionally consists of a chicken (or veal) cutlet pounded thin, breaded, and fried in butter or olive oil and topped with a salad.  My version is topped with a decadent lemon cream sauce and arugula salad with shaved parmesan.  I also serve a side of angel hair pasta with more of that incredible lemon cream sauce.  Chicken Milanese, as the name suggests, hails from Milan and dates back to at least 1134 when it was recorded to be served at a banquet for the canon of St. Ambrogio Cathedral!
Of course, no spaghetti dinner or Italian feast is complete without Caesar salad.  I make a traditional Caesar with homemade croutons, but you might also want to check out my Shaved Brussel Sprout Caesar – the girls went wild and couldn't believe they were eating Brussel sprouts!
Did I mention these gorgeous girls ate 4 HUGE loaves of garlic bread???
And then there was dessert!  I doubled the recipe for my Strawberry Trifle and they killed it.  This recipe is SUPER easy and never disappoints!  Perfect for brunch, a cookout, or a spag dinner!!
Here are some fun pics of these crazy gals!