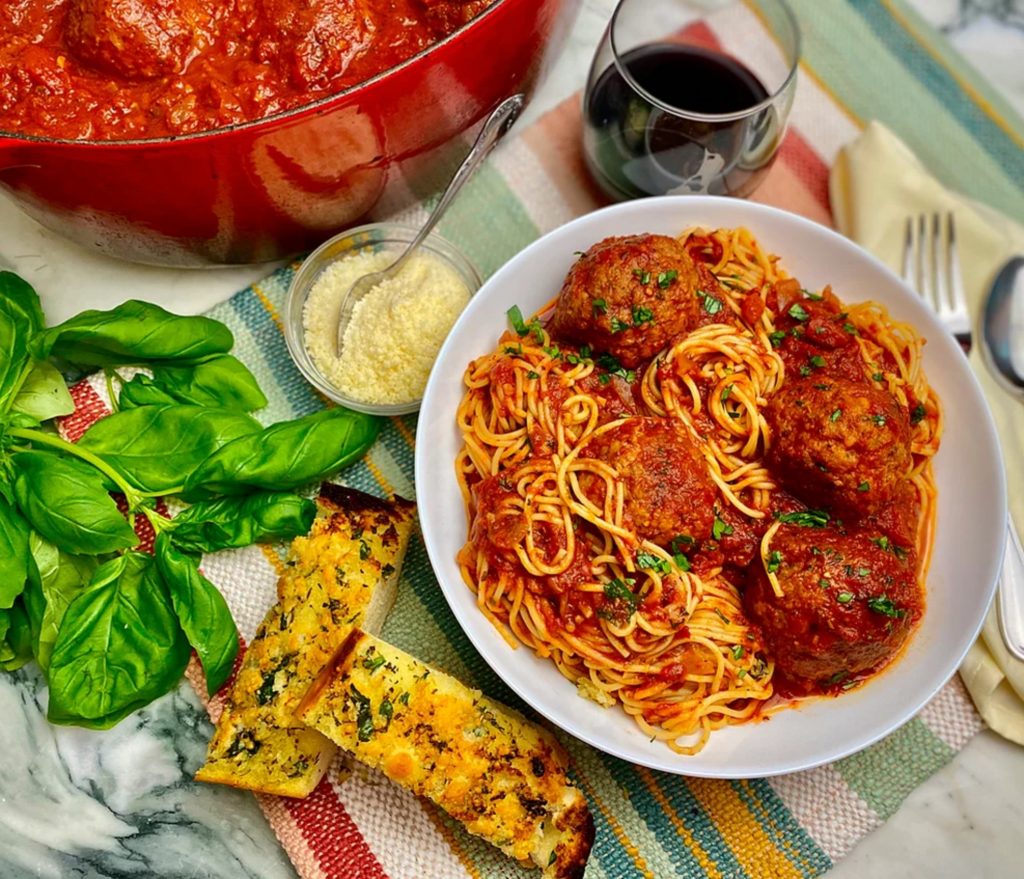 4 slices white bread
1 cup milk
2 cups Italian breadcrumbs
1 cup grated parmesan cheese
2 teaspoons salt
2 teaspoons black pepper
2 teaspoons granulated garlic powder
1 ½ tablespoons Dish off the Block Ciao Bella Italian Spice Blend
3 ½-4-pounds ground beef (80/20)
1 ½-pounds ground pork
2 eggs, beaten
4 tablespoons olive oil
Tear the bread into small pieces and cover with milk in a small bowl and let sit for 5 minutes.
Combine the breadcrumbs, parmesan, and all of the herbs and spices in a small bowl and stir to combine.
Place the ground beef and pork in a large bowl with the eggs.  Mix with your hands until meats are combined.  Add the dry ingredients along with the milk soaked bread, and gently massage all of the ingredients together until just thoroughly combined.
Form the mixture into 3" balls.  Pan sear the balls in olive oil over medium heat until browned on all sides.  If serving right away, place meatballs on a cookie sheet and bake at 350 until just cooked through, about 10-20 minutes.  Place in warm spaghetti sauce and simmer over low heat until ready to serve.  If you are not serving right away, you can just transfer the meatballs directly to sauce and let them finish cooking in the sauce.
Makes 60-70 3″ish meat-a-balls.
Select multiple categories to narrow your search! Want appetizers made with chicken? Just select both Appetizers and Chicken!