PAM'S CIAO BELLA SPAGHETTI SAUCE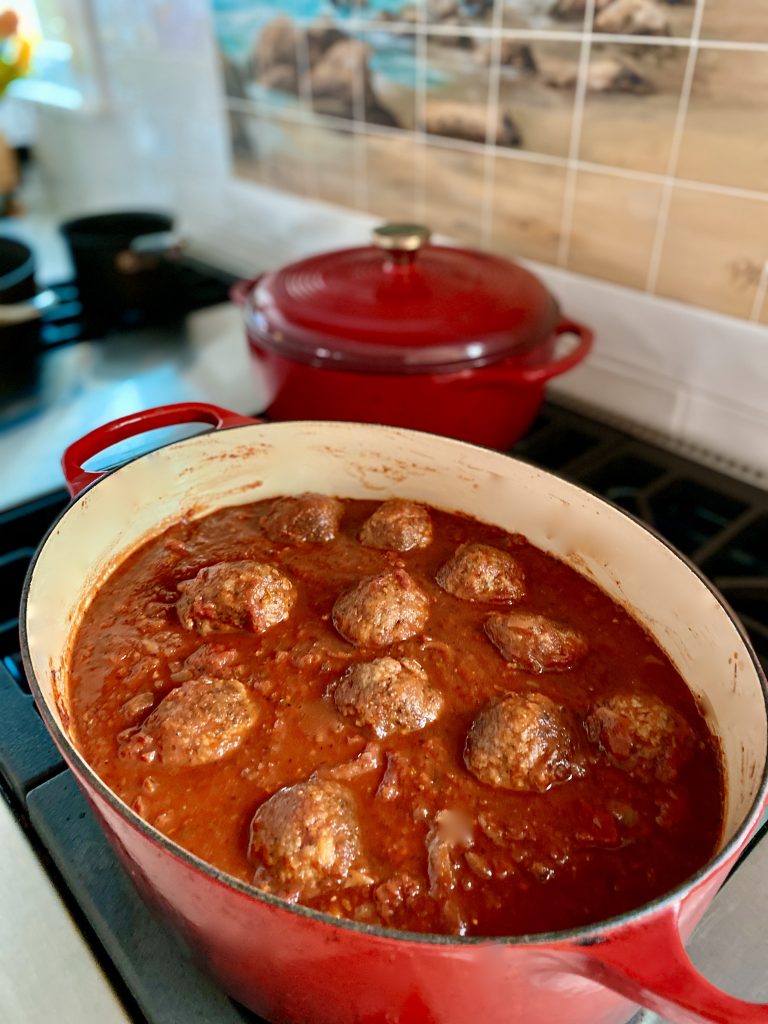 ¼ cup olive oil
2 large onions, chopped
⅓ cup chopped garlic, about 15-20 cloves
4 tablespoons Dish off the Block Ciao Bella Italian Spice Blend
1 tablespoon dried basil
1 tablespoon dried oregano
2 cups dry red wine
3, 28-ounce cans whole San Marzano* tomatoes
1, 28-ounce can chopped San Marzano* tomatoes
1, 28-ounce can crushed San Marzano* tomatoes
3 teaspoons salt
3 teaspoons black pepper
¼ cup sugar
Heat the olive oil in large (7-9 quart) Dutch oven or soup pot over medium high heat.  Add the onions and garlic and cook for 4-5 minutes, stirring frequently, until soft and fragrant.  Add the Italian seasoning, dried basil, and dried oregano.  Cook for 2 more minutes letting the spices bloom, stirring frequently.
Add the red wine and cook for 1 minutes, stirring with a wooden spoon to deglaze the bottom of the pan and scrape up any brown bits into the sauce.  Add the cans of whole tomatoes and bring to a boil.  Crush the whole tomatoes with your wooden spoon as the sauce cooks (you can also use a potato masher or pastry blender to break down the tomatoes).
Add the rest of the tomatoes, salt, pepper, and sugar to the pot.  Bring back to a boil, stirring frequently, and then turn heat to a low simmer.  Cover, leaving a vent for steam to escape and cook, stirring occasionally, for 2-3 hours.
If you are making meatballs, you can add them to the sauce after 1 hour of cooking.
Select multiple categories to narrow your search! Want appetizers made with chicken? Just select both Appetizers and Chicken!