CHICKEN MILANESE WITH LEMON CREAM SAUCE AND ARUGULA SALAD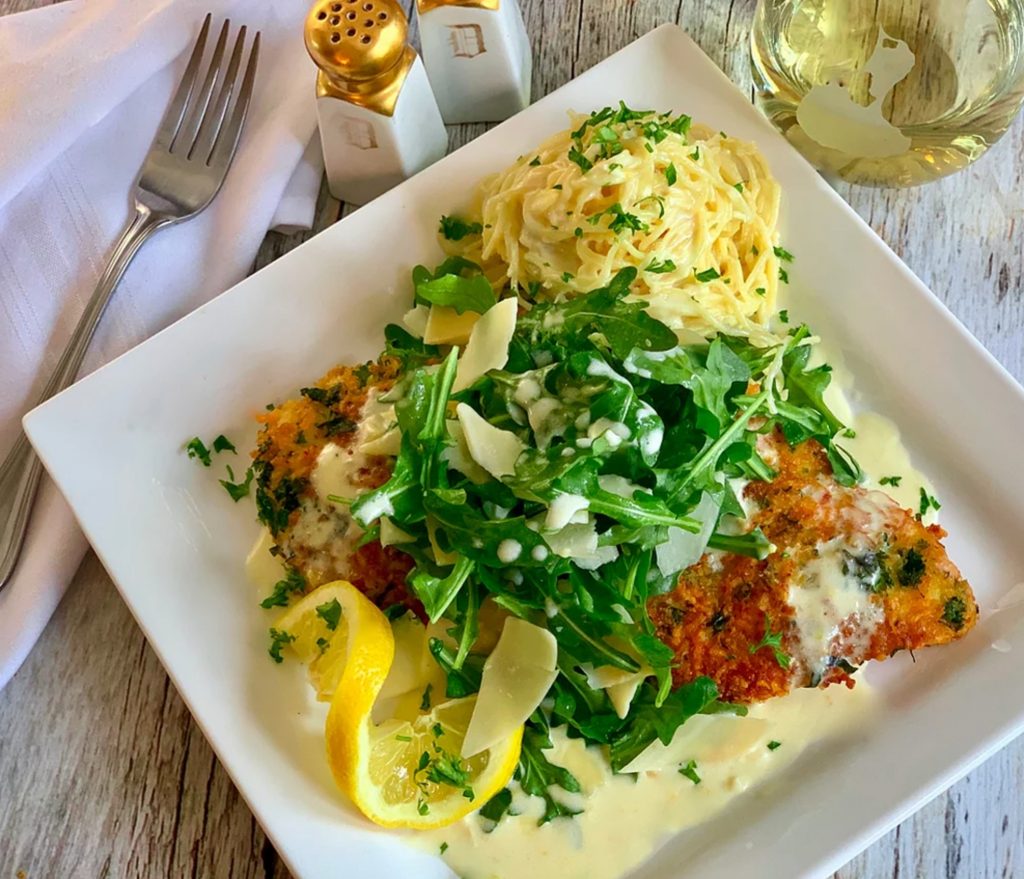 The Sauce:
6 tablespoons butter
6 large garlic cloves, chopped
2 teaspoons flour
¼ cup white wine
3 cups heavy cream
1 teaspoon salt
zest from 2 lemons
juice from 2 lemons
The Chicken:
3 – 3 ½-pounds boneless chicken breast
2-3 teaspoons salt
2-3 teaspoons black pepper
1 cup flour
3 eggs
1 ½ cups Italian seasoned breadcrumbs
1 cup panko breadcrumbs
¾ cup grated parmesan cheese
¾ cup chopped flat leaf parsley
½ cup olive oil
The Salad:
3 cups baby arugula leaves
½ cup shaved parmesan flakes
1 tablespoon olive oil
2 tablespoons lemon juice
The Pasta:
1-pound angel hair pasta, cooked al dente to package directions
Make the sauce.  In a large saucepan, melt the butter over medium heat.  Add the garlic and sauté over medium heat until soft and fragrant, about 1 minute.  Add flour and stir to combine and cook for one more minute.  Add the wine, heavy cream, salt, and lemon zest.  Bring to a low boil and reduce the heat to medium low and let boil lightly while you prepare the chicken, stirring frequently.  Sauce should reduce by ⅓.  Just before serving, stir in the lemon juice and cook for 2 more minutes.
Place each chicken breast on a cutting board and put one hand on top of the breast.  With the other hand, carefully slice the breast in half horizontally (butterfly), creating 2 thin cutlets.  Place each cutlet in a large ziplock bag (or between sheets of wax paper) and pound to ¼" thickness all over with a meat pounder.  Liberally season the chicken cutlets on both sides with salt and pepper.
Create a dredging station with 3 shallow baking dishes or pie plates.  Put the flour in the first dish.  Scramble the eggs in the second dish.  Combine the Italian breadcrumbs, panko, parmesan, and parsley in the third dish and mix well to combine.
Take each cutlet and first dredge in the flour, shaking off excess.  Then, dip in the egg, letting excess run off and press into the breadcrumb mixture to fully coat.
Heat half of the olive oil over medium high heat in a large skillet.  Working in batches, careful not to crowd the chicken, place each cutlet in the oil and cook to golden brown on each side, about 2 minutes per side.  Add more oil as needed.
To make the salad, toss arugula with shaved parmesan, olive oil and lemon juice.  Salt and pepper to taste.
Serve one cutlet drizzled with lemon cream sauce and topped with arugula salad.  Serve one serving of angel hair on the side tossed with more of the lemon cream sauce.
You can also serve this dish without the pasta and cut the cream sauce recipe in half which is traditional… but dang the pasta with the lemon cream is deeeeelisshhhh!
Select multiple categories to narrow your search! Want appetizers made with chicken? Just select both Appetizers and Chicken!