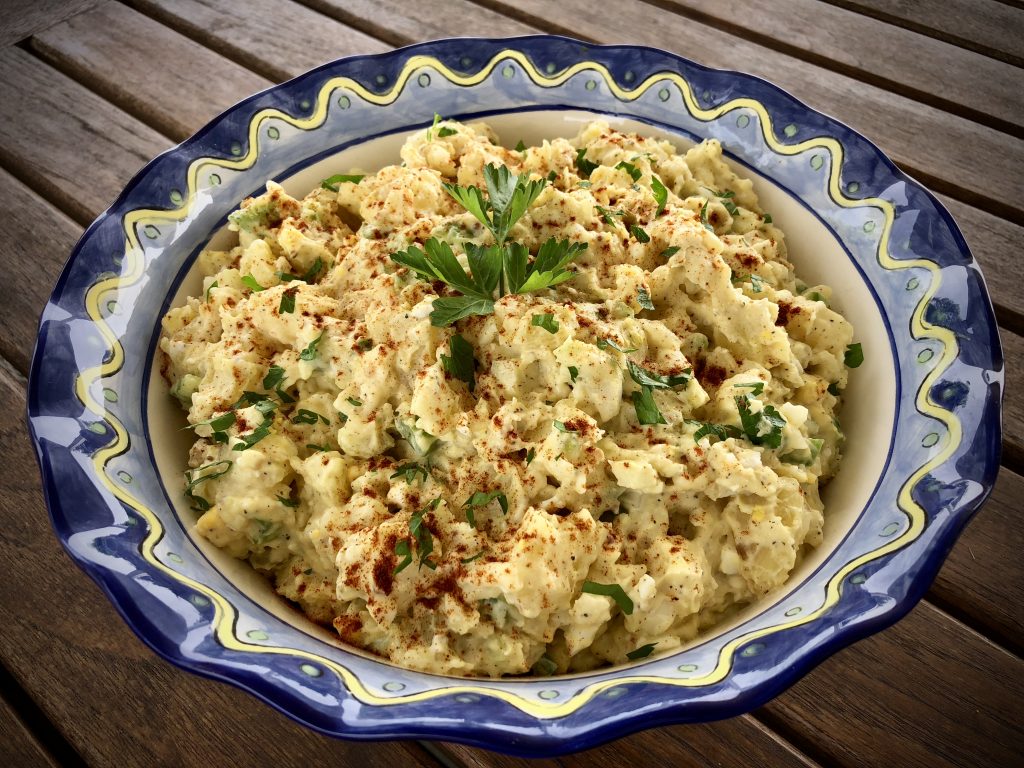 5 pound bag Yukon Gold potatoes, peeled and chopped into 1" pieces
2 large onions, chopped
12 eggs
2 cups celery, chopped into small dice
1 cup green bell pepper, chopped into small dice
1, 30 ounce jar Hellman's Light mayonnaise
2 tablespoon whole grain mustard
1 tablespoon Dijon mustard
1 teaspoon celery seed
1 tablespoon black pepper
2 teaspoon salt
Paprika and chopped parsley or chives to garnish
Place potatoes and one of the chopped onions in a large pot and cover with cold water.  Add 1 tablespoon of salt to the water and bring to a boil over medium high heat.  Let cook, stirring occasionally, until potatoes are fork tender and barely break apart when pierced. Drain in a colander and then place in a large bowl.
While potatoes are cooking, place the eggs in another pot in an even layer and cover with cold water.  Bring to a rolling boil, then turn off the heat and cover the pot.  Let them sit for 10 minutes.  Drain the water from the pot and cover the eggs with cold water.  Peel the eggs and rough chop them.
Add the eggs to the bowl with the potatoes, along with the remaining onion, celery, and green pepper.  Toss to combine.  Add the remaining ingredients to the bowl and mix well. Adjust flavor for salt.  Place in your serving dish and chill in the refrigerator for at least 2 hours or overnight is best.
Garnish with a dusting of paprika and the parsley or chives just before serving.
This is a must have at our annual 4th of July party on Block Island.  Get there early because this stuff goes fast!!
Select multiple categories to narrow your search! Want appetizers made with chicken? Just select both Appetizers and Chicken!