PAN SEARED HALIBUT WITH RUBY RED GRAPEFRUIT BEURRE BLANC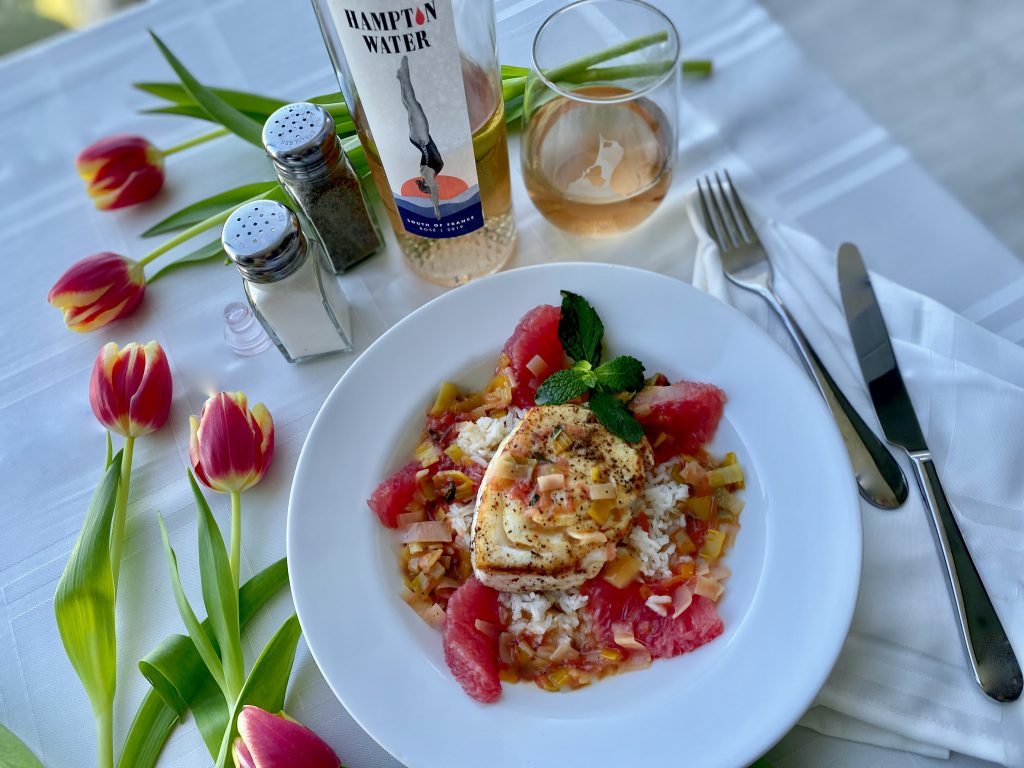 3 large ruby red grapefruits
2 pounds halibut filets, skinned (or other white fish like haddock, Chilean sea bass, etc…)
1 teaspoon salt
1 teaspoon black pepper
1 tablespoon olive oil
10 tablespoons cold butter
1 leek, white and light green parts chopped (about ½ cup)
½ cup dry rosé wine
¼ cup fresh mint leaves, (plus more for garnish)
3 cups cooked Jasmine rice, cooked to package directions
Preheat your oven to 350 degrees.
'Supreme' the grapefruit by first cutting off both ends of the fruit.  Then, stand each grapefruit, cut side down, on a cutting board and, following the curve of the fruit, cut off the outer peel and pith until only the inner flesh of the fruit can be seen. Cut the fruit segments out between the membrane so you end up with slices of the pure fruit with no membrane on either side. Do this over a bowl to catch any juice and then squeeze all of the juice out of the empty membrane into a measuring cup.  You should have about 1 cup of juice which you will use in your sauce.  Set the grapefruit segments and juice aside.
Cut the halibut filets into portion-size pieces and season on both sides with salt and pepper.
Combine olive oil and 2 tablespoons of the butter in a large skillet and heat pan over medium high heat until butter is bubbling and pan is very hot. Place fillets in hot pan and sear about 2-3 minutes per side until golden brown. Remove the fish from the pan (reserving the pan drippings) and place on a baking sheet. Finish cooking the fish in the oven for 8-12 minutes while you make the sauce.  The exact timing for this will depend on the thickness of your filets.  A fork will slide in and out of the center of each portion and flake easily when it is finished.  Do not overcook your fish.
Add the leeks to your pan drippings and cook, stirring frequently until soft and fragrant, about 2 minutes. Add the wine and reserved grapefruit juice to the pan. Bring to a boil and let cook until reduced by half, about 8-10 minutes.  Turn of the heat.
Cut the remaining 8 tablespoons butter into 8 pieces and add them to the pan. Turn off the heat and whisk the butter into the sauce until melted, forming a rich, glossy sauce.
Chiffonade the mint by stacking the leaves and then tightly rolling together. Cut cross wise to create very thin strips of mint.  Stir the mint and half of the reserved grapefruit supremes into the sauce.  Note the grapefruit slices will start to melt into the sauce.
Serve ½ cup of the rice, topped with one portion of haddock on top and several of the remaining supremes around it.  Pour the sauce over fish and around the rice. Garnish with more mint.  Pour yourself another glass of rosé and devour!!
Select multiple categories to narrow your search! Want appetizers made with chicken? Just select both Appetizers and Chicken!