STRAWBERRY JALAPEÑO BABY BACK RIBS OVER STRAWBERRY STUDDED QUINOA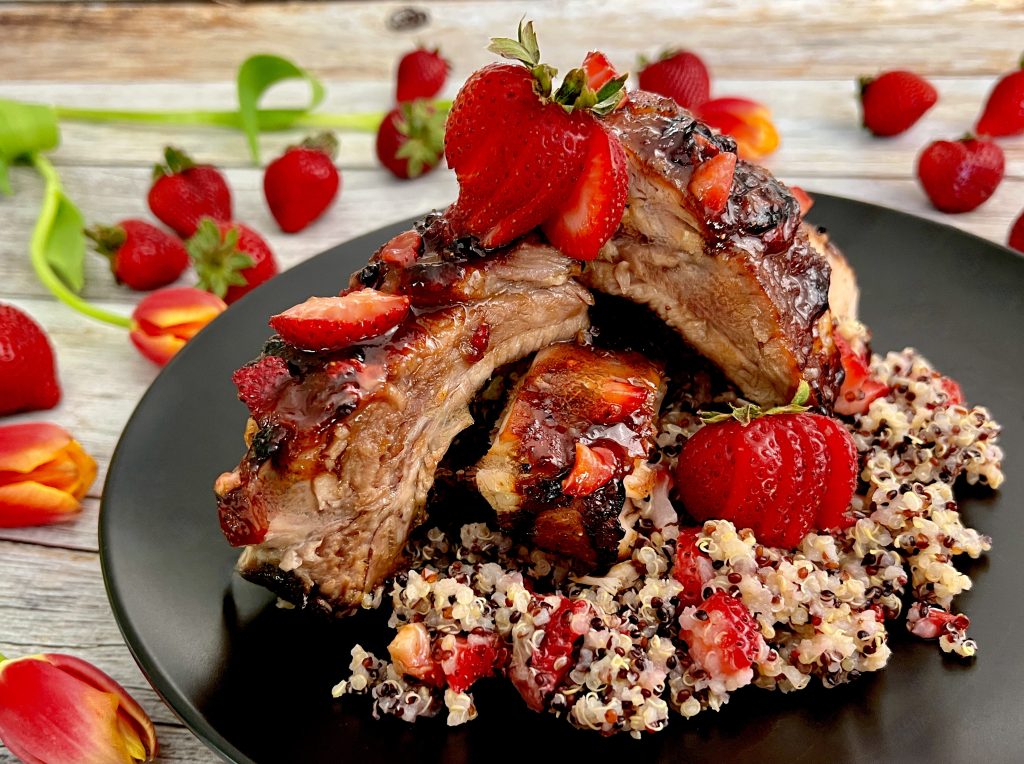 1, 3 ½ – 4 pound rack Trader Joe's Pork Loin Baby Back Ribs
2 teaspoons salt, divided
¾ cup Trader Joe's Strawberry Preserves
¼ cup Trader Joe's Jalapeno Sauce
2 cups strawberries, chopped, divided
1 cup Trader Joe's raw Organic Tricolor Quinoa
2 tablespoons butter
Preheat oven to 325 degrees.
Rinse the ribs with cold water and pat them dry with paper towels.  Let them come to room temperature for about 30 minutes.  Slide a table knife under the silverskin anywhere along the back of the rack. If it resists in one spot, try another. Lift and loosen it with the knife until you can grab it with a paper towel. Pull it off the ribs; it should peel away in one large sheet, but if it breaks, use the knife to restart at another section until you can peel it all off.  This will allow more flavor to absorb into the rack.
Rub the ribs all over with 1 teaspoon of the salt.  Place them in a roasting pan and cover the pan tightly with foil.  Bake for 1 ½ hours.
While the ribs cook, prepare the quinoa and the glaze.
Combine the quinoa with 2 ¼ cups of water and the remaining teaspoon of salt in a large saucepan.  Bring to a boil and then reduce heat to low and cover the pan.  Let cook for 15-20 minutes until all of the moisture is absorbed and the small 'germ' has popped out of the kernels.  Let sit for at least 10 minutes, covered, before finishing.
Combine the strawberry preserves and jalapeno sauce in a small bowl and whisk until smooth.  Stir in 1 cup of the fresh chopped strawberries.
After the ribs have cooked for 1 ½ hours, take them out of the oven and remove the foil.  Reserve ½ cup of the glaze and pour the rest over the tops of the ribs spreading it evenly with a spoon.  Increase the oven temperature to 375 degrees and bake for an additional 10 minutes.
Remove from the oven and baste with any of the marinade that has melted off the ribs.  Pour 1 ½ – 2 cups of water into the base of the pan (so there is about ½" of water covering the bottom of the pan) and cook for 10-15 minutes more until fragrant, sticky, and the meat is very tender falling off the bones when pierced with a fork.  The water will help to keep any marinade that drips off the ribs from burning and sticking to the bottom of the pan.
Remove tent the ribs with foil and let rest for 10 minutes.  Brush ½ of the reserved glaze over the tops of the ribs.  Cut crosswise between the bones.
To finish the quinoa, add the butter, the remaining cup of strawberries, and the remaining glaze.  Cook for 1-2 minutes tossing until the quinoa is hot and the butter is melted.
Serve 2-3 of the ribs over the quinoa.  Get some extra napkins and DEVOUR!
Select multiple categories to narrow your search! Want appetizers made with chicken? Just select both Appetizers and Chicken!