SOLE AND GREEN BEAN ALMONDINE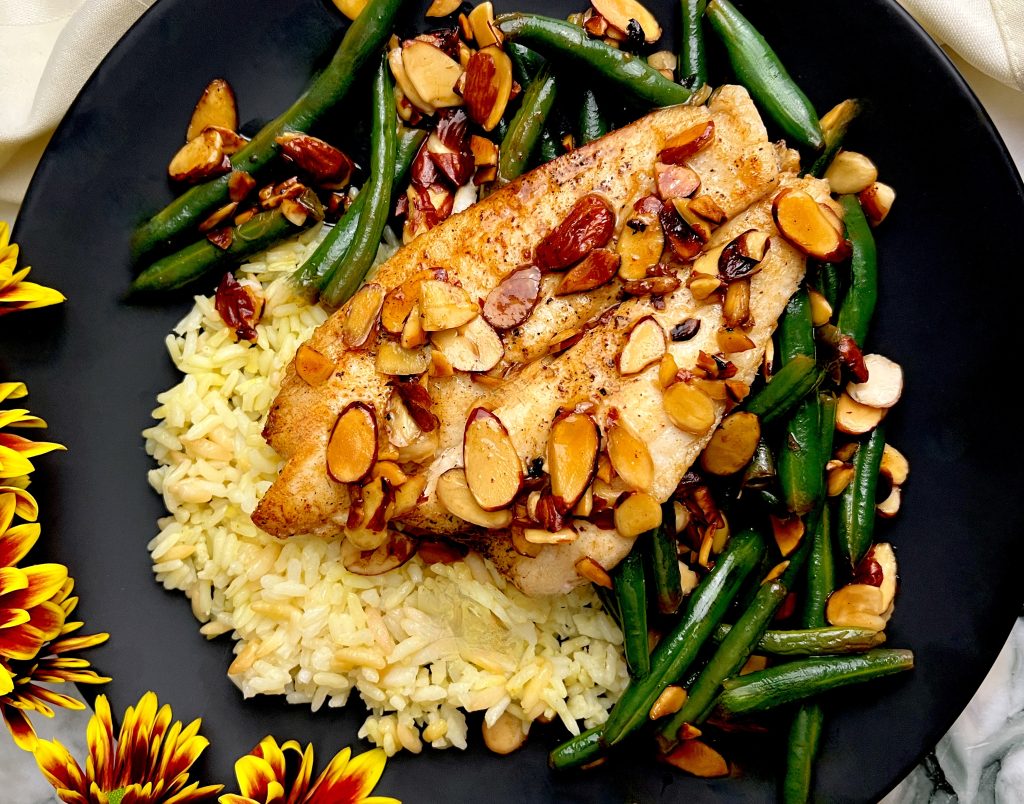 1 pound green beans, trimmed
1 cup sliced almonds
8 tablespoons butter, divided (keep 4 pats cold in the fridge)
4 large sole or flounder filets, skinned
½ teaspoon salt
¼ teaspoon black pepper
2 tablespoons lemon juice (1 lemon)
⅓ cup dry sherry
⅓ cup dry white wine
Bring a large saucepan of salted water to a boil.  Add the green beans and cook for 5-7 minutes until they are bright green and crisp tender.  When you hold one end of a bean it should curve slightly but not flop over.  Drain and place in an ice bath stop the cooking.  Drain and set aside.
Toast the almonds in a large skillet over medium high heat, stirring frequently, until they are fragrant and begin to lightly brown.  Remove to a bowl and set aside.
Melt 4 tablespoons of the butter in the same skillet until it begins to foam.  Season the fish on both sides with the salt and pepper.  Add the filets 'top-side-down' and cook for 2-3 minutes on the first side until golden brown. Flip and cook for 2 more minutes on the other side.  Remove to a plate and tent with foil to keep warm while you make the sauce.
Add the lemon juice, sherry, and wine to the pan drippings.  Bring to a boil and let cook for 2-3 minutes until reduced by about half.  Reduce the heat to low and whisk in the reserved 4 pats of cold butter until a glossy sauce forms.  Stir in the almonds and add the fish and green beans to the sauce.  Lightly toss so that everything is coated, taking care not to break up the tender fish filets.  Serve over rice pilaf.
Select multiple categories to narrow your search! Want appetizers made with chicken? Just select both Appetizers and Chicken!