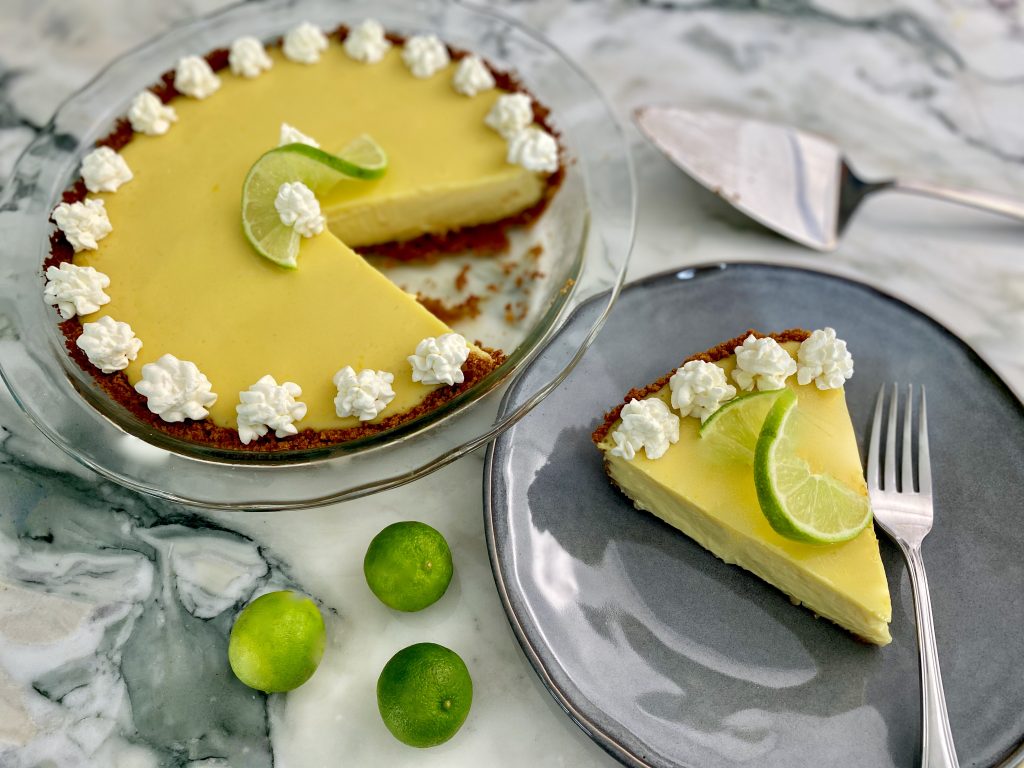 1 ½ cups graham cracker crumbs
¼ cup brown sugar
6 tablespoons butter, melted
1 ¼ cups key lime juice
8 egg yolks
¼ cup sour cream
2, 14-ounce cans sweetened condensed milk
Whipped Cream
1 cup cold heavy cream
2 tablespoons powdered sugar
1 teaspoon vanilla
Preheat oven to 350 degrees.
Combine the graham cracker crumbs, brown sugar, and butter in a small and mix until thoroughly combined and dump into a 10" pie plate.  Press the crumbs firmly into the bottom of the pie plate and up the sides.  Use a measuring cup with a flat bottom to firmly pack the crumbs on the bottom of the pie plate.
Bake the crust for 10 minutes until firm and golden brown.  Remove and let cool to room temperature.
Combine the key lime juice, egg yolks, sour cream, and both cans of sweetened condensed milk in a large bowl and whisk until smooth.  Pour into the prepared crust.
Bake for 10 minutes and then turn the heat down to 325 degrees.  Bake for 15-20 minutes more until the center of the pie is set, but still slightly jiggly.
Let the pie cool completely to room temperature and then refrigerate for at least 4 hours or overnight.
Slice and serve topped with whipped cream (recipe follows).
Whipped Cream
Chill the bowl of your stand mixer in the freezer for 10 minutes.  Add the heavy cream, powdered sugar, and vanilla to the cold bowl and using the whisk attachment, beat on high until cream thickens and forms medium to stiff peaks, about 1 minutes.  Do not overmix.
Select multiple categories to narrow your search! Want appetizers made with chicken? Just select both Appetizers and Chicken!