CIAO BELLA PARMESAN CRUSTED CHILEAN SEA BASS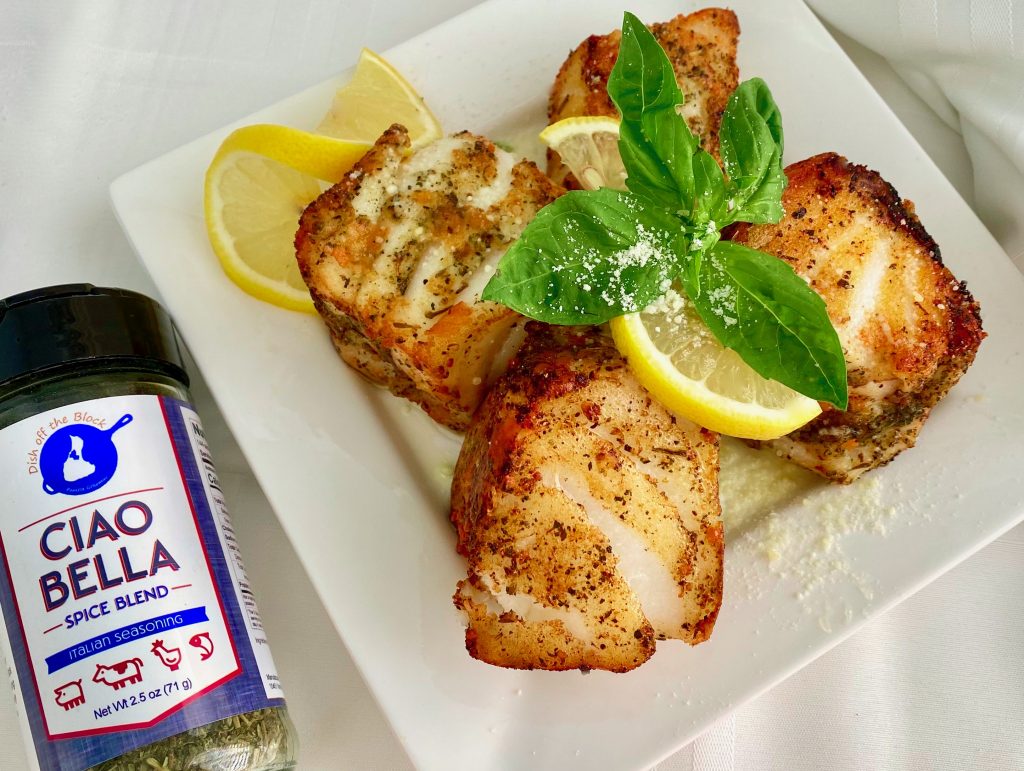 3 tablespoons olive oil
2-pounds Chilean sea bass, skinned (or other firm white fish such as halibut, swordfish, catfish, etc….)
3 teaspoons Dish off the Block Ciao Bella Italian Spice Blend
1 teaspoon salt
½ cup grated parmesan cheese
1 lemon, cut into wedges
Heat the olive oil in a large skillet over medium high heat.
Cut the fish into serving size portions.  Rub the Italian seasoning all over the fish (on all sides). Sprinkle with the salt.
Place the parmesan cheese in a shallow dish and dip the fish on all sides into the parmesan pressing to adhere.
Place the fish in the hot oil and sear on all sides, until golden brown.  Cover and let cook on low until a fork inserted in the center of the fish goes in and out easily and fish flakes with a fork.  Timing will depend on the thickness of the fish.  Turn periodically in the pan with tongs if it is very thick.
Squeeze lemon juice all over and serve with just about anything (rice, potatoes, veggies, etc…)… it's that good!
Select multiple categories to narrow your search! Want appetizers made with chicken? Just select both Appetizers and Chicken!