PASTA WITH WILD MUSHROOM AND PARMESAN CREAM SAUCE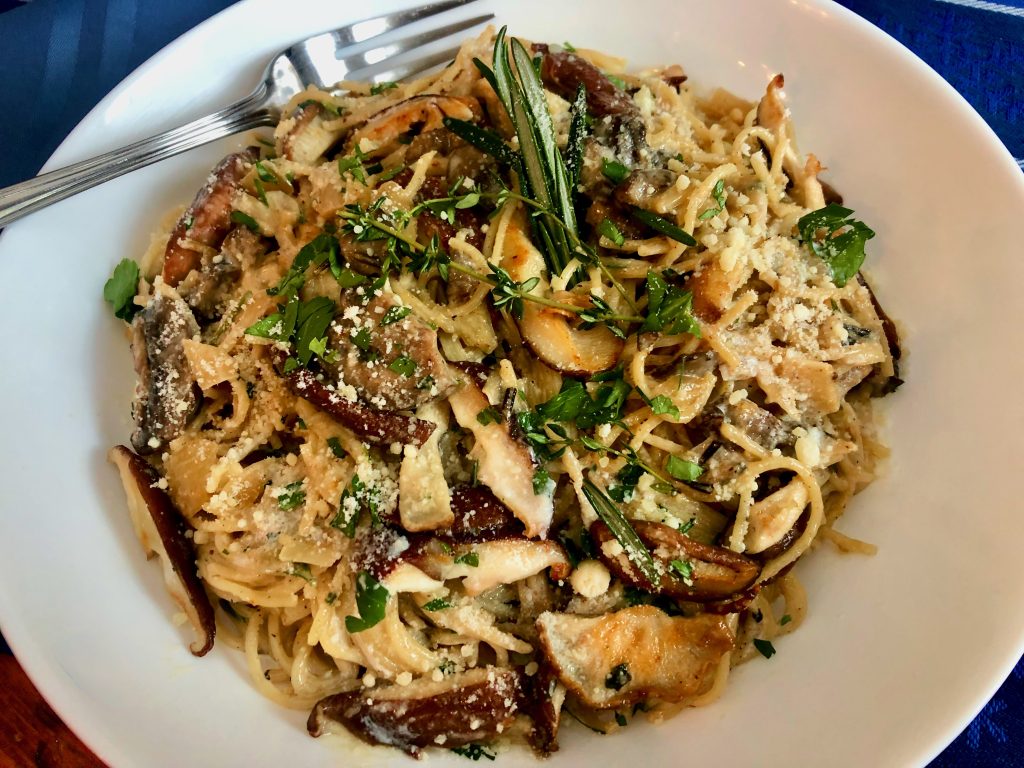 3 tablespoons olive oil
1 large onion, chopped
12 sprigs of thyme, tied with kitchen string
12-ounces wild mushrooms, sliced (combo of cremini, shitake, porcini, etc…)
1 tablespoon fresh rosemary leaves, stemmed and chopped
5 garlic cloves, chopped
¾ cups dry white wine
½ cup mushroom stock (vegetable or chicken stock also work)
2 cups heavy cream
1 cup grated parmesan cheese
1-pound of your favorite pasta, cooked al dente
⅓ cup chopped parsley
Heat the olive oil in a large deep skillet, over medium high heat.  Add the onions and thyme and sauté until soft and fragrant.  Add the mushrooms, rosemary, and garlic to the pan and cook, stirring frequently until the mushrooms are soft and lightly browned.
Add the wine and chicken stock to the pan and bring to a boil and cook for 2 minutes, letting the liquid reduce, stirring occasionally.  Add the heavy cream to the pan and cook for 3-4 more minutes, letting the sauce reduce and thicken.  Slowly, add the parmesan cheese, about 2 tablespoons at a time, stirring constantly, to incorporate it into the sauce (if you add it all at once, you will have a big clump of parmesan in your sauce – no Bueno!).   Continue to cook for another minute until thick and creamy.  Toss with your favorite pasta and garnish with chopped parsley and serve extra parmesan on the side.
Select multiple categories to narrow your search! Want appetizers made with chicken? Just select both Appetizers and Chicken!