This marked our 22nd year of hosting the annual Gelsomini Extravaganza Christmas party where we gather as much of the Gelsomini (and Anderson) family as possible (usually between 50-60 people) to eat, drink, laugh, and catch up on everyone's busy lives!!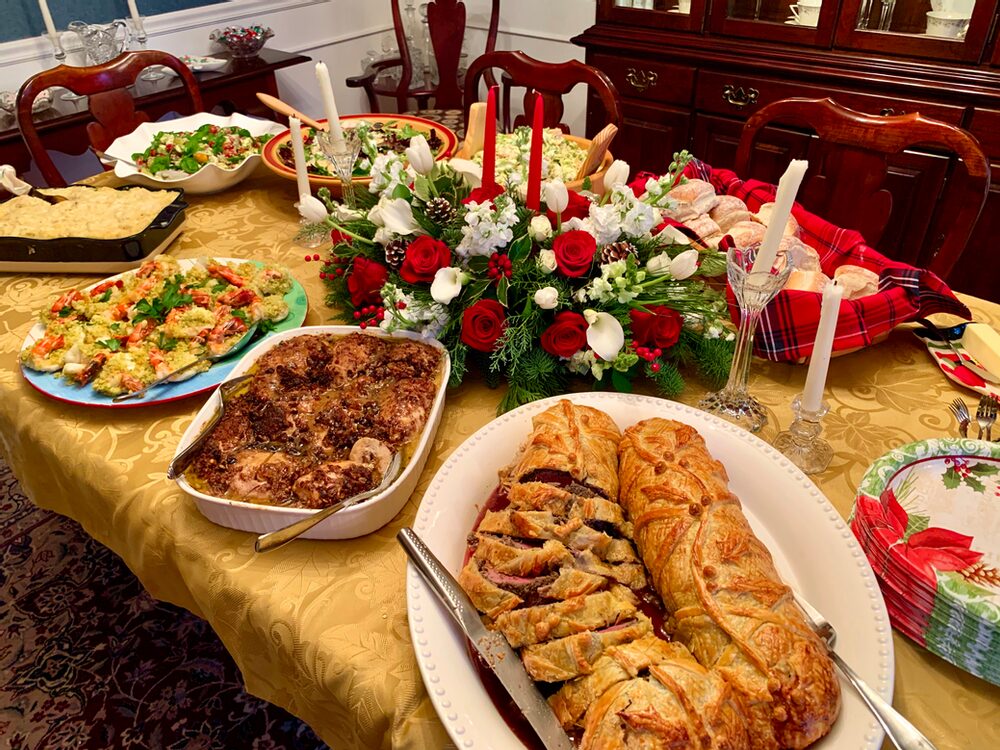 I do all of the cooking, except for the desserts. Every guest brings one dessert which has become an intense competition with a prize for the best sweet treat on the table. We also have a 'themed' Christmas gift grab where everyone brings a creative gift that fits into the theme – this year was 'Decades'- and the competition is intense!! Prizes are given for the top three gifts that meet the theme in the most creative ways… according to yours truly!
Every year I create a new menu, some dishes I have made before and some new creations — to keep them all guessing! For appetizers this year I made some family classics like Becky's Clam Dip, Spinach Balls, and famous Stuffies, all of which you can find on the blog, but I also made a few new creations – Note – you can click on each photo for a link to the recipe on the website.
A good friend and neighbor gave me a BEAUTIFUL charcuterie board. A charcuterie board is not so much about creating a 'recipe' as a delicious work of art…. mixing meats, cheeses, jelly, honey, fruits, olives, pickles, etc… I could really just have had the charcuterie as my meal and the family absolutely loved it!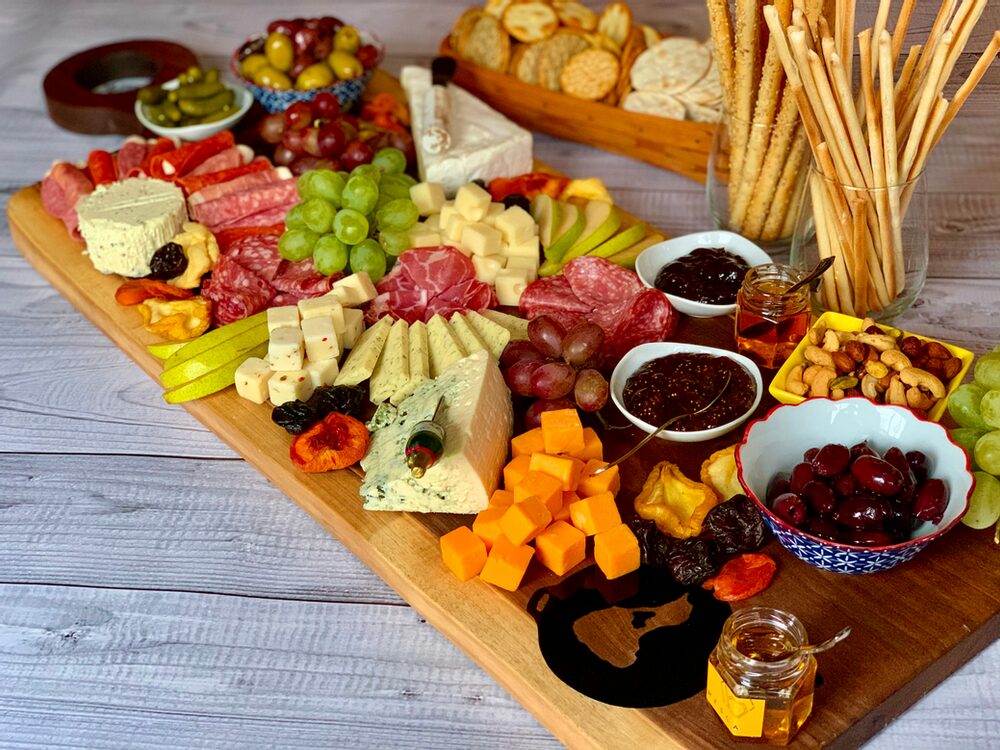 I am currently in a Blogger recipe competition with a company called Clifty Farm to use their amazing ham products in different ways. For the Appetizer category, I made a new dip combining their Ham Biscuit Slices with Shrimp, cheeses, peppers, and scallions in my version of a 'Turf and Surf' dip! It was a huge hit and really had a cool flavor profile that I have not seen (or tasted) before!! #cliftyfarm #countryham #southerncooking
I am also working on a blog for you that shows some delicious ways to use leftover mashed potatoes! When I was testing this recipe, one of my 16 year old daughter's friends tried one and claimed they were 'life changing'! I'll take that! Soft and pillowy, cheesy and crunchy – Leftover Mashed Potato Bites with Gruyere and Panko Rosemary Crust.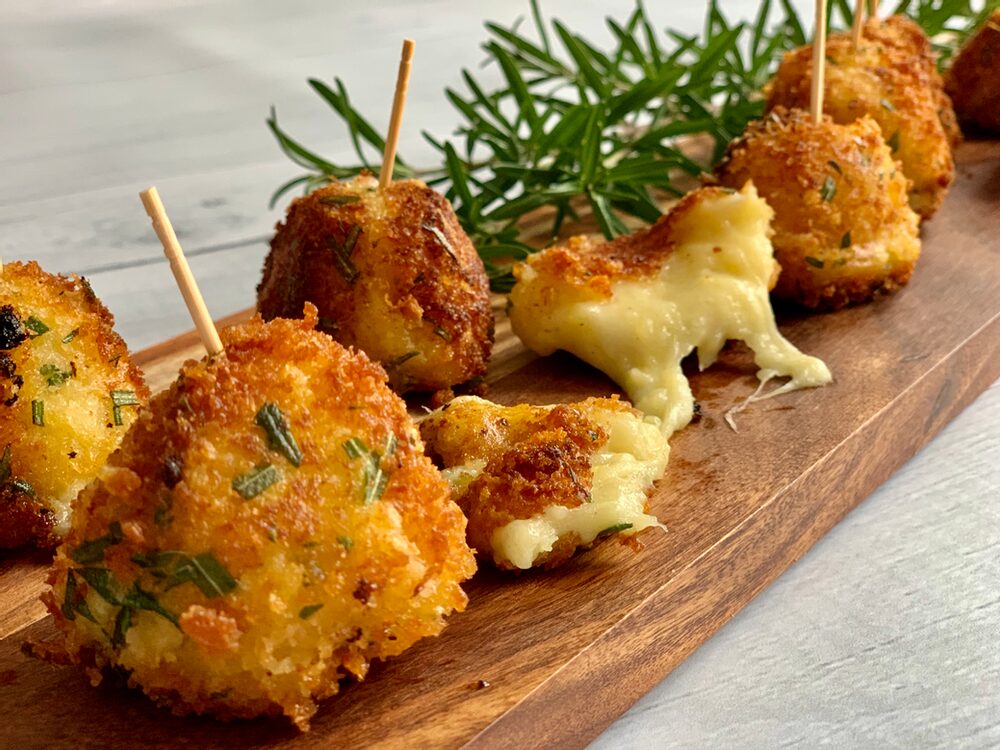 For 'the main event' this year, I decided on 3 decadent main courses and 4 sides/salads. And… speaking of food as art, my Beef Wellington might have been the star of the day!!
Perfect medium rare!!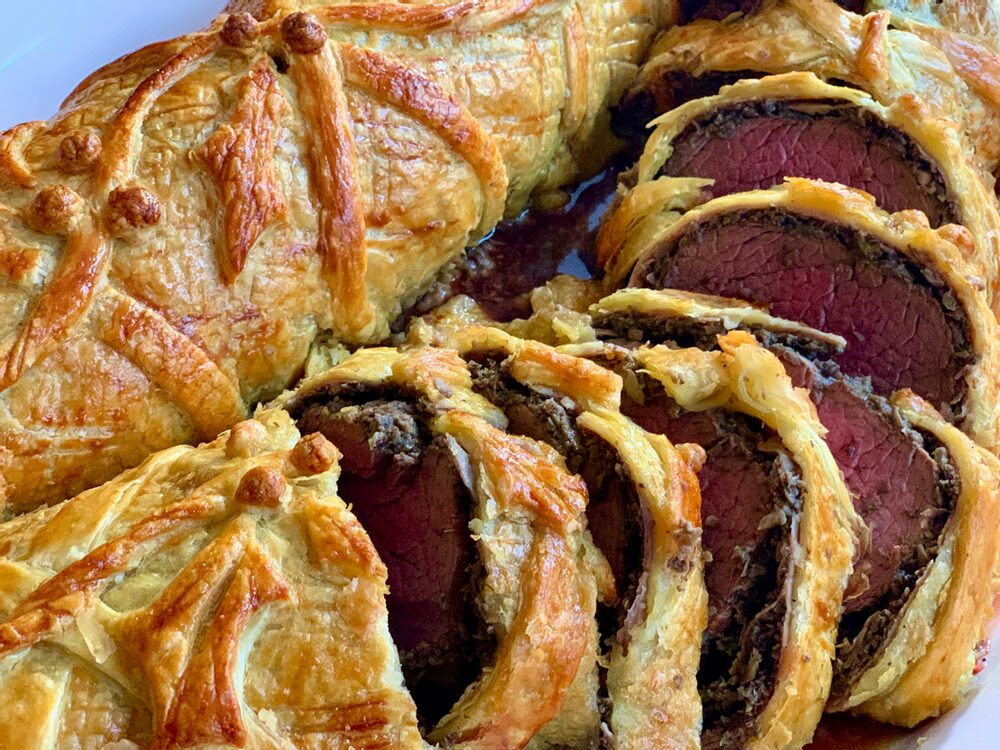 It's absolutely a labor of love, but man o man was it worth it!! Tie and sear the beef tenderloin… making the mushroom duxelles…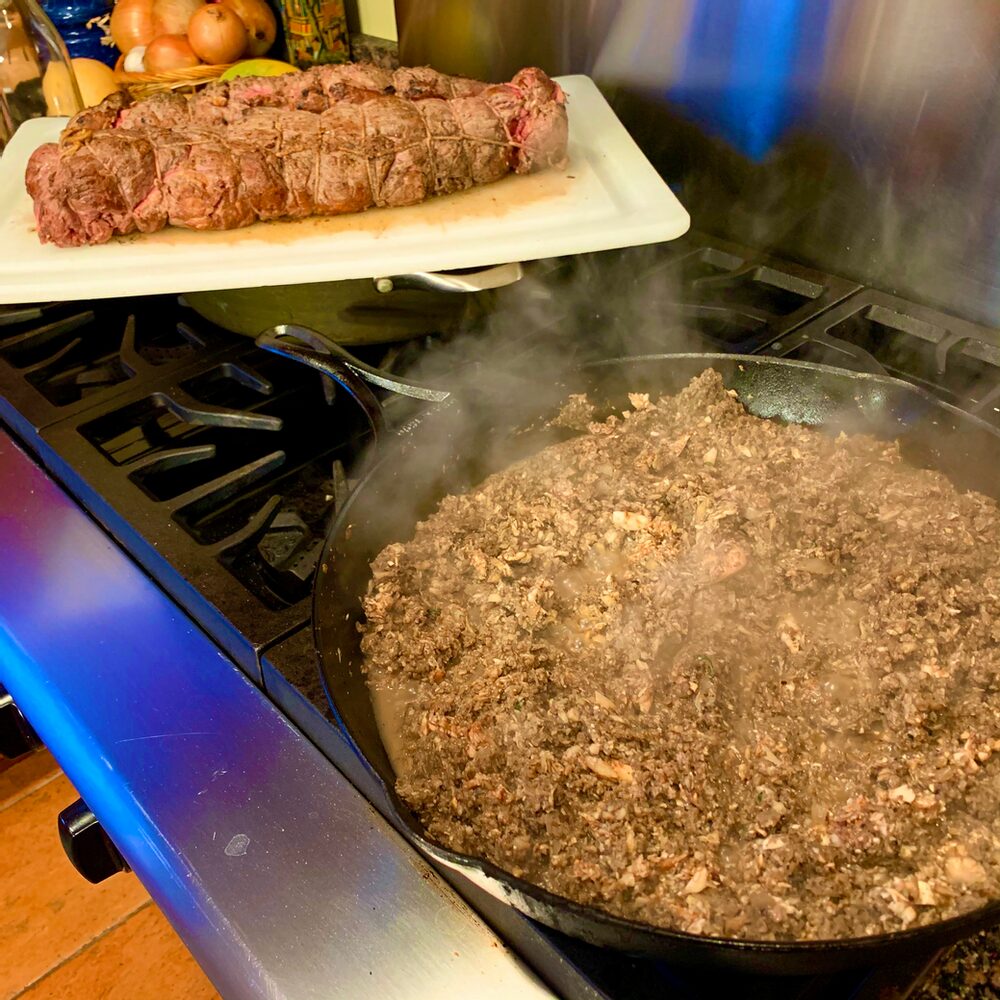 Wrap the beef in mushroom duxelles and prosciutto and chill. Then wrap in puff pastry and chill some more… this includes having a glass of wine so you can 'chill' while the beef 'chills'….
Decorate the Wellingtons in Christmas cheer and brush with egg wash! Bake at 400 for 40 minutes until 130-135 degrees.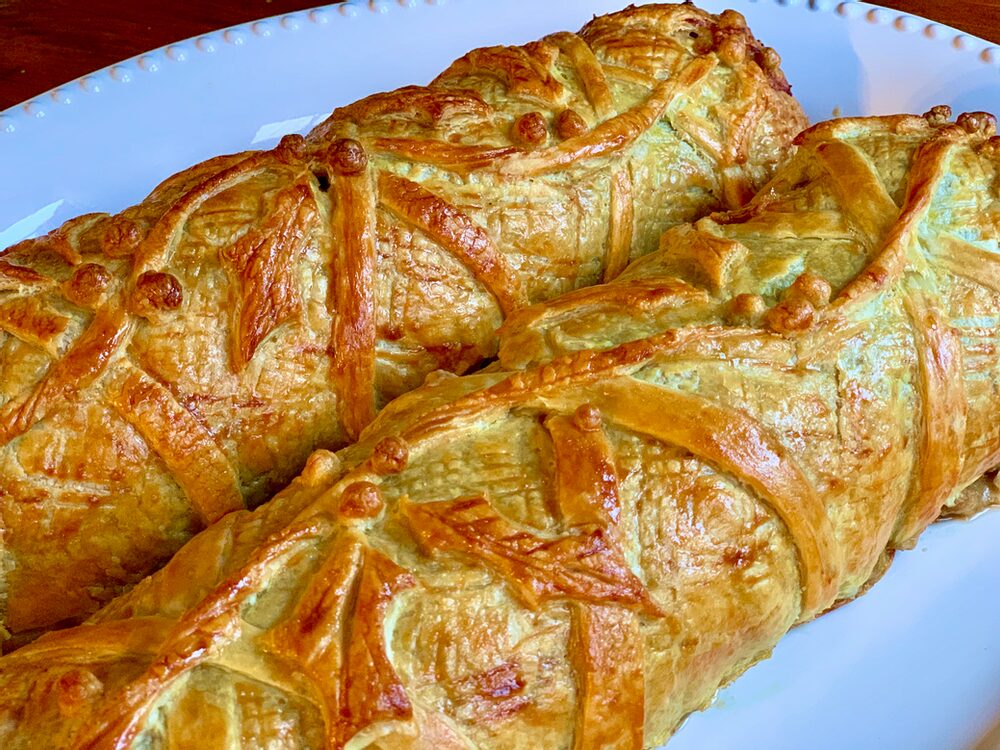 My seafood course – much less labor-intensive, but just as delicious – Phil's Totally Italian Baked Shrimp. This recipe is inspired by my brother-in-law, Phil's, Italian mother's stuffed shrimp recipe and it is killer!!! This is perfectly elegant for a dinner party, but so easy to put together, it is also a quick and easy option for a weeknight meal.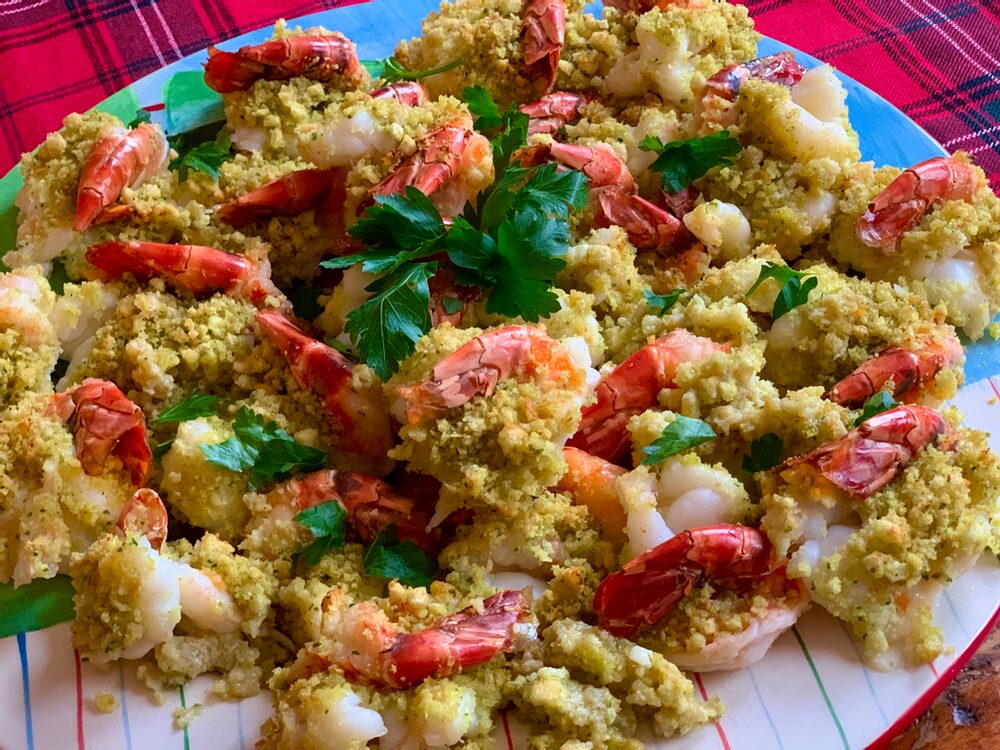 Peel jumbo shrimp leaving tail on. Process fresh bread, garlic, parmesan, parsley in a food processor, drizzling olive oil until moist crumbs form… And, yes, those are my award-winning stuffies in appetizer size on the right!!
Top the shrimp with the garlic crumbs and drizzle with butter.
Bake at 400 for 20 minutes until shrimp are pink and just cooked through.
DEVOUR.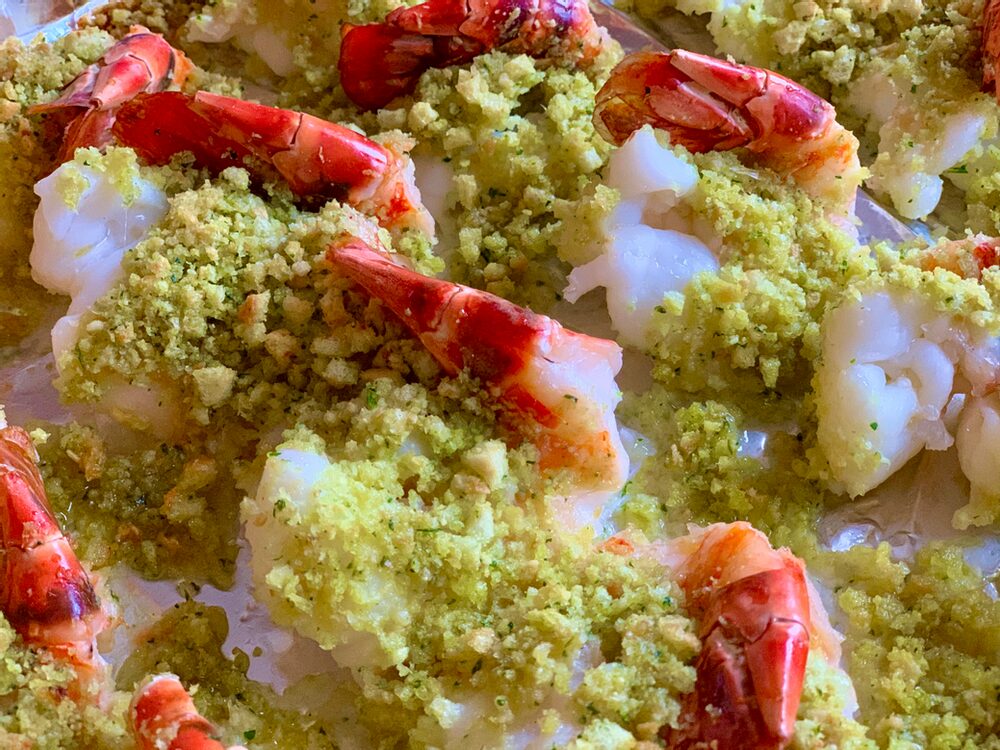 My chicken dish entree is one that won the Taste of America competition in 2017 and my first qualifier to World Food Championships! Pecan Crusted Chicken Stuffed with Bacon, Dates, and Goat Cheese topped with a Maple Dijon Cream Sauce…. mmmmmm! I had created this recipe several years before and it became a highly requested favorite amongst family and friends.
The inspiration was an appetizer that I used to have when entertaining customers in my former business, OrthoLite, at a restaurant in Portland, Oregon called Veritable Quandry. Sadly the restaurant closed a couple of years back but their 'Dates Stuffed with Goat Cheese and Almonds, Wrapped in Bacon' will forever live in my heart… and in this chicken dish!! (Their chocolate soufflé was also legendary, but that's for another day…)
The pecan coating (with brown sugar, flour, and a little panko) toasts in the pan and makes a magical nutty-sweet crust on the chicken!
True Confessions – I could JUST eat the mashed potatoes. This recipe for Party Potato Casserole is great for a buffet because you can make them a day or two in advance and just heat them up the day of the party. They are addicting… just sayin'…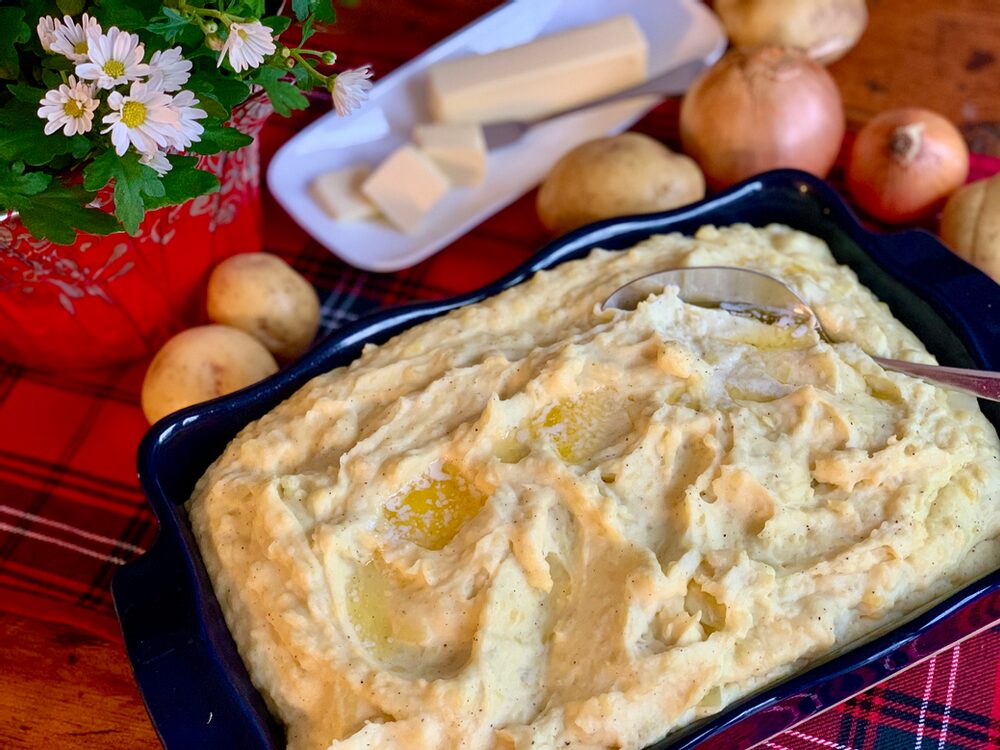 To finish off this epic buffet — 3 beautiful salads – Cherry Tomato Caprese with Pesto Dressing – and all the colors of Christmas!
Shaved Brussel Sprout Caesar – they'll never know their eating Brussel sprouts and the artichokes woven in are a bright bite surprise!!… and did I mention homemade croutons?!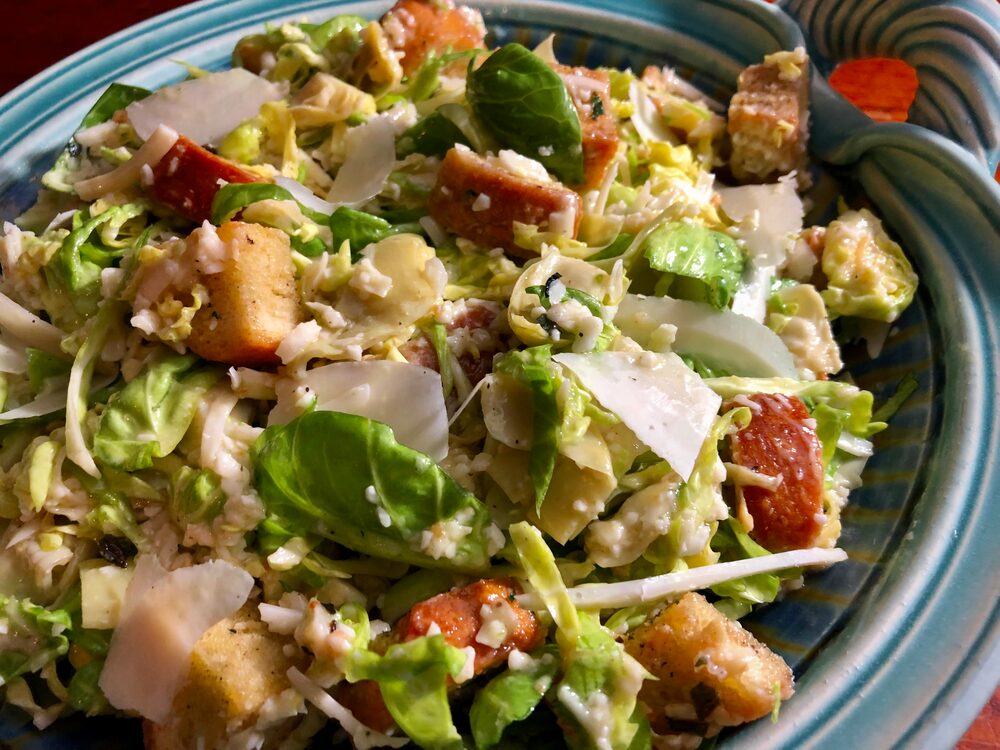 And, last but in no way least, a luscious Pear Salad with funky gorgonzola, tangy dried cranberries, and sweet crunchy pecans! Oh…. And I could drink the honey mustard vinaigrette… FACT.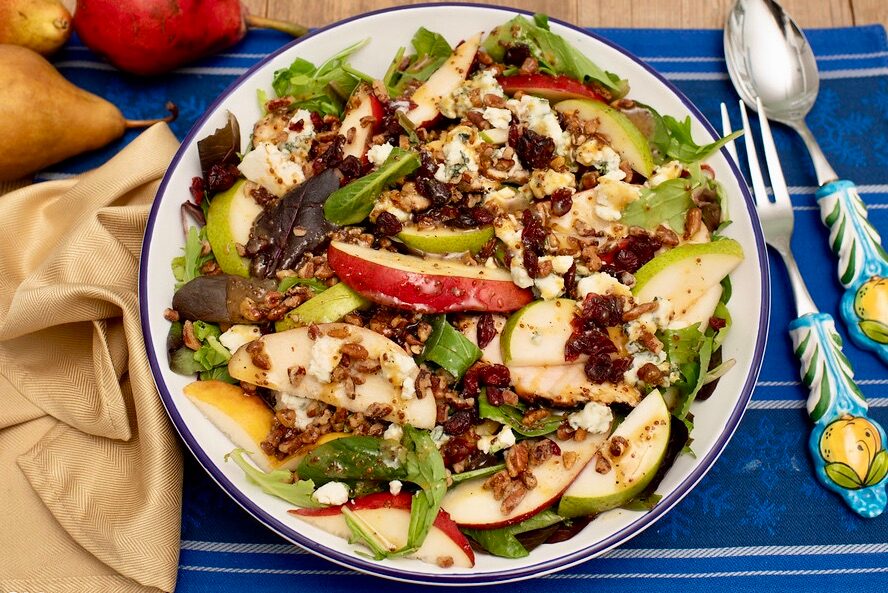 If this isn't enough to wet your whistle, check out more delicious holiday recipes from last year's Gelsomini Extravaganza! Merry Christmas, Happy Holidays, and wishing you all a safe, healthy, and prosperous 2020!!