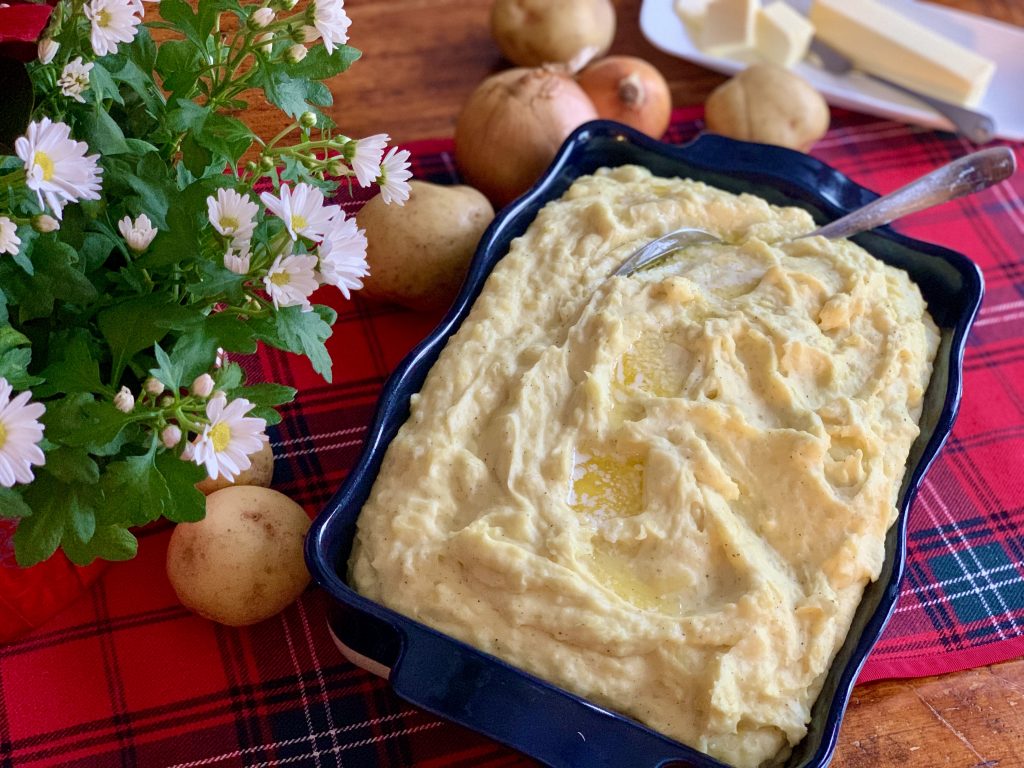 1, 5 pound bag Yukon Gold potatoes
1 large onion, chopped
1 stick cold butter
1 cup sour cream
1, 8-ounce bar cream cheese
1 – 1 ½ cups milk
1 teaspoon garlic powder
2 teaspoons salt
2 teaspoons black pepper
Peel and chop potatoes in large even pieces (about 3-4").  Place in a large metal pot with the chopped onions and cover with COLD water.  Boil until fork tender.  Drain in a colander and place back in the pot.
Using an electric mixer, whip potatoes (and onions which have partially disintegrated) with ½ stick of the butter, sour cream, cream cheese, garlic powder, salt, and black pepper.  Gradually add milk and whip until consistency is smooth and creamy but not loose.  Test for seasoning and add more salt and pepper as needed.
Prepare a 9" x 13" casserole dish with non-stick spray and spread the potatoes in the dish. Dot with remaining ½ stick butter, cut into pats. Cover and refrigerate up to 2 days.
Bring to room temperature before baking.  Bake at 350°, uncovered for 40-50 minutes until hot throughout..
Select multiple categories to narrow your search! Want appetizers made with chicken? Just select both Appetizers and Chicken!