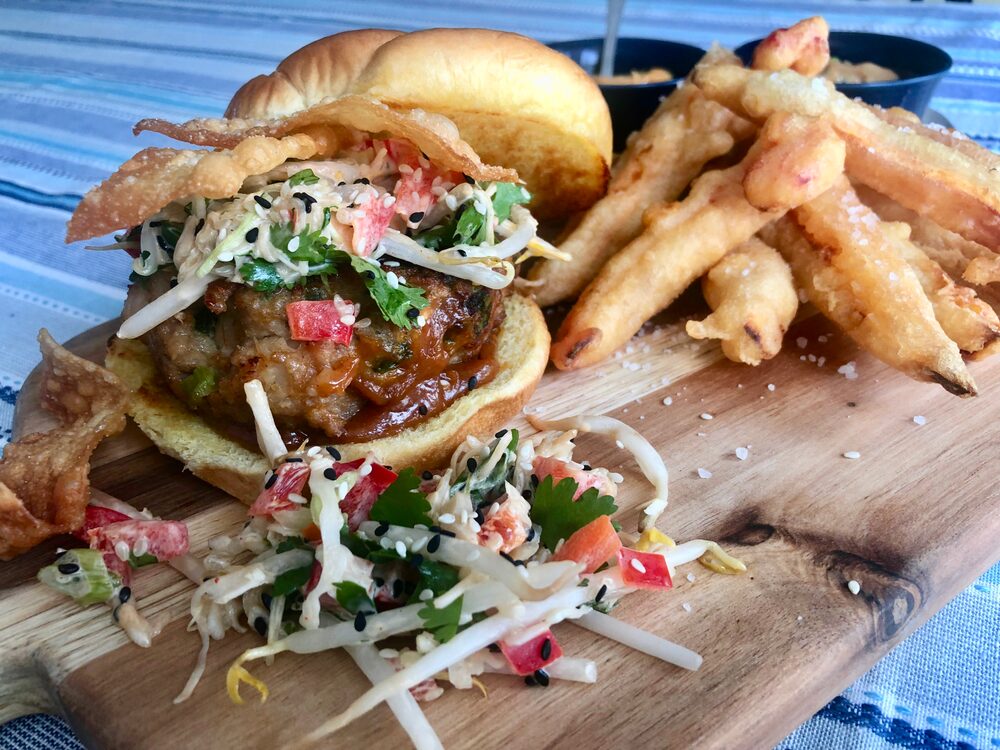 As you may be aware, I compete in a lot of recipe and cooking contests. I love the whole process of developing recipes, building a concept around specific ingredients, and creating new flavor profiles or adapting existing ones into new platforms. I also have a bit of a competitive streak and love to win! Many of these contests have big prizes of cash, trips, and products, so the reward (in addition to bragging rights) can be significant.
The contests vary a bit on what the requirements are to enter. Some are just 'recipe' contests where you send a recipe and photo of the dish and they are judged on several criteria (creativity, taste, ease of preparation, use of required ingredients, etc…) . Sometimes the judges make and test the recipes and sometimes they are judged on 'perceived' taste.
Other contests result in a live cook-off where you compete against other finalists for top prize. Last year I competed in the Cornbread Festival http://nationalcornbread.com took home the grand prize – $5000 cash, a 5 Star Gas range and a bevy of awesome cast iron cookware from Lodge Mfg. http://www.lodgemfg.com, one of the sponsors! You had to use a Martha White Cornbread Mix https://www.marthawhite.com in your recipe and I made "Too Gouda to be True Corn Cakes with Pancetta Laced Seafood Cream Sauce"! Click the photos below for link to the recipe.
A lot of people have asked me how this whole recipe contest thing works so I thought I would take you through my thought process on one of the latest contests I have been dabbling in!
Hellmann's https://www.hellmanns.com/us/en/home.html everyone's favorite mayo, has come out with two new sauces and created a contest to use these sauces (and any of their existing mayos and sauces) to create a dish that takes the traditional burger and fries to a new level. You submit a recipe and a photo that includes the Hellmann's products you used in your recipe. Here is how they laid it out:
"To celebrate the launch of two new sauces in the US – Classic Burger and Spicy Dipping – we want to explore how creative you can get with the all American dish of burger and fries. How would you spice up your burger and fries and get creative with our new sauces – or any of our other sauces in the Hellmann's range. For this challenge we would love to see your ultimate burger and fries. Remember you can go beyond the conventional and explore the unexpected. From cauliflower burgers paired with halloumi fries in lemon-dill mayo, to deconstructed beef burgers served with caramelised carrot fries in cheesy spicy dipping sauce. Share your burger, fries and sauce combinations and surprise us with your creativity. Two first place winners will each win $750 and two second place winners will each receive a $150 Amazon gift card."
So, my creative juices started flowing and I pondered… how could I create a burger and fries that took the concept to a new level? The first idea came to me pretty quickly – I recently posted, around Chinese New Year, my dumpling recipe. I thought…. what if I took all of the traditional dumpling/wonton flavors along with other Asian inspired ingredients to create a 'Wonton Burger'?
This Asian inspired burger combines pork and shrimp in the patty with the classic umami flavors you would find in your favorite wontons! Hellmann's Spicy Dipping Sauce is woven throughout the dish – in the actual burger, the sauce, and the slaw. The hoisin peanut sauce is rich and decadent and the spicy Asian slaw provides bright and fresh contrast. The burger is topped off with fried wonton crisps for amazing crunch factor and it's all encased in a soft and buttery potato roll. The tempura sweet potato and red pepper fries are the perfect complement to this Far East inspired burger. The two creamy dipping sauces round out the dish perfectly with Hellmann's Light mayo and hoisin in one and more of the Spicy Dipping Sauce 'straight up' for the other! Every bite wows you with notes of sweet, spicy, salty, rich, and bright flavors and the textures dance on your tongue! You will be "wonton some more" of these burgers and fries after the first bite!
"Somewhere, beyond the sea… Somewhere, waiting for me…." Bobby Darin (for those of you who can remember who he is) inspired this burger! https://www.youtube.com/watch?v=5bRAtV-jgoQ I was driving in my car one day when this old song came on the radio. It was a beautiful spring day and I thought why not a salmon burger with beautiful fresh spring ingredients? Introducing these savory salmon burgers binded with Hellmann's Spicy Chipotle Mayo and Hellmann's Dijonnaise Dijon Mustard and dotted with red bell pepper and scallions. These burgers are like presents from the sea, wrapped in flaky phyllo dough and topped with peppery arugula, crisp cucumber and a Hellmann's Spicy Dipping Tartar Sauce. The fries are green and white asparagus fried in a parmesan tempura batter and served with a lemon aioli made with Hellmann's Light mayonnaise. Delight in every bite!!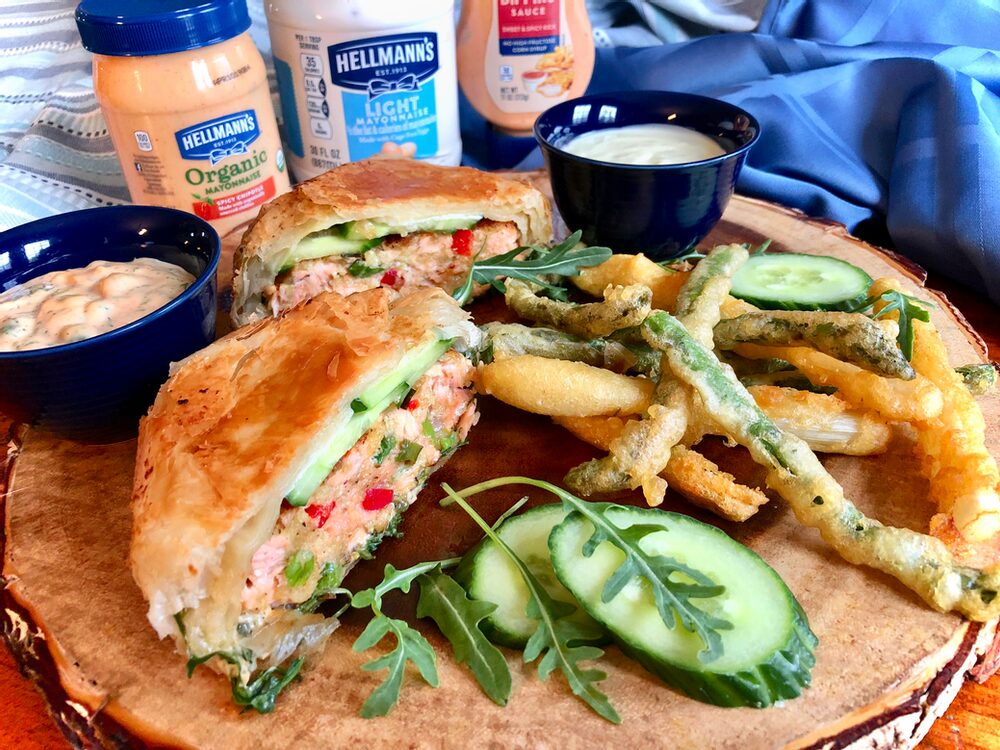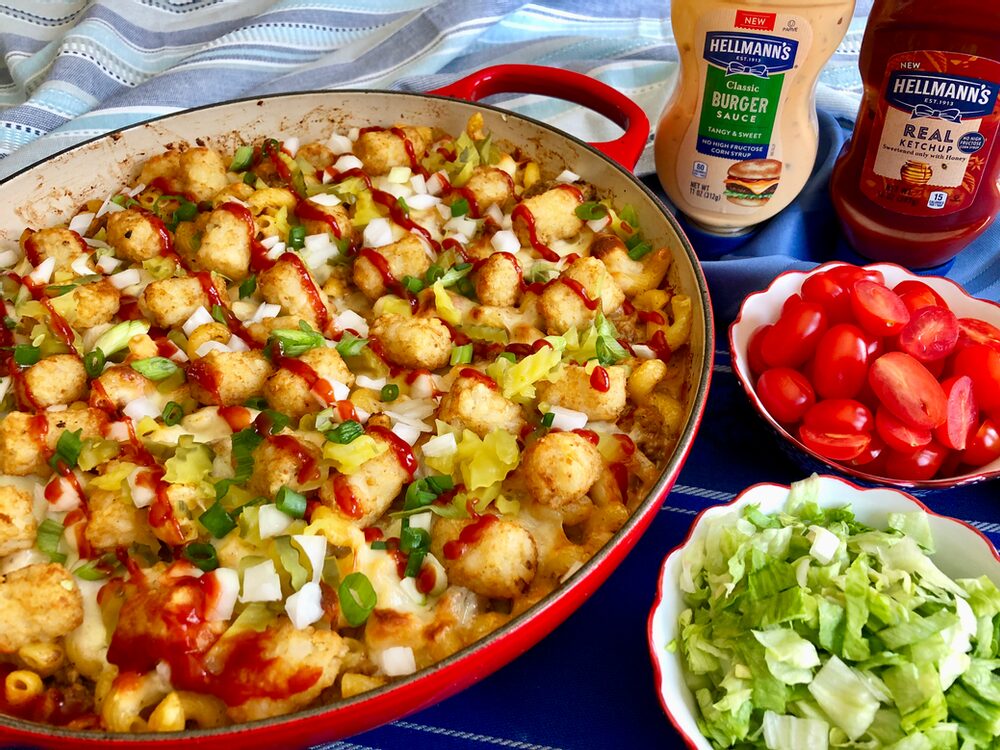 What if we go one step further and create a dish that has all the flavors of a burger and fries… but no actual patty, no bun…? Close your eyes and take a bite.  This pasta casserole legitimately tastes like you are eating a cheeseburger!  My family went bonkers for this dish which is pasta bathed in a cheesy hamburger ragu with amazing burger umami from Hellmann's Classic Burger Sauce.  The top is dotted with tater tots (aka 'the fries') and garnished with pickles, onions, and ribbons of Hellmann's Real Ketchup.  Serve yourself a bowl and finish it like you would your favorite burger with lettuce and tomato toppings!  Then, tuck a napkin into your shirt and dig into the gooey goodness!
I love lamb and Middle-eastern flavors. I also love the pillowy texture of Indian naan bread. Voila! My next burger and fry creation was born! These "Naan-Traditional" burgers are literally bursting with flavor (and feta cheese!).  The lamb burgers are seasoned with fresh mint, dried oregano, thyme, cumin, and cinnamon creating a rich and complex flavor profile.  They are stuffed with feta cheese and Hellmann's Organic Spicy Chipotle Mayo which oooooozes out of the burger when you bite in (cue the napkins).  They are enveloped in an earthy, briny olive tapenade on the bottom and a bright, crunchy tzatziki sauce on the top – both enhanced with Hellmann's mayo.  The whole thing is encased between two soft naan flatbreads and a hint of spicy arugula.  The fries are roasted butternut squash seasoned with fresh rosemary.
I had the pleasure of hosting 18, 15-year old girls at my house for a sleepover (definitely more giggling than sleeping) one night.  My daughter requested that pizza be on the menu for dinner, so I thought, what a cool way to transform burger and fries!  Not so much as a piece of crust was left after they swarmed on the 2, 14" pies!!  Every slice was bathed in bacon cheeseburger deliciousness and topped with your tradition burger toppings – pickles, onions, tomatoes, and lettuce… Oh and Hellmann's Ketchup and Classic Burger Sauce.. and don't forget the tater tot 'fries'!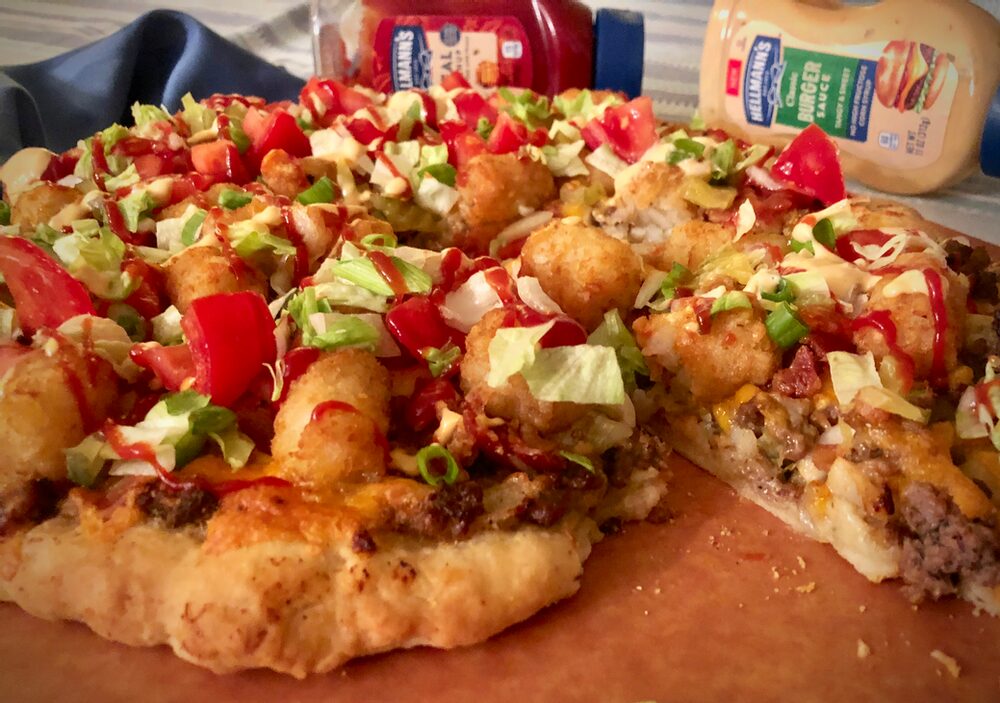 Which 'beyond burger and fries' creation would you choose?