PHYLLO-WRAPPED SALMON BURGERS BATHED IN SPICY MAYO TARTER SAUCE WITH PARMESAN TEMPURA GREEN AND WHITE ASPARAGUS FRIES WITH LEMON AIOLI DIPPING SAUCE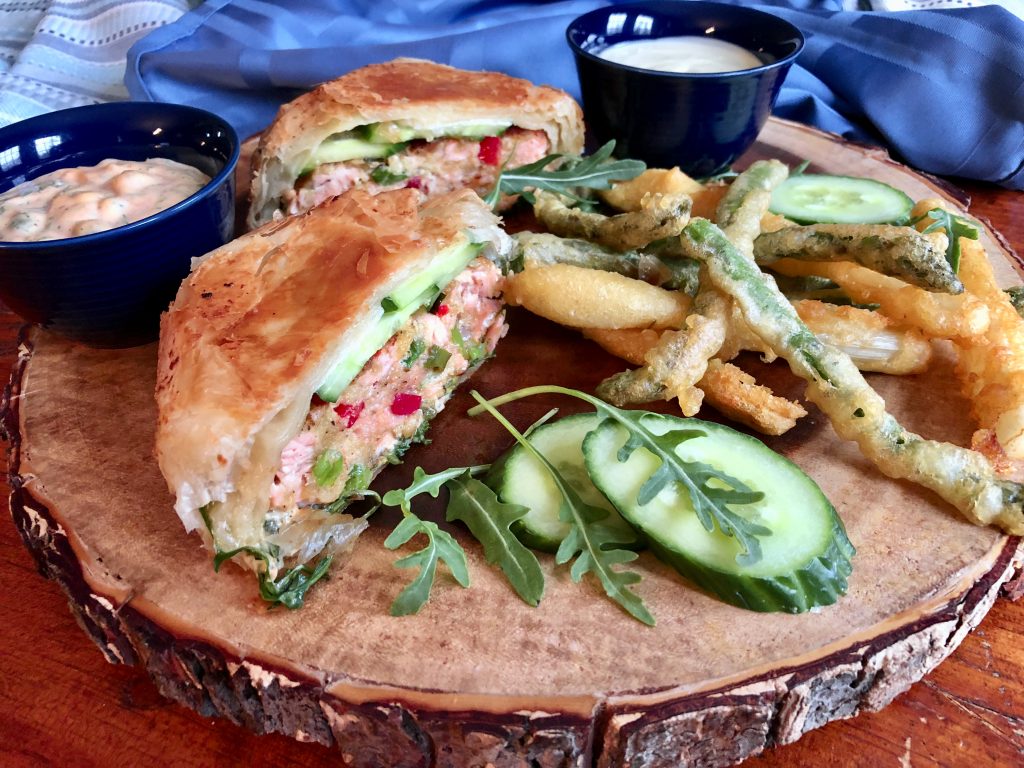 Patties:
2 pounds salmon filets, skinned and chopped into ¼ inch dice
1 egg, beaten
3 tablespoon Hellmann's Organic Spicy Chipotle Mayonnaise
1 tablespoon Hellmann's Dijonnaise Creamy Dijon mustard
1 teaspoon salt
1 teaspoon black pepper
1 teaspoon garlic powder
2 teaspoon lemon zest
1 tablespoon honey
½ cup red bell pepper, chopped fine
½ cup scallions, chopped
1 cup panko bread crumbs
4 tablespoon butter
The Spicy Tartar Sauce:
¾ cup Hellmann's Spicy Dipping Sauce
3 tablespoon capers, chopped
2 tablespoon fresh dill, chopped
1 tablespoon lemon juice
2 teaspoon lemon zest
½ teaspoon black pepper
The 'Bun' and Toppings:
48 phyllo pastry sheets (about 12" x 8")
1 stick butter, melted
2 cups baby arugula leaves
1 English cucumber sliced thin
The Fries:
Vegetable oil for frying
1 egg
1 cup flour
½ cup grated parmesan cheese
1 teaspoon baking soda
2 tablespoons corn starch
1 ½-2 cups seltzer
1 bunch green asparagus (about 10 stalks)
1 bunch white asparagus (about 10 stalks)
2 teaspoons salt
The Lemon Aioli Dipping Sauces:
⅓ cup Hellmann's Light mayonnaise
2 tablespoon fresh lemon juice
1 tablespoon orange juice
2 tablespoon olive oil
The zest of one lemon
Mix all of the patty ingredients, except the butter, in a large bowl until well combined.  Divide mixture into 6 parts and form 6 patties.
Melt the 2 tablespoon butter in a large skillet and add 3 of the patties to the pan over medium heat.  Cook 5 minutes on the first side, until golden brown and flip.  Cover the pan and let cook for another 2-3 minutes, until just cooked through.  Remove from pan and cover with foil to keep warm.  Add another 2 tablespoon butter and repeat with the remaining 3 patties.
In a small bowl, mix all of the tartar sauce ingredients and set aside for flavors to marry.
To prepare the phyllo 'bun', melt the stick of butter in a small sauce pan.  Using a pastry brush, lightly coat one layer of the phyllo with butter, top with another layer and repeat until 8 sheets are stacked and buttered. Repeat for the other 5 burgers.  On one stack of buttered phyllo, place a mound of arugula leaves and top with 1 ½ tablespoons of the tartar sauce.  Place a warm burger on top of the sauce and top with several slices of the cucumber.  Wrap one end of the phyllo over the top of the burger and fold in sides like you are wrapping a present until you have a compact package.  Brush all over with melted butter.
Heat a large non-stick skillet over medium heat and add the phyllo wrapped burgers, folded side down.  Cook for about 3 minutes until the phyllo is golden brown and flaky.  Flip to the other side and cook for 3 more minutes and then, with tongs, gingerly turn the burgers on their sides and brown all sides for 1 minute each until all of the phyllo is golden.
Serve with extra tartar on the side for dipping.
To make the fries, heat vegetable oil in a fryer or Dutch oven (about 3" deep) to 350 degrees.  Combine the egg, flour, parmesan, baking soda, and corn starch in a large bowl and mix to combine.  Slowly pour in the seltzer, whisking until smooth and the consistency of thick pancake batter.  You can add more seltzer later if the batter thickens up.
Cut the woody ends off the green and white asparagus stalks (about 3-4" off the bottom).  Dip the spears into the batter and fry for 3-4 minutes, turning with tongs, until golden brown.  Remove and drain on paper towels.  Season with salt immediately.
To make the aioli dipping sauce, whisk the mayo, lemon juice, orange juice, olive oil, and zest together in a small bowl until smooth.
DEVOUR!!
"Somewhere, beyond the sea… Somewhere, waiting for me…." Bobby Darin (for those of you who can remember who he is) inspired this burger!  https://www.youtube.com/watch?v=5bRAtV-jgoQ Introducing these savory salmon burgers binded with Hellmann's Spicy Chipotle Mayo and Hellmann's Dijonnaise Dijon Mustard and dotted with red bell pepper and scallions.  These burgers are like presents from the sea, wrapped in flaky phyllo dough and topped with peppery arugula, crisp cucumber and a Hellmann's Spicy Dipping Tartar Sauce.  The fries are green and white asparagus fried in a parmesan tempura batter and served with a lemon aioli made with Hellmann's Light mayonnaise.  Delight in every bite!!
Select multiple categories to narrow your search! Want appetizers made with chicken? Just select both Appetizers and Chicken!