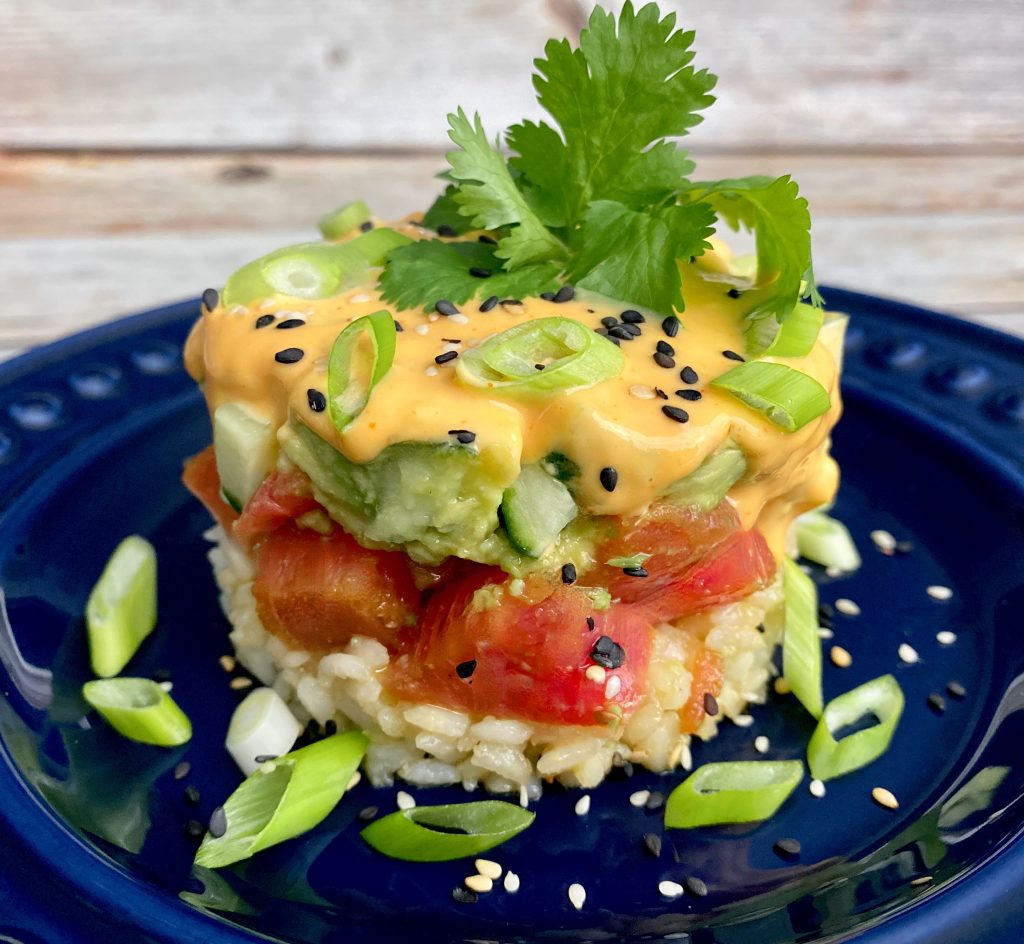 3 cups short-grain brown rice, cooked (from 1 cup uncooked)
2 tablespoons rice vinegar
1 cup cucumber, diced
2 avocados, mashed
1 pound cooked shrimp, peeled and tails removed, chopped into ¼" dice*
8-ounces sushi grade tuna, chopped into ¼" dice*
2 tablespoons soy sauce
Tuna Marinade:
2 tablespoons rice vinegar
2 teaspoons soy sauce
½ teaspoon sesame oil
¼ cup cilantro, chopped (plus some for garnish)
2 teaspoons sugar
1 tablespoon sesame seeds, toasted (plus 1 tablespoon for garnish)
Sriracha Mayonnaise:
⅓ cup Hellmann's Light mayonnaise
1 tablespoon sriracha sauce
Cook rice according to package directions.  When rice is done, stir in the 2tablespoon rice vinegar and set aside to cool.
In a medium bowl, combine the ingredients for the tuna marinade and add chopped tuna, turning to evenly coat.
In a small bowl, combine ingredients for Sriracha mayo and whisk until smooth. Set aside.
Using a 1 cup ramekin or dry measuring cup, layer ¼ cup cucumber, 3 tablespoons mashed avocado, ¼ cup of the shrimp, ¼ cup tuna, and fill the remainder of the ramekin with the rice, pressing gently so the ingredients are compacted.
Invert the ramekin on a plate and gently tap the bottom, releasing the layered stack, intact.  Drizzle -12 teaspoons of the soy sauce over the top of the stack and top with 1 tablespoon of the sriracha mayo.  Garnish with a sprinkle of sesame seeds and cilantro.
Repeat to make 6 delish sushi stacks!
*Note – this can be made with shrimp only or tuna only as well.
Select multiple categories to narrow your search! Want appetizers made with chicken? Just select both Appetizers and Chicken!