TEX MEX PULLED CHICKEN NACHOS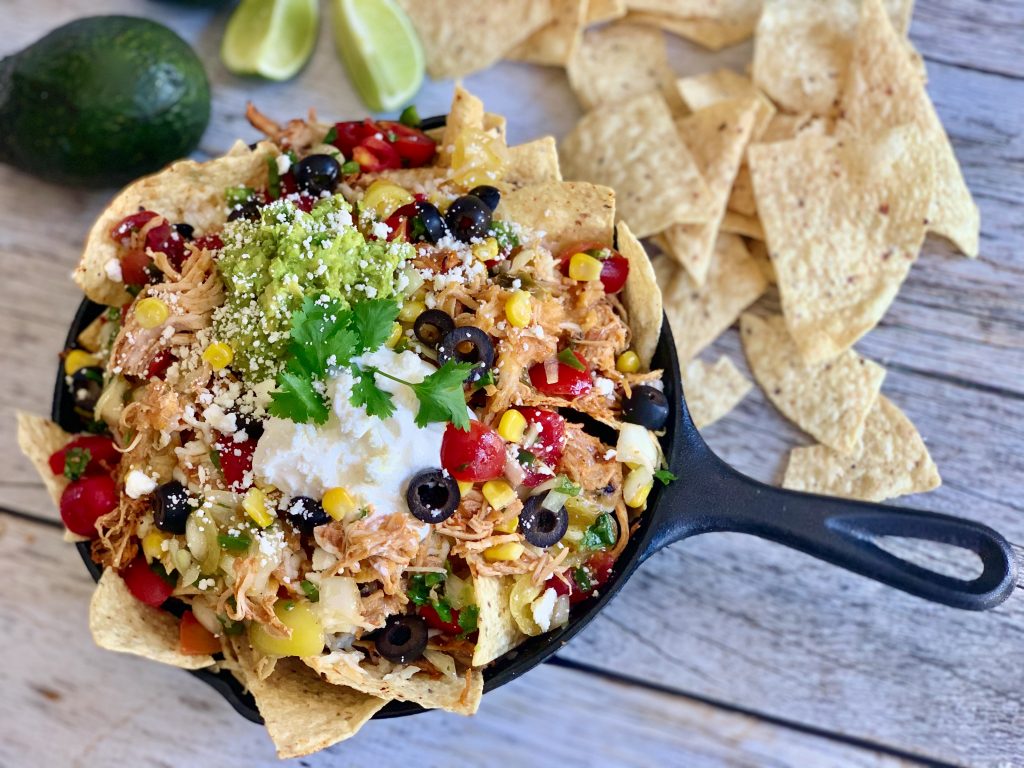 Pulled Chicken:
3 large raw boneless chicken breasts (about 2-2 ½ pounds )
2 tablespoons olive oil
1, 15.5-ounce jar salsa
1 large onion, chopped
1 jalapeño pepper, chopped
8 large garlic cloves, chopped
1 large green bell pepper, chopped into 1" pieces
1 large orange bell pepper, chopped into 1" pieces
3 cups chicken stock
2 teaspoons Dish off the Block Ragin' Cajun Spice Blend
1 teaspoon cumin
1 cinnamon stick
Pico de Gallo:
1 pint grape tomatoes, cut in quarters
1 small onion, chopped
2 cloves garlic, minced
1 jalapeño, chopped
½ cup fresh cilantro leaves, chopped
Juice from one lime
¼ cup olive oil
1 tablespoon sugar
½ teaspoon salt
½ teaspoon black pepper
½ teaspoon cumin
Nachos:
1, 18-ounce bag tortilla chips
2 cups shredded cheddar jack cheese
½ cup frozen corn, thawed
1, 2.5-ounce can sliced black olives
¾ cup guacamole
¾ cup sour cream
⅓ cup Cotija or feta cheese, crumbled
Place all of the pulled chicken ingredients in a large Dutch oven or stock pot.  Bring to a boil, stirring occasionally.  Reduce heat to low and cook for 3 hours, uncovered.  Stir every so often and begin breaking up the chicken as it cooks down.  At the end of 3 hours, shred the chicken completely into the remaining broth with 2 forks.
Combine all of the pico de gallo ingredients in a small bowl and let sit at room temperature while your chicken cooks so flavors can meld.
Preheat oven to 350 degrees.
You can make these nachos on a baking sheet lined with parchment, in a large cast iron pan, or individual pans (as in the photo below).
Layer half of your chips either on your baking sheet or in cast iron pans.  Top with ⅓ of the cheese, about ¾ cups of the chicken, and half of the corn.  Bake for 5-7 minutes until the cheese is melted.  Remove and top with the remaining chips 1-1 ½ cups of chicken, remaining shredded cheese and the rest of the corn.  Place back in the oven and bake for 10-15 minutes until the cheese is melted and the chips are lightly browned.  Top with about ¾ cup of the pico de gallo and the olives.
Dollop the guacamole and sour cream on the top and finish by sprinkling the Cotija cheese all over.
Select multiple categories to narrow your search! Want appetizers made with chicken? Just select both Appetizers and Chicken!