CHEESEY CHICKEN, QUINOA, BROCCOLI, AND SPINACH CASSEROLE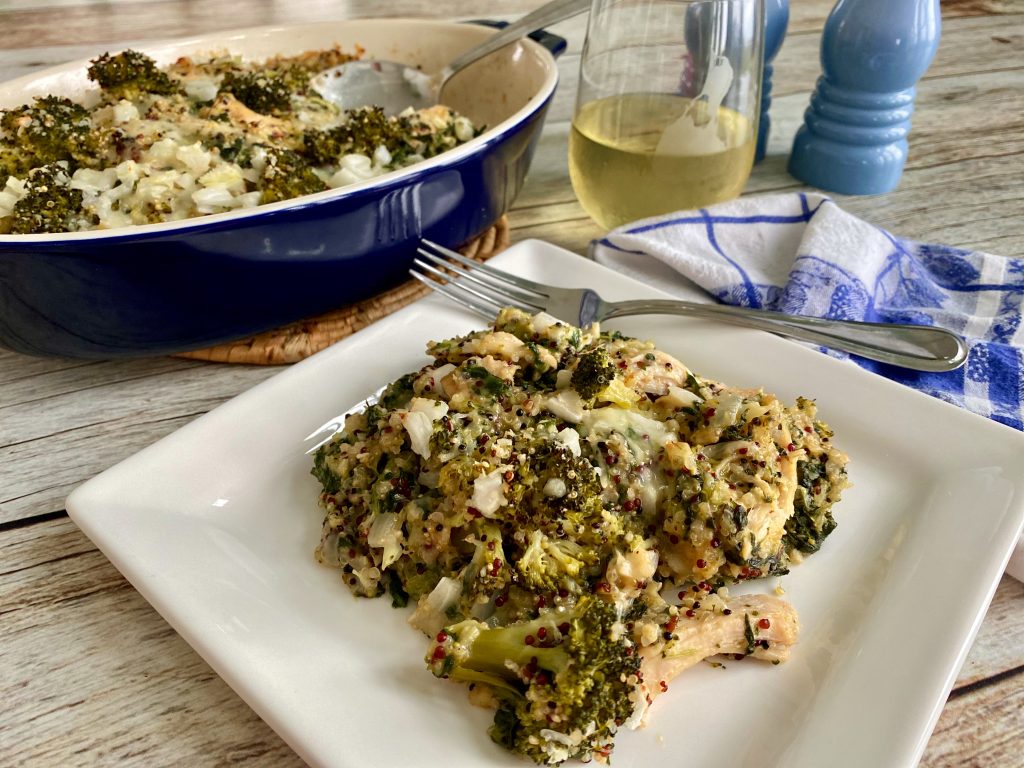 2 cups chicken stock
1 large Vidalia or sweet onion, chopped fine
3 garlic cloves, chopped
1 cup raw quinoa
1 teaspoon salt, divided
2 cups broccoli florets
1, 10-ounce box frozen spinach thawed and squeezed mostly dry
2 tablespoons butter
2 tablespoons flour
1 cup milk
2 cups shredded cheddar cheese
½ teaspoon black pepper
3 cups boneless chicken breast, cooked and shredded into bite-size pieces (leftover chicken is also great here)
½ cup grated parmesan cheese
Preheat oven to 350 degrees.
Bring the chicken stock to a boil in a large saucepan.  Add half of the onions, the garlic, quinoa, and ½ teaspoon of the salt to the pan.  Reduce heat to low and cover. Cook for 15-18 minutes until the liquid is absorbed and the quinoa has plumped and the germ has popped out of the kernel (looks like a tiny curly string).
Bring about ¼" of water to a boil in a medium size skillet.  Place the broccoli florets in the water and cover the skillet.  Cook for 4-5 minutes until broccoli is bright green and crisp tender.  Set aside with the drained spinach.
In another large saucepan, make the cheese sauce.  Melt the butter over medium high heat and whisk in the flour.  Cook for 1 minute.  Add the milk and continue cooking, whisking frequently until a thick sauce forms.  Turn the heat to low and stir in the cheddar cheese, remaining ½ teaspoon salt, and black pepper.  Add the quinoa, broccoli, spinach, and chicken to the cheese sauce and mix until everything is evenly coated.  If your pan is not big enough, combine everything together in a large bowl.
Spray an 8" x 8" or similar size casserole dish with non-stick spray and transfer the cheesy quinoa chicken mixture to the dish and spread in an even layer.  Sprinkle the top with the remaining chopped onions and the parmesan cheese.
Bake for 30 minutes until lightly browned, hot and bubbly.
Select multiple categories to narrow your search! Want appetizers made with chicken? Just select both Appetizers and Chicken!