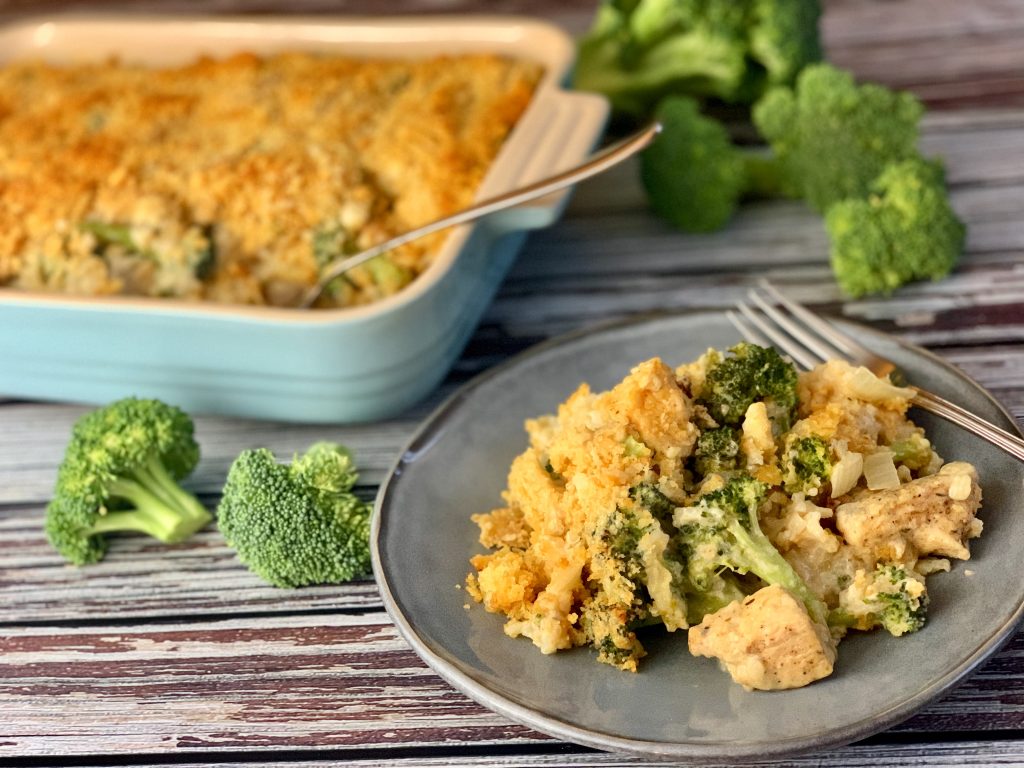 3-4 cups broccoli florets
1 ½-pounds raw boneless chicken breast, chopped into 2" pieces (about 3 cups)
2 teaspoons Dish off the Block Superbly Herby Spice Blend
1 teaspoon salt
1 teaspoon black pepper
6 tablespoons butter, divided
1 medium onion, chopped
½ cup dry white wine
½ cup chicken stock
1 cup light cream
½ cup sour cream
2 cups shredded cheddar cheese
1 cup raw rice, cooked to package directions (about 2 ½ cups cooked rice)
40 Ritz crackers, crushed in a ziplock bag
Preheat oven to 375 degrees.
Bring a large sauce pan of salted water to a boil and add the broccoli.  Cook for 3-4 minutes until the broccoli is bright green and tender when pierced with a fork, but still slightly crisp.  Drain in a colander and run cold water over it to stop the cooking.  Set aside.
Place the chicken breast cubes on a cutting board and sprinkle the herb seasoning, salt, and pepper over the top.  Massage the seasoning all over the chicken with your hands.
Melt 4 tablespoons of the butter in a large deep skillet.  Add the chicken and cook for 2-3 minutes, lightly browning on all sides.  Remove from the skillet and set aside – note – the chicken will not be cooked through.
To the drippings in the pan, add the onion and cook until soft and fragrant, about 2 minutes.  Add the wine to the pan and cook until reduced by half.  Add the chicken stock, cream, and sour cream and bring to a boil, stirring frequently.  Cook for 2-3 minutes until a cream sauce forms.
Add the cheese and stir until melted.  Fold in the rice, chicken pieces (and any juices that have formed), and broccoli. Transfer this mixture to a 9" x 13" pan that has been prepared with non-stick spray.
Melt the remaining 2 tablespoons butter in the empty skillet and add the crushed Ritz cracker crumbs.  Cook until lightly browned and spread them evenly over the top of the casserole.
Bake for 25-30 minutes until bubbly and browned.
*Note – you could also make this dish in a cast iron or oven proof skillet and just top the whole thing with the cracker crumbs and bake in the same skillet.
Select multiple categories to narrow your search! Want appetizers made with chicken? Just select both Appetizers and Chicken!