SUPERBLY HERBY FISH CHOWDER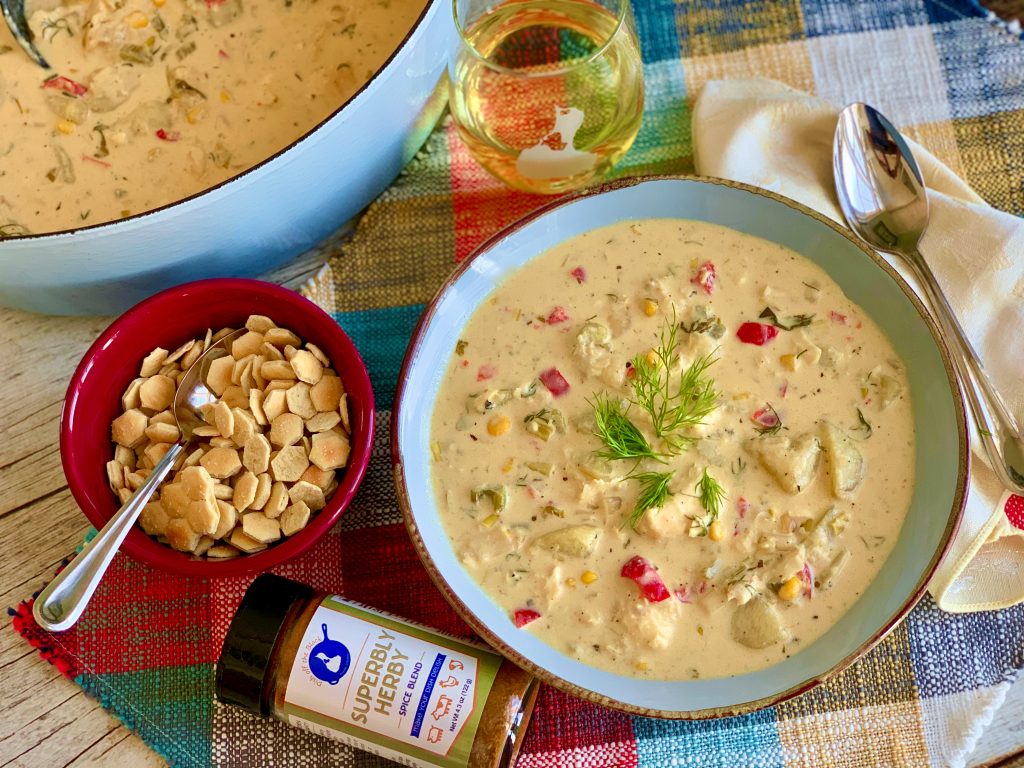 5 medium Yukon gold potatoes, peeled and chopped into 1" pieces
2 ½ cups seafood or lobster stock
3 tablespoons butter
1 tablespoon olive oil
1 large onion, chopped
1 cup celery, chopped
1 leek, white and light green parts chopped
6 garlic cloves, chopped
1 red bell pepper, chopped
1 ½ tablespoons Dish off the Block Superbly Herby Spice Blend
1 teaspoon salt
½ teaspoon black pepper
1 tablespoon corn starch
3 cups heavy cream
1 cup frozen corn, thawed
1-1 ½-pounds fresh fish, skinned (halibut, striped bass, haddock, salmon, etc…)
2 tablespoons fresh dill, chopped
Cover the potatoes with the seafood stock in a medium saucepan.  Bring to a boil and cook until the potatoes are just barely fork tender.  Do not drain.  Set aside.
While the potatoes are cooking, melt the butter and olive oil in a large Dutch oven or soup pot (6-8 quart) over medium high heat.  Add the onions, celery, leeks, and garlic and cook, stirring frequently, for 4-5 minutes until the veggies begin to soften and are very fragrant.
Add the red pepper, Superbly Herby seasoning, salt, and black pepper and cook for 2 minutes more.  Stir in the corn starch.
Add the cooked potatoes with stock to the pan and stir to combine, the broth will begin to thicken slightly.  Add the heavy cream and corn to the pan and bring back to a boil.  Reduce the heat to low and let cook for 5 minutes, stirring frequently.
Cut the fish into large chunks and add it to the chowder along with the dill.  Bring back to a boil and again reduce the heat to low, cooking until the fish chunks started to break apart and are cooked through, about 10-12 minutes.
Serve hot, garnished with more dill and with oyster crackers or crusty bread on the side.  Yum!  And… it's even better the next day!!
Select multiple categories to narrow your search! Want appetizers made with chicken? Just select both Appetizers and Chicken!