CHEESEBURGER PASTA CASSEROLE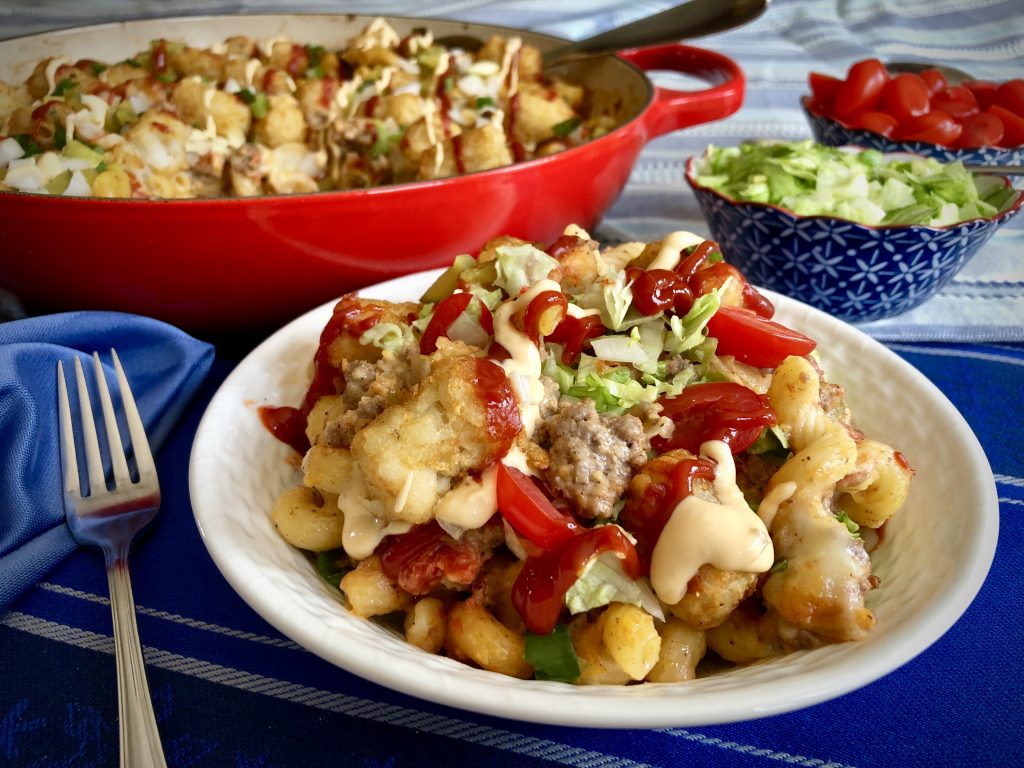 1 ½ pounds ground beef (85% lean)
1 large onion, chopped
2 teaspoon salt
2 teaspoon black pepper
1, 14.5 ounce can diced tomatoes
½ cup Hellmann's Classic Burger Sauce (plus more for garnish)
2, 8 ounce bars cheddar cheese, shredded (I like to use 2 different kinds of cheddar for more complex flavor – for example, one sharp and one mild)
1 pound cavatappi pasta, cooked al dente (or your favorite pasta shape)
8 slices American cheese
35 frozen tater tots
¼ cup dill pickles, chopped
¼ cup sweet onion, chopped
¼ cup scallions, chopped
About ¼ cup Hellmann's Real Ketchup
1 cup iceberg lettuce, chopped
1 pint grape tomatoes, cut in half
Preheat oven to 425 degrees.
In a large, oven proof skillet (about 13") cook the hamburger and onions, over medium high heat, breaking the hamburger up with a spatula as it cooks.  When the burger is mostly cooked through, season with the salt and pepper and add the diced tomatoes, burger sauce, and cheddar cheese.  Continue to cook stirring until the cheese is all melted.
Add the pasta to the pan and mix well.  Turn off the heat.  Rip the American cheese into pieces and spread randomly over the pasta mixture.  Place the tater tots all over the top of the casserole and put in the oven to cook for 20 minutes.
When done cooking, sprinkle the top of the casserole evenly with the pickles, onion, and scallions.  Squeeze the ketchup in a stripy pattern over the top of the casserole and then do the same with the burger sauce.
Serve in bowls with lettuce and tomatoes on side, so each dinner can add the amount they prefer. I also serve with the ketchup bottle nearby as my kids like extra!  Soooo gooood!!
Close your eyes and take a bite.  This pasta casserole legitimately tastes like you are eating a cheeseburger!  My family went bonkers for this dish which is pasta bathed in a cheesy hamburger ragu with amazing burger umami from Hellmann's Classic Burger Sauce.  The top is dotted with tater tots (aka 'the fries') and garnished with pickles, onions, and ribbons of Hellmann's Real Ketchup.  Serve yourself a bowl and finish it like you would your favorite burger with lettuce and tomato toppings!  Then, tuck a napkin into your shirt and dig into the gooey goodness!
Select multiple categories to narrow your search! Want appetizers made with chicken? Just select both Appetizers and Chicken!