We're back! After cancelling the first Christmas family gathering – aka the Gelsomini Extravaganza – in 23 years in 2020 thanks to #@!%*& Covid, we gathered again this past weekend!  We were still missing some – about half the size as in a 'normal' year, but it was still so great to hug, laugh, nosh, and catch up with family, many of whom we hadn't seen in over 2 years!
The Gelsomini Extravaganza is our annual family Christmas gathering that we started 23 years ago!  I cook up a feast and we gather to catch up, laugh, eat, drink, and celebrate our fabulous family and the holiday season.  And – there is competition!! The Christmas Grab!  Themed every year, we offer prizes for the top three creative gifts and their relevance to the theme!  Past themes have included movies, icons, farm animals, countries, songs, and this year… 'Something that came out of Covid/2020'!!  As always, the gifts were fun and thoughtful including Snacks with a bathroom scale, a Moderna stock certificate, an art kit and original portrait of Jimmy Hendrix, Corona beers and hand sanitizers, and my gift – a DotB cookbook and spice set!
Now, for the pregame – appetizers!  I have some staple go-to recipes that I use each year, but also like to create some new fare each year as well!  There is no better group of taste testers that this clan!  A charcuterie board is always on the table and my daughter, Laura, has a nack for arranging a beautiful array of cheeses, meats, fruit, and nuts.
This year I did some 'new' appetizer recipes, torturing my guests as I took photos while they drooled waiting for a bite!! Note you can click on any of the photos (or links) in this post for a direct link to the recipe on the blog!
First up, were these very easy Scallop, Pesto, and Sun-Dried Tomato Towers on puff pastry!  Gone in 30 seconds (after I got my photos in – ha ha)!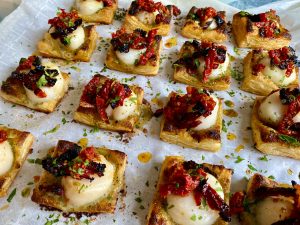 Next, piping hot Cheesy Antipasto Dip!  All of the elements you think of on a classic antipasto platter hugged in creamy, cheesy dip and served with pita chips!  Leftovers?  Toss the leftover dip with hot pasta!! Huge 'day after' hit here!
This Cheesy Spinach and Artichoke Pull Apart Bread has all the flavors of traditional spinach and artichoke dip in a cheesy, crunchy loaf of bread – total crowd pleaser and a great way to get your kids to eat their spinach!!
On to the main event!  are you full yet?  I hope not!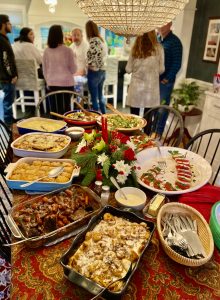 One dish that I make every year for the Extravaganza is my Eggplant Parmesan!  This is an Italian family (Nick's side!) after all and I can make this casserole a month in advance and freeze it — I think this step actually helps to make the eggplant incredibly tender.  Just defrost before baking!!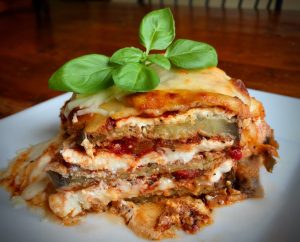 Braised Short Ribs are always a huge hit and also another great dish that can be made somewhat in advance as they cook all day and fill the house with amazing aromas!  This dish pleases even the pickiest of eaters and served over my Party Potato casserole (made 2 days in advance of the party)… you always hear groans of delight as people dig in.
Seafood!  I always make at least one seafood dish and this year I went the decadent route and made Superbly Herby Chilean Sea Bass and Shrimp in Lemon Cream Sauce!  The sea bass and shrimp are marinated in lemon and soy and coated in an herby crust using my Dotb Superbly Herby Spice Blend and topped with a rich and silky lemon cream sauce.  Let's just say the crowd went wild…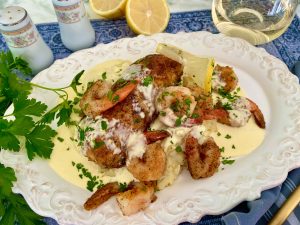 Got vegetarians? Need a killer side dish? This Spanakopita – aka Greek Spinach Pie – is the best I've ever had.  I got this recipe 25 years ago from a Greek woman who was the hairdresser at my brother's wedding.  She brought this dish to the bridal shower and I couldn't stop eating it.  She was kind enough to give me the recipe and it has been one of my favorites ever since.  It can also be made a month in advance and frozen, so another dish to keep you from scrambling the day of the party!
Let there be salad!  I did 3 salads this year.  My husband is mad for Caprese and I put a little holiday spin on the Italian classic!
I created this uber-healthy option for this year's party and it was incredible –  Roasted Butternut, Farro, and Greens Salad with Maple Balsamic Vinaigrette!
And last, but not least, a fan favorite – Greens and Berries Salad! This salad is gorgeous on any buffet with beautiful colors from blueberries, raspberries, and mango!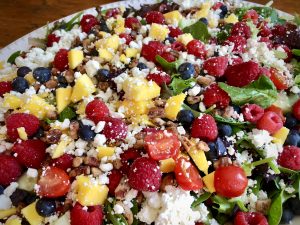 Everyone brings a dessert or  sweet treat and there is a prize for the most creative and delicious creation.  Shannon, who has taken the dessert award most years, made a gorgeous bûche de Noël (Yule log) and took the prize again!  This traditional Christmas dessert hailing from Switzerland, Belgium, and France was as delicious as it was gorgeous.  A chocolate cake roulade with vanilla buttercream and topped with dark chocolate 'bark'.
So much fun gathering with this amazing family of ours.  Love, laughter, and loads of merriment was had by all!! Merry Christmas to you and yours!!