SPANAKOPITA (GREEK SPINACH PIE)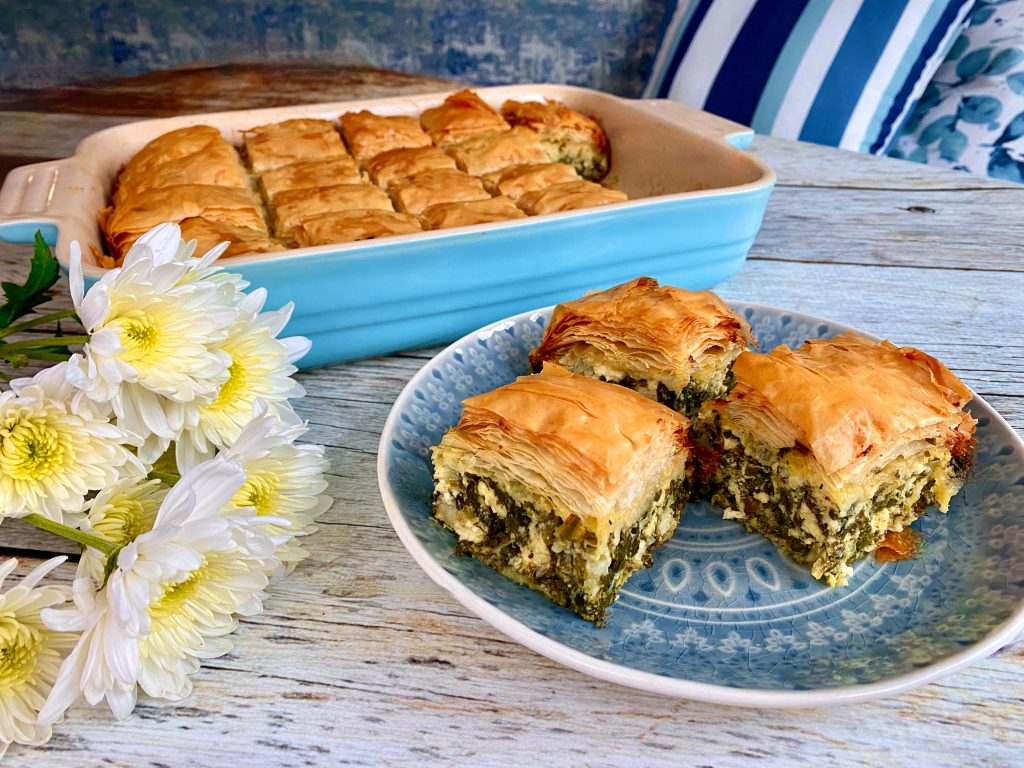 1 cup olive oil
2 medium onions, minced
3 bunches scallions, minced (about 2 cups)
½ bunch dill, chopped fine (about ¾ cup)
2, 10-ounce boxes frozen chopped spinach (defrosted and squeezed dry)
2 teaspoons salt
1 teaspoon black pepper
1 ½-pounds feta cheese, crumbled
5 eggs, beaten
2 sticks butter, melted
½-pound phyllo pastry sheets (about 25 9" x 13" sheets)
Heat the olive oil in a large skillet with sides.  Sauté onions, scallions, and dill in olive oil until the onions are soft and translucent.  Stir in spinach and season with salt and pepper.  Let cool and then mix in feta and eggs.
Brush some of the melted butter in the bottom of a 9" x 13" pan.  Place five layers of phyllo, one at a time, in the bottom of the pan, buttering each layer with a pastry brush before stacking the next.  Place the filing on top of buttered phyllo and spread to make an even layer. Layer remaining 15 phyllo sheets, brushing each with melted butter, on top.
Preheat oven to 350 degrees.  Cut the casserole into squares BEFORE baking.  Bake for 1 hour until golden brown and bubbly.  Remove from oven and let set for 30-40 minutes before serving.
This casserole can be frozen in advance.  Thaw slightly before cooking and cut into squares before baking.
I got this recipe from Irene Koutroubila, my sister-in-law's hairdresser at her wedding shower many many moons ago.  I couldn't stop eating it and begged her for the recipe.  Easily the best Spanakopita I ever had!  SOOOO GOOOD!
Select multiple categories to narrow your search! Want appetizers made with chicken? Just select both Appetizers and Chicken!