ROASTED BUTTERNUT, FARRO, AND GREENS SALAD WITH MAPLE BALSAMIC VINAIGRETTE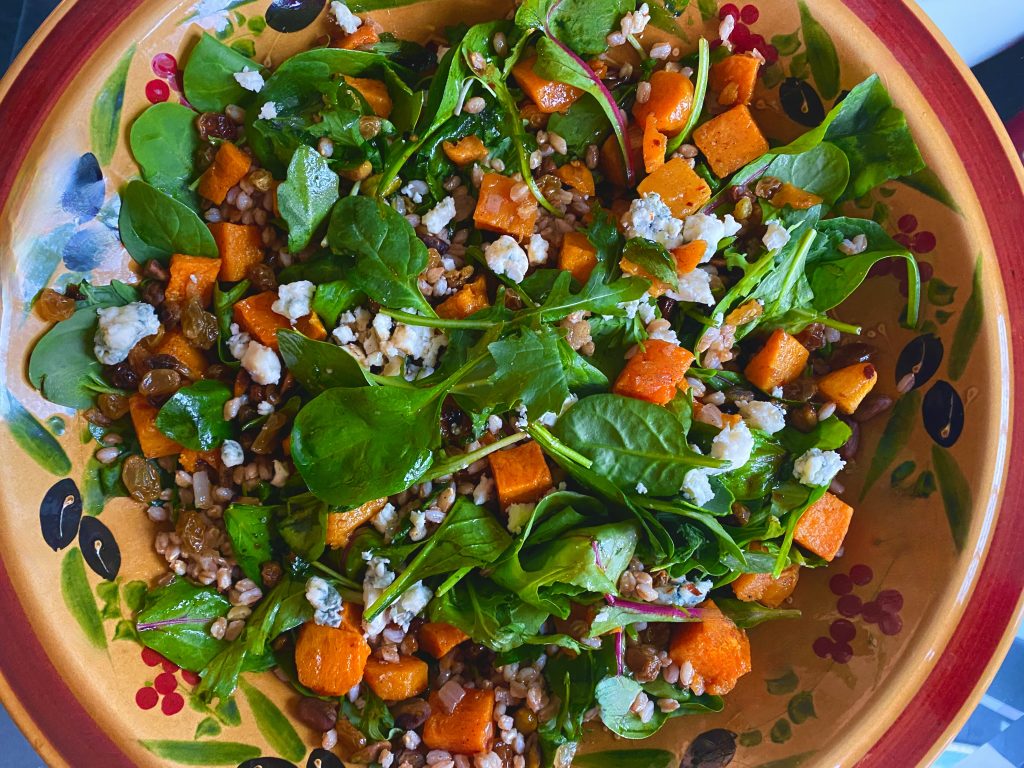 The Salad:
1 cup raw farro
2 cups water
2 teaspoons salt, divided
5 tablespoons olive oil, divided
20-ounces butternut squash, cut into ¾" cubes
½ teaspoon cinnamon
½ teaspoon red pepper flakes
10-ounces baby kale and spinach blend greens
½ cup yellow raisins
1/3 cup pistachios, shelled
¼ cup gorgonzola cheese, crumbled
The Dressing:
¼ cup red onion, chopped
¼ cup olive oil
1/3 cup maple syrup
¼ cup balsamic vinegar
2 teaspoons Dijon mustard
Preheat oven to 375 degrees
Rinse the farro in a colander under cold running water.  Bring the water to a boil and add the farro and 1 teaspoon of the salt.  Cover, reduce to a simmer, and cook for 25-30 minutes until all of the water is absorbed.  Let sit for 10 minutes and the add 1 tablespoon of the olive oil and toss with a fork.  Set aside to cool to room temperature.
While the farro is cooking, spread the cubed butternut on a foil-lined rimmed baking sheet and drizzle with the remaining 4 tablespoons of olive oil.  Sprinkle the remaining 1 teaspoon of salt, the cinnamon, and the red pepper flakes over the squash and toss so that all of the cubes are evenly coated.  Spread into a single layer and bake for 30-35 minutes until the squash is fork tender.  Cool to room temperature.
Combine all of the dressing ingredients in a large jar and shake until combined and emulsified.
To assemble the salad, place the greens in a large bowl or serving platter and top with the farro, squash, raisins, pistachios, and gorgonzola.  Toss with half the dressing and then add more as desired.
Select multiple categories to narrow your search! Want appetizers made with chicken? Just select both Appetizers and Chicken!