CHEESY, BACON, ZUCCHINI, AND MUSHROOM FRITTATA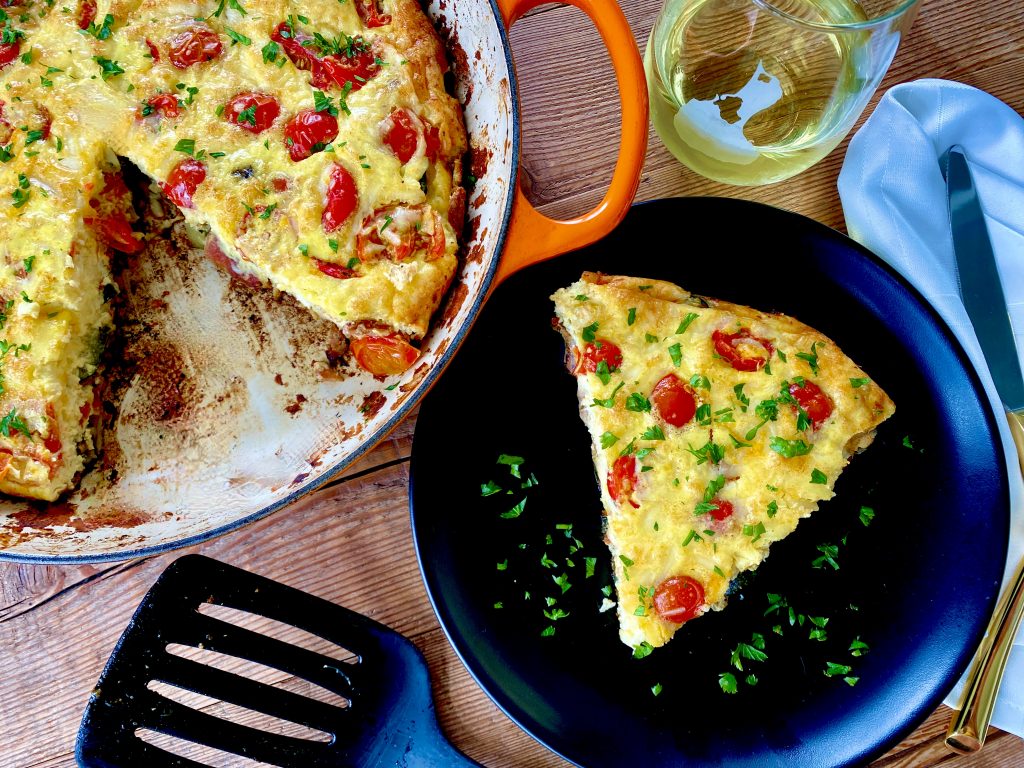 ½ pound raw bacon strips
1 medium onion, chopped
2 cups zucchini, chopped into 1" dice
1 cup mushrooms, rough chopped
8 eggs
½ cup heavy cream
1 ½ teaspoons salt
1 teaspoon black pepper
1 ½ cups Jarlsberg, shredded
1 ½ cups parmesan, shredded
1 ½ cups cherry or grape tomatoes, cut in half
Preheat oven to 375 degrees.
Place the bacon strips in a large cast iron or oven proof skillet and cook over medium high heat until crispy.  Remove from the pan, drain on paper towels, and rough chop.  Set aside.
Remove all but 2 tablespoons of the bacon grease from the pan.  Add the onions to the pan drippings and cook over medium heat until soft and fragrant about 2 minutes.  Add the zucchini and mushrooms and continue to cook using the moisture released from the veggies to scrape up any brown bits on the bottom of the pan.
Whisk the eggs, heavy cream, salt and pepper in a medium bowl. Stir in the Jarlsberg, 1 cup of the parmesan cheese, and the reserved bacon.  Pour this mixture over the veggies in the pan and gently 'move' the veggies to allow the eggs to seep in an evenly distribute.  Continue cooking, letting the egg mixture begin to set and the edges are firm, about 5-6 minutes.
Sprinkle the tomatoes and remaining ½ cup of parmesan cheese evenly over the top of the frittata and place it in the oven.  Bake for 15-20 minutes until lightly puffed and set in the center.  Remove and let rest for 10 minutes before cutting.  As it rests, gently work a butter knife around the edge of the frittata to help loosen the edges from the pan.
Cut into slices and chow down!!
Select multiple categories to narrow your search! Want appetizers made with chicken? Just select both Appetizers and Chicken!