SUPERBLY HERBY CHILEAN SEA BASS AND SHRIMP WITH LEMON CREAM SAUCE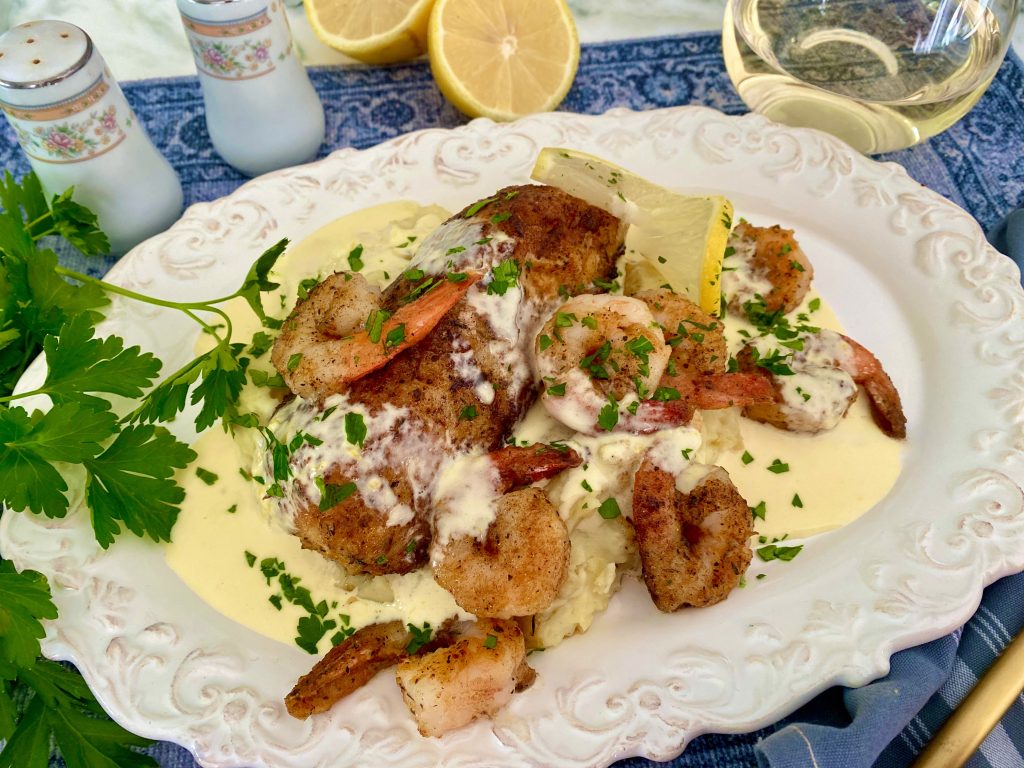 The Sauce:
2 cups heavy cream
½ teaspoon salt
1 tablespoon lemon zest
4 tablespoons fresh squeezed lemon juice
The Fish and Shrimp:
2-2 ½-pounds Chilean sea bass filets, skinned
1-pound large raw shrimp (U26/30), peeled and deveined
1 lemon, juiced (about 2 tablespoons juice)
2 tablespoons soy sauce
½ cup flour
3 tablespoons Dish off the Block Superbly Herby Spice Blend
3 tablespoons butter
3 tablespoons olive oil
2 tablespoons fresh parsley, chopped
Preheat oven to 375 degrees.
To make the sauce, combine the cream, salt, zest, and lemon juice in a large saucepan and bring to a boil. Reduce to a low boil and let the sauce cook and reduce while you prepare the fish, whisking occasionally.  This sauce can bubble away on a simmer for up to one hour. The longer it cooks, the thicker and more luxurious it gets!!
Place the fish filets and shrimp in a shallow baking dish.  Whisk together the lemon juice and soy and pour over the fish and shrimp turning to coat.  Let marinade at room temperature for 20 minutes.
Combine the flour and Superbly Herby spice blend in a pie plate or shallow baking dish.
Heat 2 tablespoons each of the butter and olive oil in a large non-stick skillet.  Take the sea bass filets out of the marinade and let any excess moisture run off.  Press the filets in the herby flour mixture to coat on all sides.  Place in the hot pan and sear until browned on all sides, turning gingerly with tongs.  Place the seared filets in a 9" x 13" baking dish and place the pan in the preheated oven to finish cooking, approximately 6-10 minutes depending on the thickness of the filets.  They are perfect when a fork easily slides in and out of the center of the filets and the fish flakes easily.
While the fish finishes in the oven, dip the marinated shrimps in the remaining seasoned flour.  Add the remaining tablespoon each of the butter and oil to the pan drippings from the fish.  Sear the shrimp on both sides until pink and curled.
Serve the fish and shrimps over mashed potatoes or rice topped with the lemon cream sauce and garnished with chopped parsley.
Select multiple categories to narrow your search! Want appetizers made with chicken? Just select both Appetizers and Chicken!