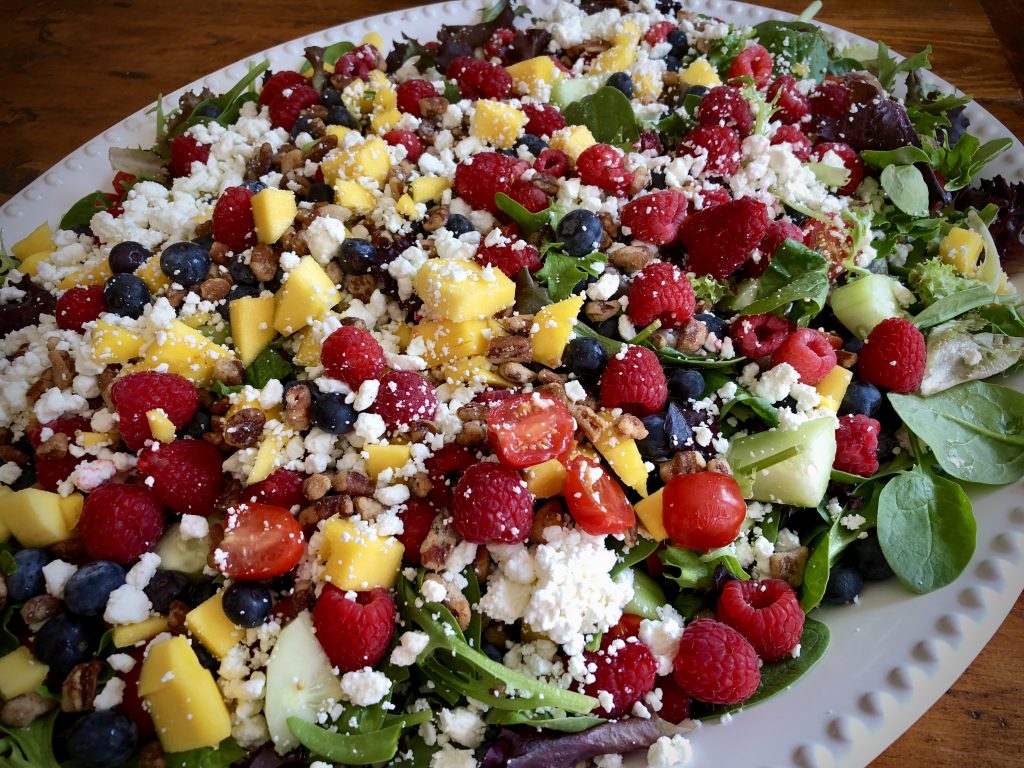 5-7 ounce of Mixed Greens (arugula, mesculin, endive, baby spinach, etc…)
1 small cucumber, sliced into half moon slices
¾ cup grape or cherry tomatoes, cut in half
¾ cup blueberries
¾ cup raspberries
1 mango, diced
¾ cup goat cheese, crumbled
¾ cup pecan halves (caramelized with ½ cup brown sugar)*
Dressing:
⅓ cup raspberry viniagrette
½ cup olive oil
2 teaspoons Dijon mustard
⅓ cup sugar
Layer all ingredients in order listed in a large salad bowl.   A wide dish works better than a deep one so the colors of the salad can be seen.
Combine all of the dressing ingredients in a large jar and shake vigorously to combine and emulsify.  Drizzle salad with dressing and toss lightly.
* To caramelize pecans, place in a small frying pan over medium heat with brown sugar.  When sugar begins to melt add one teaspoon of water and stir until the sugar coats all of the pecans.
Great on buffets or add grilled chicken for a light meal!
Select multiple categories to narrow your search! Want appetizers made with chicken? Just select both Appetizers and Chicken!