ZUCCHINI SLICE PEPPERONI PIZZAS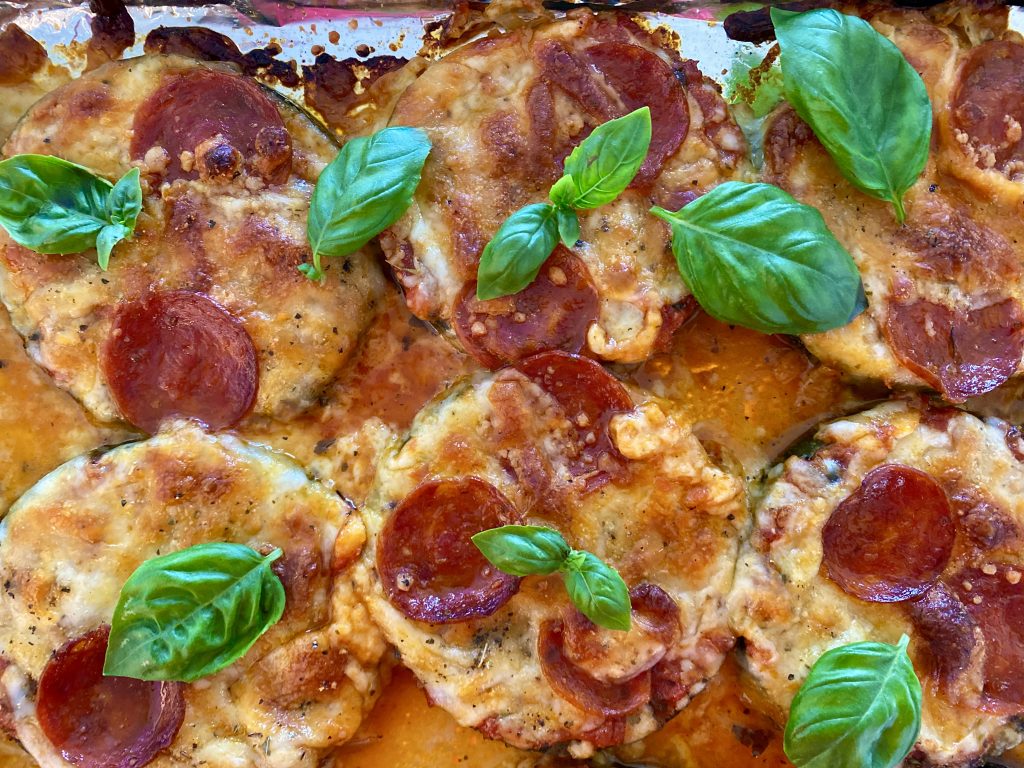 1 very large zucchini, about 12" long and 3 ½ – 4" in diameter
¼ cup olive oil
1 tablespoon + 1 teaspoon Dish off the Block Ciao Bella Italian Spice Blend
½ teaspoon salt
½ teaspoon black pepper
1 cup spaghetti or marina sauce
2 cups shredded mozzarella cheese
½ cup grated parmesan cheese
½ cup baby pepperoni slices
¼ cup fresh basil leaves
Preheat oven to 375 degrees.
Line a rimmed baking sheet with foil and coat with non-stick spray.  Cut the zucchini into ½" thick rounds and place on the baking sheet in a single layer.
Combine the olive oil and 1 tablespoon of the Italian seasoning in a small bowl and whisk to combine.  Using a pastry brush, coat the top of each zucchini slice with the herby oil and then season them with the salt and pepper.
Spread about 1 tablespoon of the spaghetti sauce on each slice and then top evenly with the mozzarella. Sprinkle the remaining teaspoon over the mozzarella, followed by the parmesan cheese.  Put a few slices of the pepperoni on each, 'tucking them a little into the mozzarella cheese.
Bake for 25-30 minutes until browned, bubbly and the zucchini is very tender when pierced with a fork. Garnish with fresh basil leaves and devour.
Select multiple categories to narrow your search! Want appetizers made with chicken? Just select both Appetizers and Chicken!