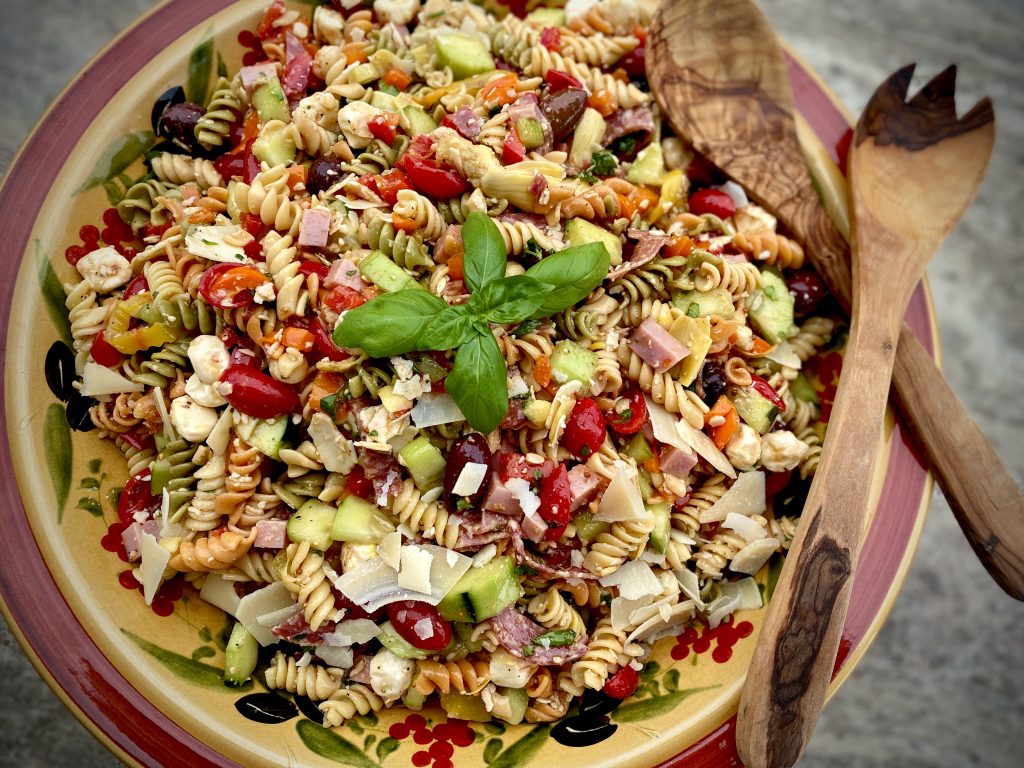 The Salad:
1-pound tri-color rotini pasta, cooked al dente to package directions
10-ounces baby mozzarella balls
8-ounce ham steak, cut into ½" cubes
4-ounces genoa salami, cut into thin 2-3" strips
1 large red bell pepper, chopped
1-pint grape or cherry tomatoes, cut in half
1 English cucumber, chopped (about 2 cups)
1, 16-ounce jar mild banana peppers, drained with 1/3 cup juice reserved
1, 6-ounce jar Kalamata olives, drained
1, 14-ounce can artichoke hearts, drained and chopped
3 teaspoons Dish off the Block Ciao Bella Italian Spice Blend
½ teaspoon salt
½ teaspoon black pepper
1 ½ cups shaved parmesan
¼ cup flat leaf parsley, chopped
¼ cup fresh basil leaves, chopped
The Dressing:
¾ cup olive oil
¼ cup balsamic vinegar
1 tablespoon Dijon mustard
1 tablespoon grainy mustard
1 tablespoon honey
Combine all of the salad ingredients, reserving ½ cup of the shaved parmesan, in a very large bowl and toss.
Combine all of the dressing ingredients along with the reserved banana pepper juice in a jar and shake until well blended and emulsified.
Pour the dressing over the salad and toss until everything is well coated.  Sprinkle the top with the reserved parmesan.  Refrigerate and serve cold.  Flavors get even better if you make it a day in advance.  Mangia!!
Select multiple categories to narrow your search! Want appetizers made with chicken? Just select both Appetizers and Chicken!