SUPERBLY HERBY DIJON SALMON AND ASPARAGUS SHEET PAN DINNER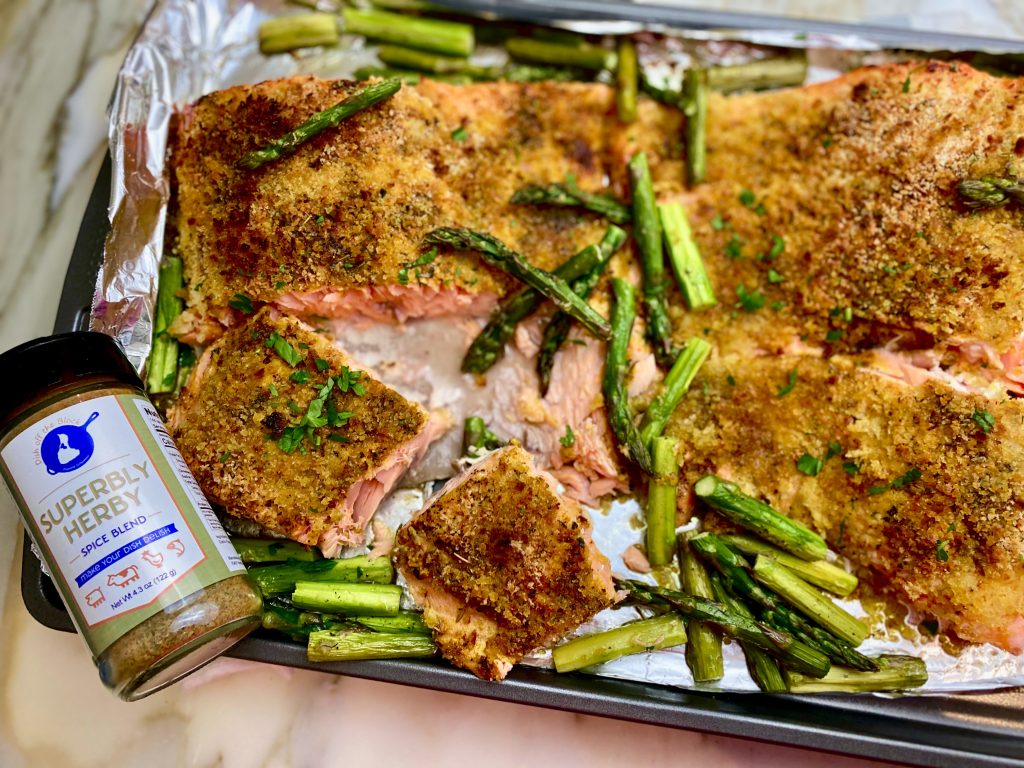 2-pounds salmon filet
1 tablespoon Dijon mustard
½ teaspoon salt
2 teaspoons Dish off the Block Superbly Herby Spice Blend
¼ cup panko breadcrumbs
1 bunch asparagus spears
¼ teaspoon black pepper
¼ cup olive oil
1 lemon, cut into wedges
1 tablespoon fresh parsley, chopped
Preheat oven to 375 degrees.
Line a rimmed baking sheet with foil.  Place the salmon filets on the foil, skin side down.  You can do this as one large filet or cut into portion sizes first.
Spread the Dijon all over the top of the salmon.  Season with ¼ teaspoon of the salt and the 2 teaspoons of Superbly Herby seasoning.  Sprinkle the panko evenly over the top and gently press to adhere with your hands.
Cut the woody ends off the asparagus spears (about 1" from the bottom).  If the spears are very thick can you peel the bottom half with a vegetable peeler which will make them more tender.  Cut the spears into 3" pieces and spread them in an even layer all around the salmon on the sheet pan.  Season the asparagus with the remaining ¼ teaspoon salt and the black pepper.
Drizzle the olive oil all over the salmon and asparagus.
Bake for 12-15 minutes until the salmon flakes in the center and is just cooked through.  It will be slightly translucent in the center and a fork will slide in and out easily.
Turn the broiler on high and cook for 30 seconds to 1 minute to brown the top of the crumbs.
Squeeze the lemon all over the top of the salmon, garnish with parsley, and devour!!
Select multiple categories to narrow your search! Want appetizers made with chicken? Just select both Appetizers and Chicken!