LOBSTER MAC AND CHEESE EGG ROLLS WITH APRICOT SRIRACHA DIPPING SAUCE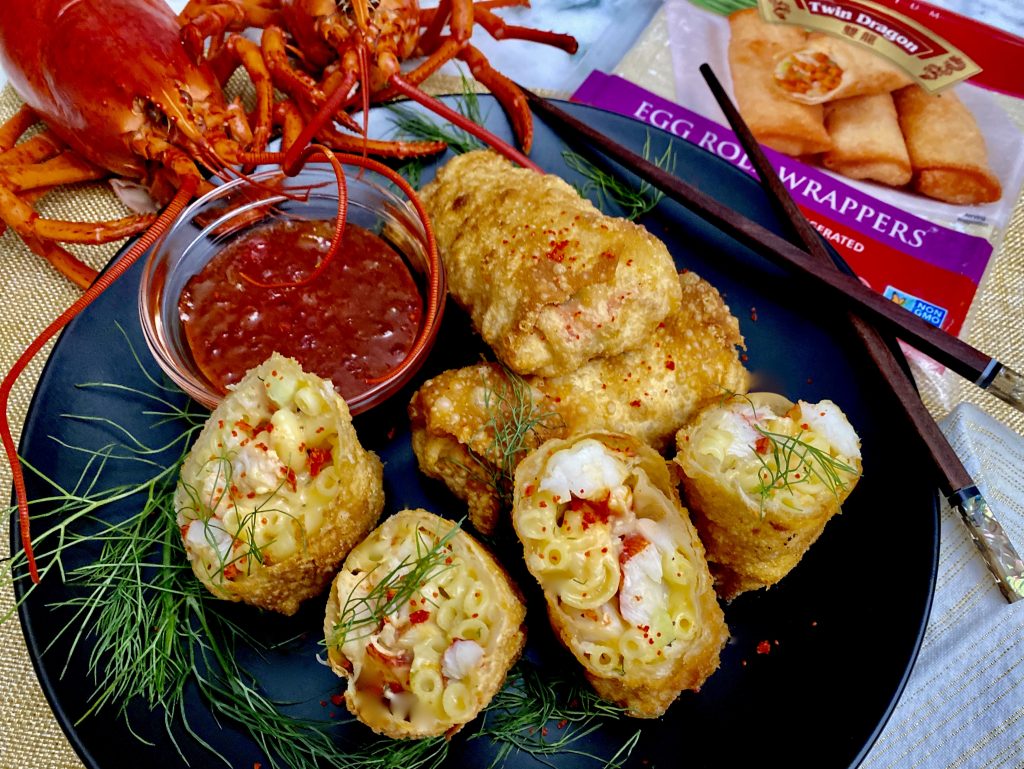 The Mac and Cheese
1 cup dry macaroni pasta
2 tablespoons butter
½ cup fennel, finely chopped
2 tablespoons fennel frond, finely chopped
3 cloves garlic, minced
1 ½ tablespoons flour
1 cup milk
¼ teaspoon salt
¼ teaspoon black pepper
1 cup shredded cheddar cheese
3 slices provolone cheese
2 ½ cups cooked lobster meat, chopped into bite size pieces
The Dipping Sauce
1 cup apricot preserves
1 tablespoon sriracha sauce
1 tablespoon cooked lobster roe (optional)
The Egg Rolls
2 teaspoons cornstarch
1 tablespoon water
8-10 Twin Dragon Egg Roll Wrappers*
Cook the macaroni in salted water according to package directions until al dente in texture.  Drain and set aside.
Melt the butter in a large saucepan and add the fennel, fennel fronds, and garlic to the pan.  Cook, stirring frequently, over medium high heat, until soft and fragrant, about 4-5 minutes.  Add the flour to the pan and cook, whisking for one minute.
Add the milk, salt, and pepper to the pan and cook, stirring until a thick white sauce forms, about 3-4 minutes. Add the cheeses and continue to whisk until a smooth, thick cheese sauce as formed.  Add the pasta to the pan and stir to coat.
Remove the pan from heat and toss in the lobster meat.  Place the mac and cheese in a bowl and put it in the freezer for 20 minutes or in the fridge for an hour.  You will want the mac and cheese to be chilled throughout when you make your egg rolls.
Heat 3-4" of canola or vegetable oil in a large Dutch oven or fryer to 375 degrees.
To make your dipping sauce, place the apricot preserves and sriracha sauce in a small saucepan and cook, whisking until smooth and syrupy.  If you are adding the lobster roe, stir it in.  Set aside and keep warm.
In preparation for making the egg rolls, combine the 2 teaspoons of cornstarch with the tablespoon of water in a small bowl to create a slurry.  This will be the glue that holds your egg rolls together.
Lay out one egg roll wrapper with one corner pointing toward you, so you are facing a 'diamond', not a square.  Place about ⅓ cup of the cold mac and cheese about 1" from the corner closest to you.  Form the filling into a log shape and tightly fold the corner nearest to you over the filling.  Roll once tightly, pushing the filling in on the edges.  Fold in the corner on each side (much like making a sandwich wrap) and, then, roll toward the far corner.  When only a triangle of wrapper remains, dip your finger in the cornstarch slurry and spread it over the exposed corner. Finish rolling, tightly and set aside. Repeat with the rest of the wrappers and filling.
Drop the rolls in batches into the hot oil and fry, turning occasionally with tongs until golden brown and crisp, about 2-3 minutes.  Drain on a cooling rack set on a foil lined cookie sheet.  Serve hot with the apricot sriracha dipping sauce.  Garnish with lobster roe and fennel fronds.
*You can purchase Twin Dragon Wrappers at Walmart, Albertsons, Shaw's, Von's, Stater Bros, Fred Meyer, QFC, Safeway, Associated Stores, Giant Stores, Shop N Shop, Winco, and Price Chopper!
Twin Dragon Wrappers are a product of JSL Foods.  Follow them on social media for more great products:
a.  Website: http://www.jslfoods.com/
b.  Facebook: https://www.facebook.com/JSLFoods/
c.  Twitter: https://twitter.com/JSL_Foods
d.  Instagram: https://www.instagram.com/jslfoods/
Select multiple categories to narrow your search! Want appetizers made with chicken? Just select both Appetizers and Chicken!