CREAMY CHERRY TOMATO BURST PASTA WITH CHICKEN AND ZUCCHINI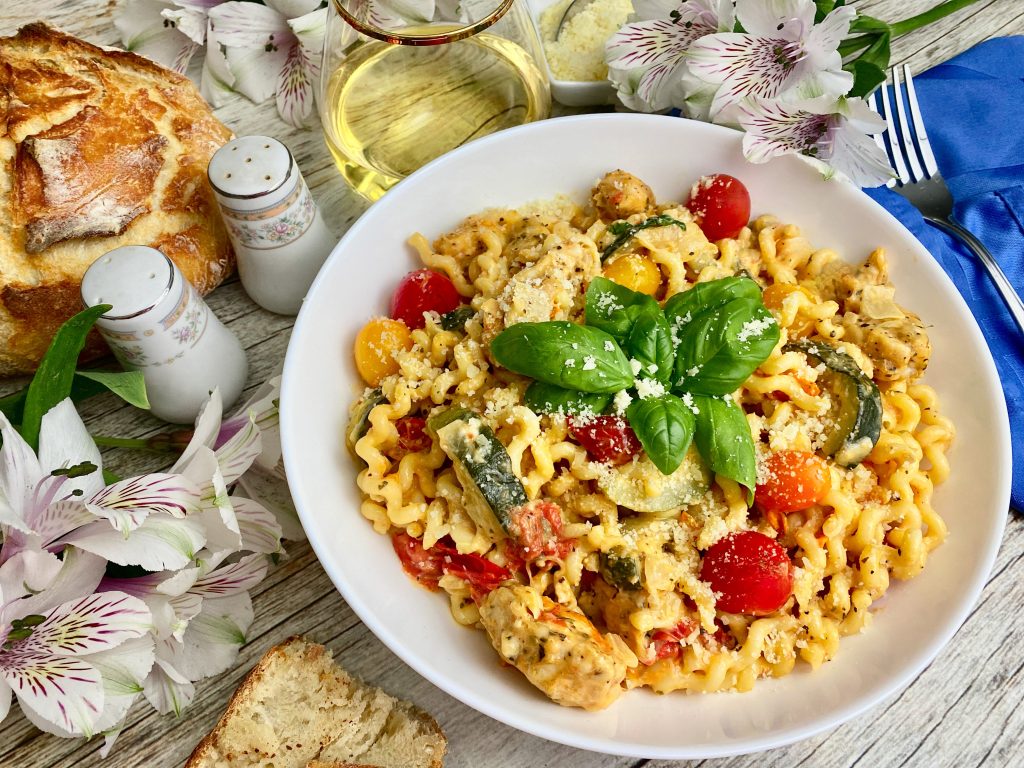 3 tablespoons olive oil
1 large onion, chopped
8 garlic cloves, chopped
1 medium zucchini, cut lengthwise and chopped into ½" thick half moons
1-pound raw boneless chicken breast, cut into bite-size pieces
1 tablespoon Dish off the Block Ciao Bella Italian Spice Blend
½ cup dry white wine
1 ½ cups heavy cream
3 cups cherry or grape tomatoes, cut in half
2 teaspoons salt
1 teaspoon black pepper
1 cup grated parmesan cheese (plus more for sprinkling)
¼ cup fresh basil leaves, chopped (plus more for garnish)
1-pound pasta, cooked al dente to package directions
Heat the olive in a large deep skillet over medium high heat.  Cook the onions and garlic until soft and fragrant, about 2 minutes.  Add the zucchini, chicken, and Italian seasoning to the pan and continue to cook, stirring frequently until the chicken is almost cooked through and the zucchini is soft.  Add the wine to the pan and bring to a boil and cook for 2 minutes, letting it reduce.
Add the heavy cream and bring the sauce back to a boil.  Add the tomatoes, salt, and black pepper and let bubble away, stirring frequently, for 8-10 minutes.  The sauce will reduce and get thicker as it cooks.  When the sauce has thickened, gradually stir in the parmesan cheese and the basil leaves.
Drain the pasta and add it to the pan.  Toss for 2 minutes until everything is well coated.  I like to let it sit for 2-3 minutes before serving so the pasta can absorb some of the sauce.  Serve hot in bowls, garnished with basil and with more parmesan on the side for sprinkling.  A glass of chardonnay and some crusty bread are a must as well.
Select multiple categories to narrow your search! Want appetizers made with chicken? Just select both Appetizers and Chicken!