OVERNIGHT BRUNCH STRATA WITH HAM AND VEGGIES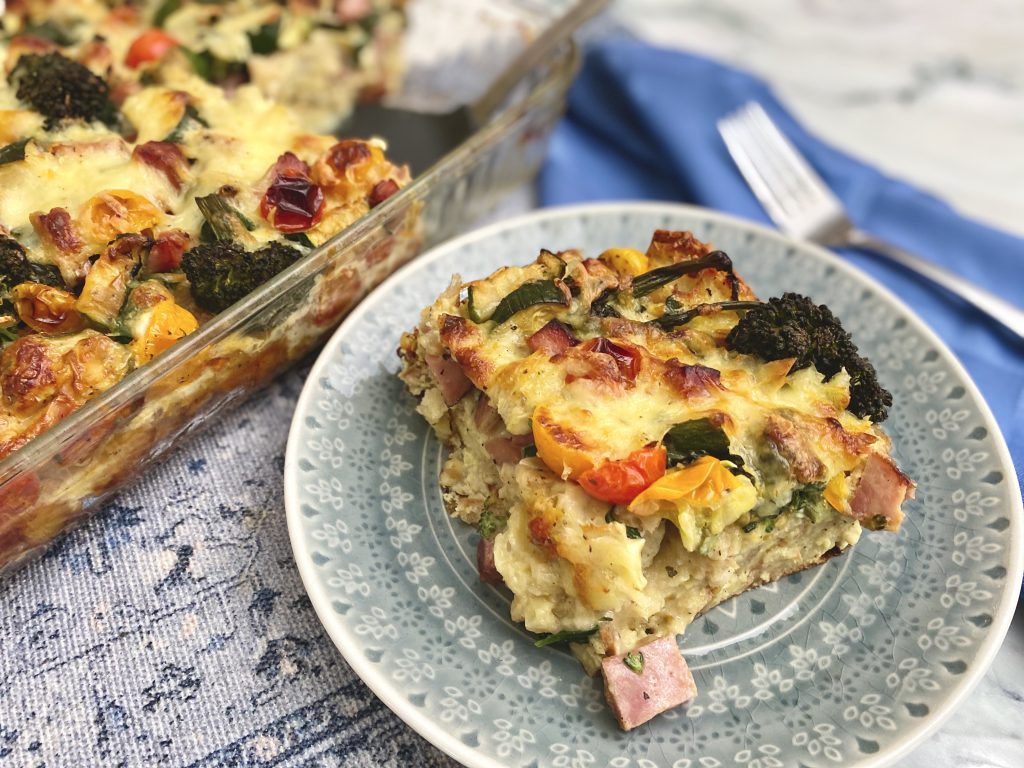 1 large French baguette, cut into 2" cubes
2 tablespoons olive oil
1 large onion, chopped
1 pound ham steak, cut into ½" cubes
2 teaspoons Dish off the Block Ciao Bella Spice Blend
2 cups zucchini, cut into ½" thick half moons
2 cups broccoli rabe, chopped into bite size pieces
1 pint cherry tomatoes, cut in half
2 teaspoons salt, divided
2 teaspoons black pepper, divided
¼ cup water
8 eggs
1 cup heavy cream
1 ½ cups milk
2 cups Jarlsberg or good quality Swiss cheese, shredded
Preheat oven to 350 degrees.  Place the bread cubes in an even layer on a foil-lined baking sheet and cook until toasted, about 10 minutes.
Spray a 9" x 13" baking dish with non-stick spray and spread the toasted bread in an even layer in the pan.
Heat the olive oil in a large deep skillet over medium high heat.  Cook the onions for 2 minutes until soft and fragrant.  Add the cubed ham to the pan and continue cooking until lightly browned, stirring frequently, another 4-5 minutes.
Add the Ciao Bella spice and zucchini to the pan and continue cooking until the zucchini softens and is also starting to lightly brown.  Add the broccoli rabe, tomatoes, and 1 teaspoon each salt, and pepper to the pan. Cook for 2 more minutes, stirring to coat.  Add the water to the pan to deglaze and scrape up any brown bits on the bottom of the pan.  Spread this mixture of the top of the bread cubes in the pan and let it cool to room temperature.
In a large bowl, combine the eggs, cream, milk, and remaining teaspoon each salt and pepper.  Pour this mixture evenly over the top of the casserole using a fork to help the egg mixture seep into all of the nooks and crannies between the bread and ham mixture.  Top with the shredded cheese.  Lightly press the top of the casserole with your hands or a spatula to help the eggs soak into the bread at the bottom of the pan.  Cover tightly with plastic wrap and refrigerate overnight.
Remove from the fridge and let the casserole come to room temperature before cooking.
Preheat oven to 350 degrees.  Remove the plastic wrap and bake for 40-45 minutes until the browned and a knife comes out clean when inserted in the center of the casserole (the eggs are set and not runny).
Let rest for 10 minutes.  Cut into wedges and serve with a mimosa!
Select multiple categories to narrow your search! Want appetizers made with chicken? Just select both Appetizers and Chicken!