STRIPED BASS ALLA SHORTCUT PUTTANESCA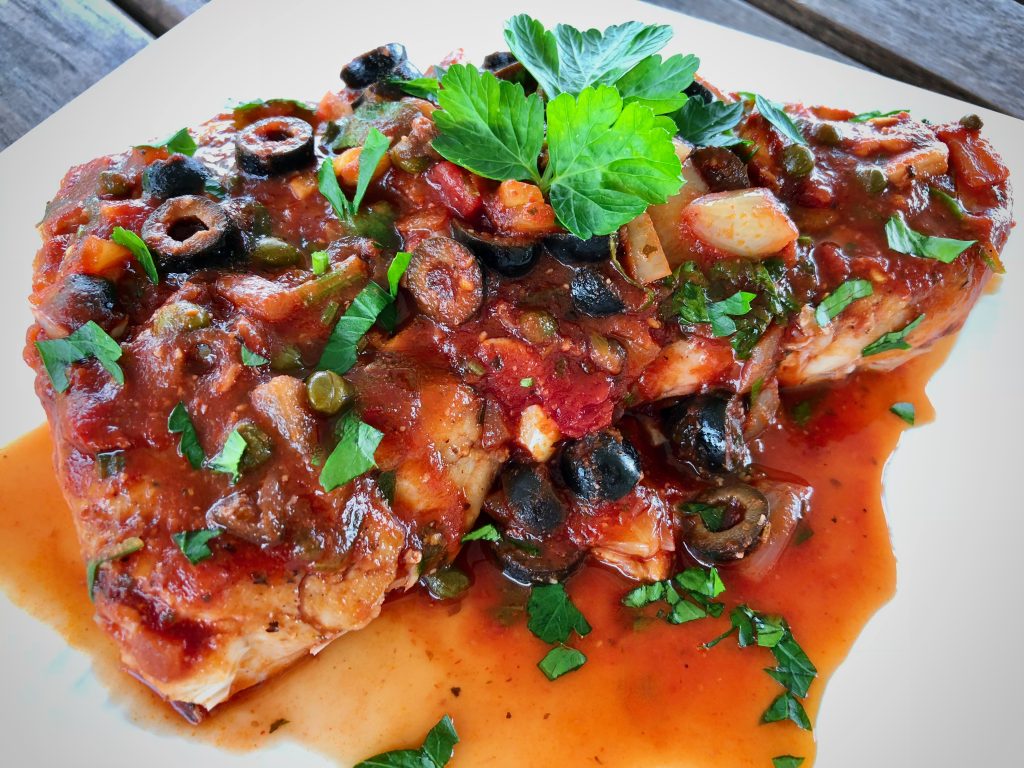 2-3-pounds striped bass filets, skinned (or any firm white fish)
2 tablespoons Dish off the Block Ragin' Cajun Spice Blend
¼ cup olive oil + 1 tablespoon
1 large onion, chopped
6 large garlic cloves, chopped
3 anchovy filets
2 teaspoons red pepper flakes
1, 24-ounce jar spaghetti sauce (your favorite brand or homemade – 3 cups)
1, 3.5-ounce jar capers
2, 2.5-ounce cans sliced black olives
Cut the striped bass filets into 6-8 inch pieces (so they are a manageable size to work with in the pan).  Remove any of the dark brown flesh from the bottom of the filets (this part of the meat has a very strong flavor).  Rub the filets all over on both sides with the Cajun spice mix.
Heat ¼ cup of the olive oil in a large skillet over medium high heat.  When oil is hot, add the filets and brown on each side for 2-3 minutes until golden brown.  Note – the fish will not be cooked through.  Remove from the pan and set aside.
 Add the remaining 1 tablespoon olive oil to the same pan and sauté onions, garlic, and anchovy filets until soft and fragrant.  The anchovies will begin to break apart and will eventually 'melt' into the sauce – be not afraid – they add great umami flavor!!!
Add the pepper flakes, spaghetti sauce, capers and black olives to the pan.  Cook for 3 minutes until lightly bubbling, stirring frequently.  Add the fish back into the pan and continue to cook on medium heat for 5-7 minutes, until the fish is cooked through and flakes easily (this timing will vary depending the on thickness of the filets).
Serve with salad and crusty bread.
Select multiple categories to narrow your search! Want appetizers made with chicken? Just select both Appetizers and Chicken!