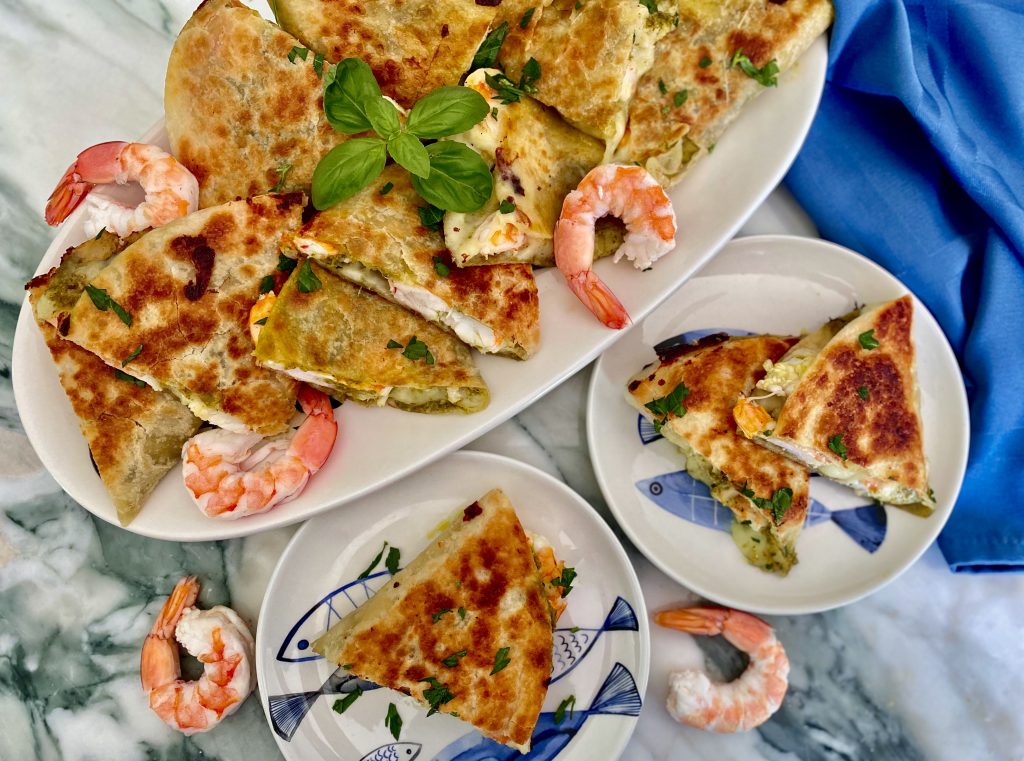 1 tablespoon olive oil
6, 8-9" flour tortillas
¾ cup pesto
3 cups shredded mozzarella cheese
1-pound pre-cooked shrimp (40/60 count, shells removed)
Preheat oven to 400 degrees.
Cover a large baking sheet with foil and drizzle with olive oil.
Spread 2 tablespoons Pesto on each tortilla.  Place 3 tortillas, pesto side up, on the baking sheet.  Sprinkle each with ½ cup of the shredded cheese.  Next, place equal portions of the shrimp on each tortilla, top with another ½ cup of the cheese, and finish with another tortilla, pesto size down.
Place another baking sheet on top of the quesadillas and bake for 10 minutes.  Remove the top cookie sheet and carefully flip each tortilla over, shoving any escaping shrimp back inside.  Bake for an additional 5-7 minutes until lightly browned and crispy.  Note – the second cookie sheet on top will keep the tortillas from curling up.
Remove from oven and let rest for 5 minutes.  Cut each tortilla into 6 wedges and serve hot.
This recipe won 'Best Appetizer' in the Patriot Ledger holiday recipe contest in 1998 and has been a family favorite ever since.  Super simple and super delicious!
Select multiple categories to narrow your search! Want appetizers made with chicken? Just select both Appetizers and Chicken!