BLACK SEA BASS PICCATA OVER LEMON RICE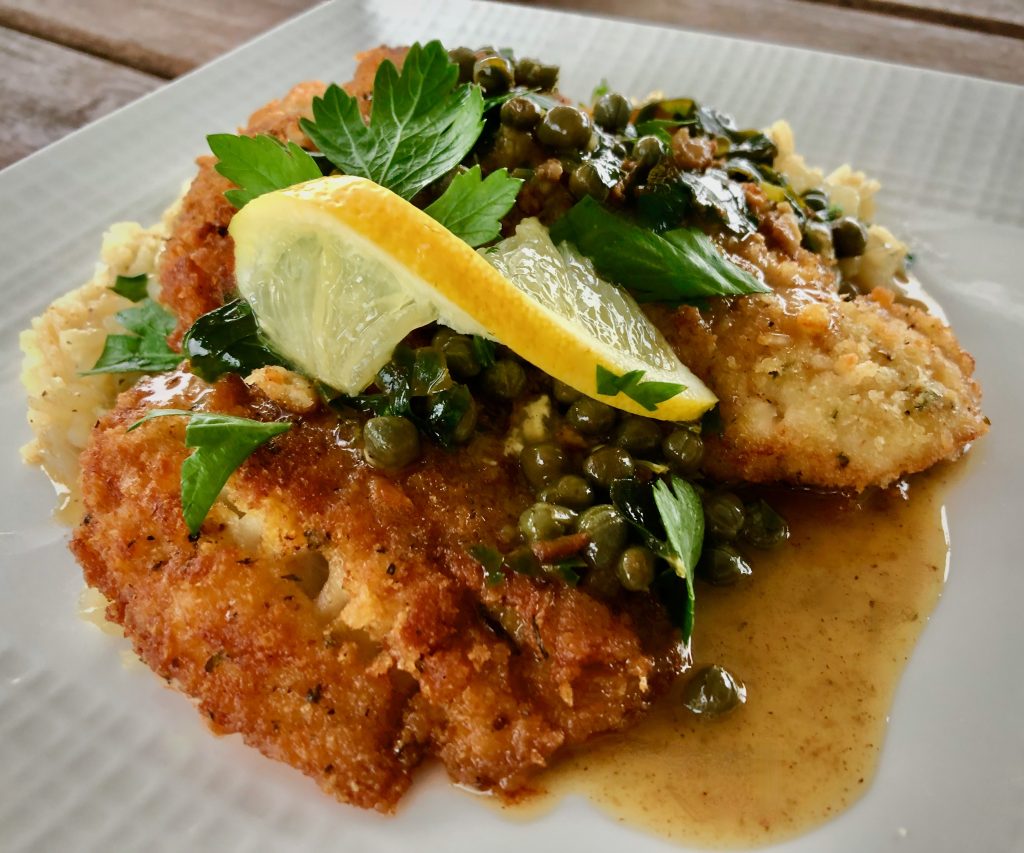 Lemon Rice:
4 tablespoons butter
1 onion, chopped
½ lemon
1 ½ cups raw white rice
1 ½ teaspoon salt
1 teaspoon black pepper
2 cups chicken stock
1 cup water
⅓ cup fresh Italian parsley, chopped
Fish :
4 tablespoons butter
¼ cup vegetable oil
2 eggs
¾ cup panko breadcrumbs
¾ cup Italian breadcrumbs
2-pounds black sea bass filets, skinned (or other white fish like flounder, catfish, etc…)
Piccata Sauce:
1 cup chicken stock
⅓ cup fresh squeezed lemon juice
⅓ cup dry white wine
3 teaspoons corn starch
⅓ cup water
¼ cup capers
4 tablespoons cold butter, cut into pats
To make the rice, melt the butter in a large non-stick sauce pan.  Add the onion and the lemon, squeezing all of the juice out and leaving the rind (seeds removed) in the pot during cooking.  Cook for 5 minutes until the onion begins to brown and add the rice and cook 2 minutes more stirring frequently.  Add the salt, pepper, stock, and water to the pan and bring to a boil.  Reduce the heat to low, cover and let simmer until all of the liquid is absorbed, about 10 minutes.  Remove the lemon rind from the rice. Stir parsley in just before serving.
To make the fish, melt the butter and add oil in a large frying pan.  Beat the eggs in a small bowl and combine the panko and Italian breadcrumbs in another shallow dish.  Dip the filets in egg and then press into the breadcrumb mixture.  Cook in the butter until golden brown, about 2-3 minutes per side until a fork slides in and out of the center of the filets easily.  Remove the filets to a baking sheet and keep warm in a 325-degree oven.
In the same pan add the chicken stock, lemon juice, and white wine, stirring to scrape up an brown bits.  Let boil over medium high heat until reduced by half, about 5-7 minutes.  Whisk the corn starch into water and add to the pan, stirring to let sauce thicken, about 1 minute.  Turn off the heat, add the capers, and whisk the cold butter into the sauce until melted and the sauce is silky.
Serve the fish over the rice and top with sauce.  Garnish with lemon slices and chopped parsley.  DEVOUR!!
NOTE: This dish can also be made with chicken breast.  Just pound boneless breast to ½" thickness and follow the instructions above!
Select multiple categories to narrow your search! Want appetizers made with chicken? Just select both Appetizers and Chicken!