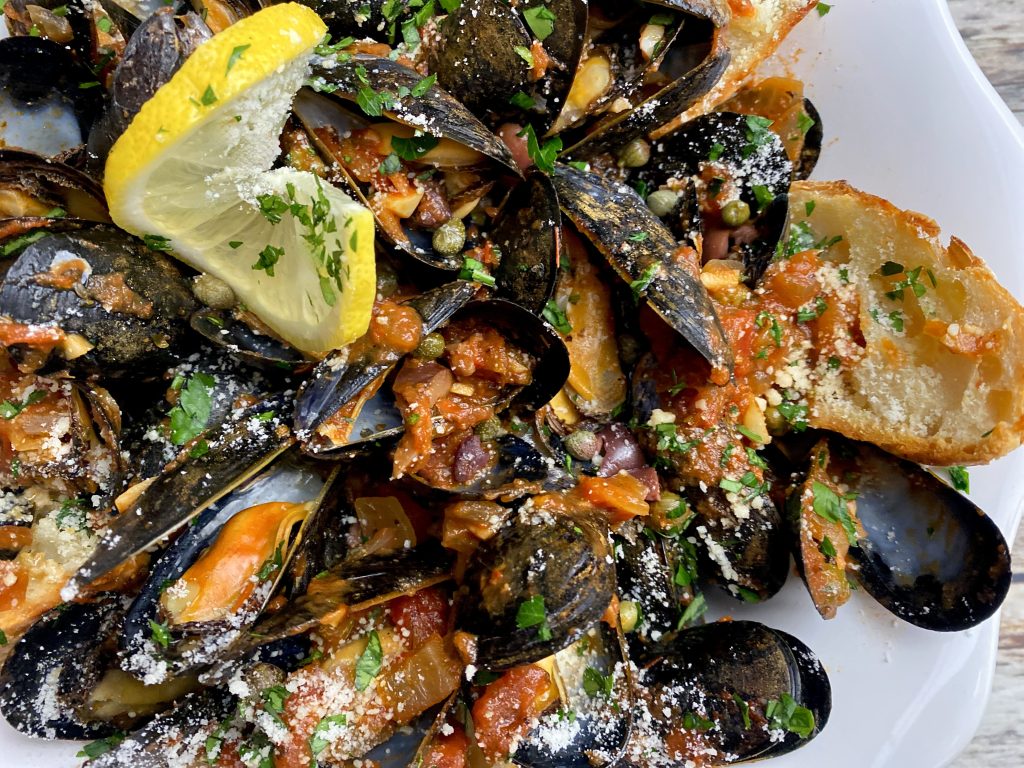 4 tablespoons olive oil, divided
1 medium onion, chopped
8 garlic cloves, chopped
2 teaspoons anchovy paste
½ teaspoon red pepper flakes
1 teaspoon Dish off the Block Ciao Bella Italian Spice Blend
1 cup dry white wine
2 cups spaghetti sauce (your favorite store-bought or homemade)
3 tablespoons capers
½ cup Kalamata olives, chopped
1 tablespoon lemon zest
2 tablespoons lemon juice
¼ cup fresh parsley, chopped
3-pounds mussels, scrubbed and bearded
¼ cup grated parmesan cheese
1 loaf crusty bread
Preheat oven to 375 degrees.
Heat 2 tablespoons of the olive oil in a large deep skillet over medium high heat.  Cook the onions and garlic until soft and fragrant, about 2-3 minutes.  Add the anchovy paste, red pepper flakes, and wine.  Cook for 3-4 minutes, stirring frequently, until reduced by about half.
Add the spaghetti sauce, capers, olives, zest, lemon juice, half the parsley, and the mussels to the pan.  Bring to a boil, stirring the mussels into the sauce so they are all coated.  Cover the pan and cook until all of the mussels have opened, about 3-5 minutes depending on the size of your mussels.  Do not overcook.  Garnish with the remaining parsley and sprinkle some parmesan cheese over the top.
While the mussels cook, cut the bread into 1" thick slices and place on a baking sheet.  Drizzle with the remaining olive oil and toast for 4-5 minutes until lightly crusty, but still soft in the center.
Serve the mussels family style in a large bowl or ladle into individual bowls with crusty bread on the side for soaking up all of that yummy sauce.
These mussels and sauce are also delicious served over spaghetti or linguini.
Select multiple categories to narrow your search! Want appetizers made with chicken? Just select both Appetizers and Chicken!