MISO SESAME COD AND ROASTED MISO BROCCOLI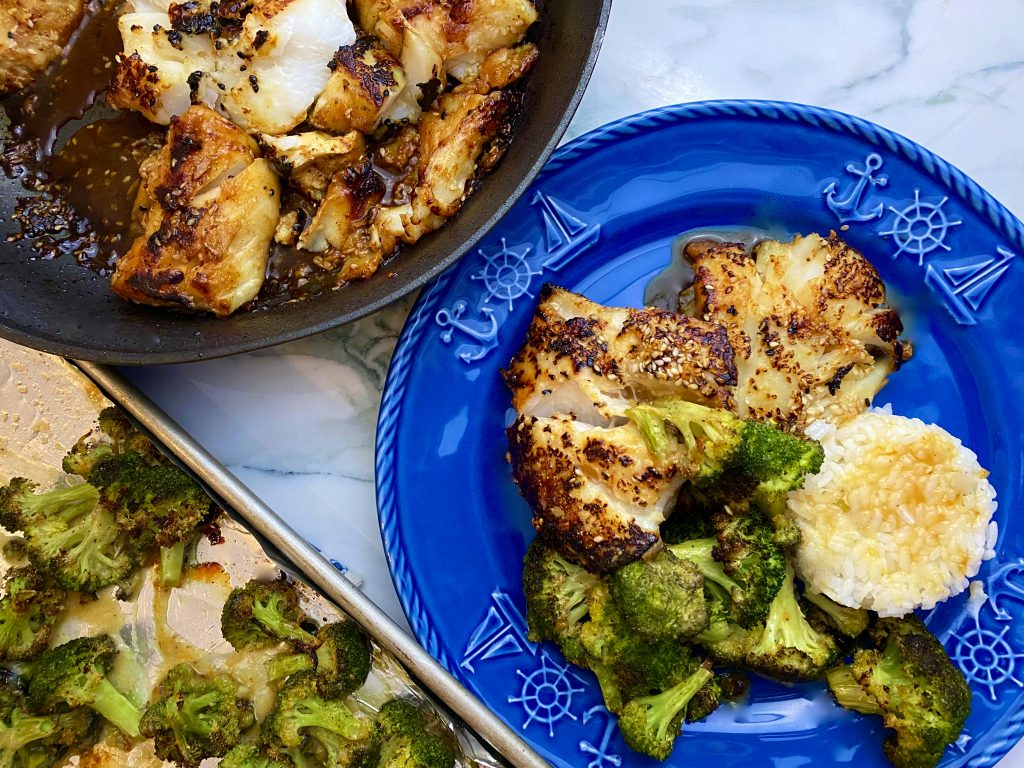 The Cod:
¼ cup mirin
¼ cup sake
4 tablespoons white miso paste
3 tablespoons sugar
2-2 ½ pounds skinless cod filets (Note – thicker filets or 'captain's cut' work best in this recipe)
1 ½ tablespoons black and white sesame seeds
1 tablespoon olive oil
The Broccoli:
2 large heads broccoli (about 6-8 cups florets)
3 cups sushi rice, cooked to package directions
Note – this is an easy recipe, but the fish must marinade for 2 days for best results!
Combine the mirin, sake, and miso in a sauce pan and bring to a boil, whisking until smooth.  Add the sugar and cook for 1 more minute whisking constantly until the sugar dissolves.  Let cool to room temperature.  Pat the fillets dry with paper towels and place it in a shallow baking dish.  Coat the filets completely on both sides with the cooled marinade.  Cover tightly with plastic wrap and refrigerate for 2 days.
Preheat oven to 400 degrees.
Heat the 1 tablespoon olive oil in a large cast iron or oven-proof frying pan, over medium high heat.  Wipe the excess marinade off the fish with your fingers and sprinkle the sesame seeds over the tops.  Place the filets, top-side-down, in the hot pan (reserve the excess marinade for cooking the broccoli).
Sear the filets on each side for 2-3 minutes until dark golden, and caramelized.  Note that marinade and sesame seeds with spatter a bit in the oil which is normal, but watch your eyes!
Place the pan in the oven for 5-10 minutes (depending on thickness) or until the fish is just cooked through and flakes easily in the center.  Remove and keep warm until ready to serve. If you do not have an oven proof skillet, you can transfer the fish to a foil-lined baking sheet before placing in the oven.
Cut the broccoli into bite size florets, all similar size.  Toss the florets in the reserved marinade and place in a single layer on a foil-lined rimmed baking sheet.  Place in the oven and cook for 15-18 minutes or until crisp tender and lightly browned on the edges. Note – his step can be done while you are searing the fish if you prepare your broccoli in advance.
Serve ½ cup of rice topped with cod and broccoli.  Drizzle with any excess marinade from the baking sheet and garnish with more sesame seeds.
Go back for seconds.
Select multiple categories to narrow your search! Want appetizers made with chicken? Just select both Appetizers and Chicken!