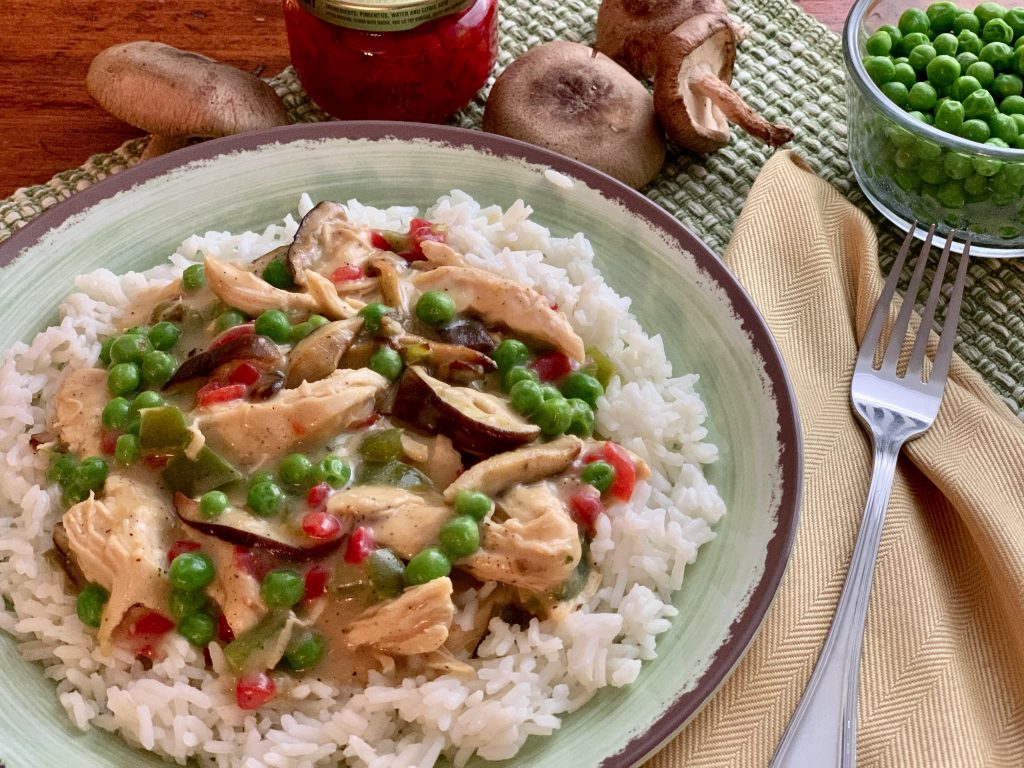 5 tablespoon butter
10 ouncesliced mushrooms
1 medium green pepper, chopped
¼ cup flour
½ teaspoon salt
½ teaspoon black pepper
2 cups cooked and shredded chicken breast
1 cup chicken broth
1 cup milk
1, 4 ounce jar chopped pimentos
1 cup frozen peas, thawed
Heat butter in a large deep skillet, over medium high heat. Sauté mushrooms and peppers in butter until tender, about 5 minutes.  Add flour, salt, and pepper to the pan to form a roux.  Cook for 1 minute, stirring constantly.
Gradually add the broth and milk, still stirring as the sauce thickens, about 4 minutes.  Stir in the chicken, pimentos, and peas once the sauce has reached a thick gravy consistency.
Serve hot over rice, toast, or mashed potatoes.
This was one of my favorite meals to have at my in-law's house when my husband and I were dating… eons ago! I can't make it very often in my own home because I find myself wandering back for second and third helpings, but easy to say it is a family favorite!  Great way to use left over chicken too!
Select multiple categories to narrow your search! Want appetizers made with chicken? Just select both Appetizers and Chicken!