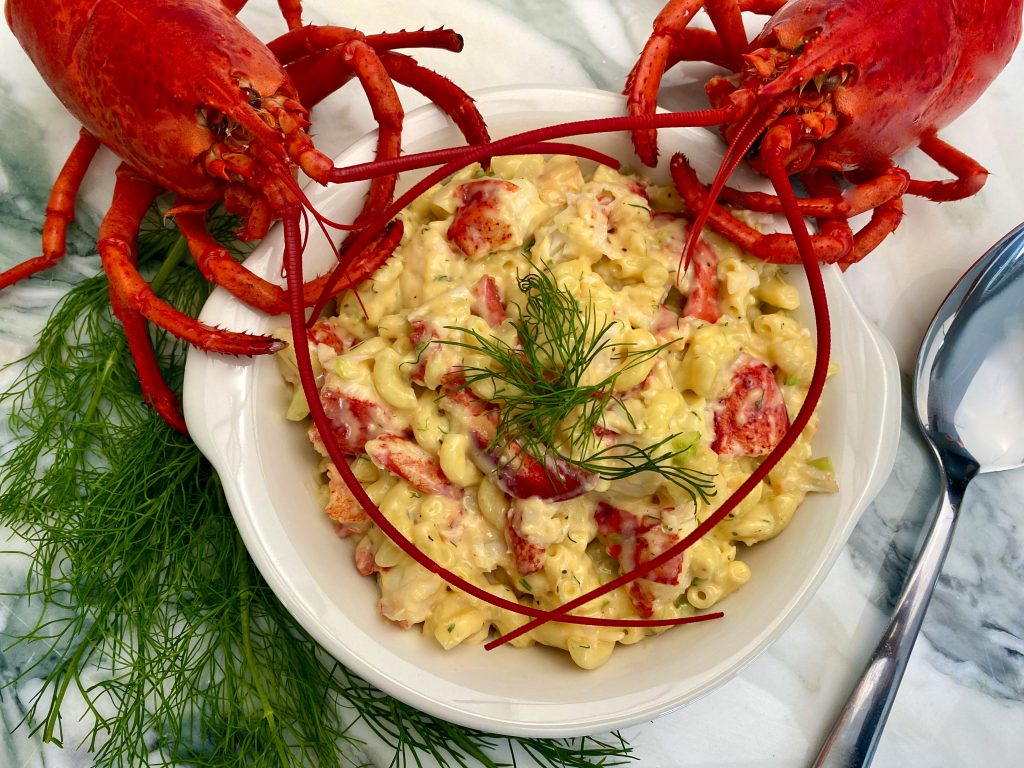 4, 1 ½-pound lobsters (about 3 cups lobster meat)
1 stick + 3 tablespoons butter
1 pound-macaroni or other short pasta
1 cup fennel bulb, finely chopped
2 tablespoons fennel fronds, finely chopped (plus more for garnish)
3 garlic cloves, minced
3 tablespoons flour
1 cup light cream
1 ½ cups milk
1 teaspoon. salt
1 teaspoon black pepper
2 cups shredded Monterey Jack cheese
⅓ cup grated parmesan cheese
4 slices of American cheese, torn into small pieces
1 tablespoon Sambuca liqueur
2 cups shredded cheddar cheese
Put lobsters in a large pot of boiling water (enough to cover lobsters) and cook for 12-15 minutes.  Remove from pot and let cool.  Shuck the lobsters removing the meat from tail, claws, legs, and body.  Chop the tail and claw meat into bit size pieces.
Melt the stick of butter in a medium saucepan and toss lobster meat to coat.  Set aside.
Preheat oven to 350 degrees.
Cook pasta according to package directions to 'al dente' doneness.
Melt the remaining 3 tablespoons of butter in a large saucepan and add the fennel, fennel fronds, and garlic to the pan.  Cook, stirring frequently, over medium high heat, until soft and fragrant, about 4-5 minutes.  Add the flour to the pan and cook, whisking for 1 minute.
Gradually add the cream and milk whisking constantly until a thick sauce forms.  Add salt, pepper, Monterey Jack, parmesan, and American cheeses.  Continue whisking until the cheeses are melted and the sauce is smooth and thick.  Add Sambuca.
In a large bowl, toss the pasta with the cheese sauce until coated. Then fold in the lobster and butter mixture.  Transfer to a greased 9" x 13" baking dish and top with the cheddar cheese.
Bake for 20 minutes until cheddar is melted and casserole is bubbly.
I created this recipe for Laura's 13th birthday and it is insanely decadent and delicious!!!
Select multiple categories to narrow your search! Want appetizers made with chicken? Just select both Appetizers and Chicken!