TEMPURA LOBSTER BENEDICT WITH TARRAGON HOLLANDAISE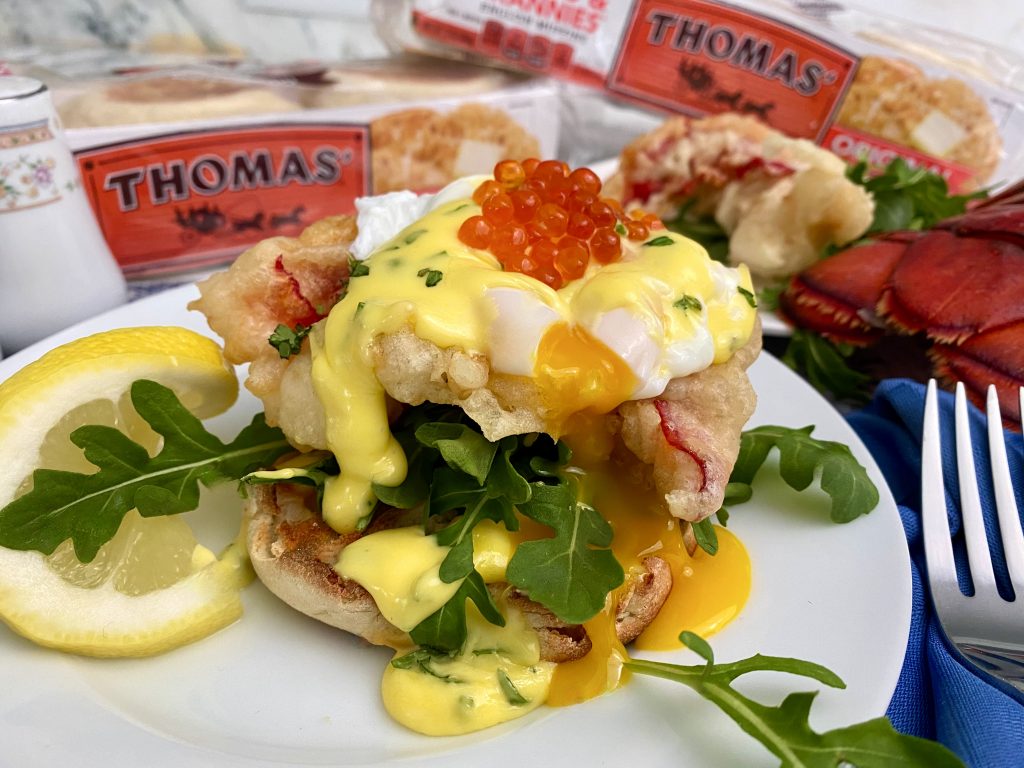 Lobster Tempura:
4 cups vegetable oil
2 raw lobster tails, about 1-1 ¼ pounds
¾ cup flour
½ cup corn starch
1 teaspoon salt
1 ¼ cups soda water
Hollandaise:
3 egg yolks
½ teaspoon salt
2 tablespoons lemon juice
2 sticks butter, melted
1 tablespoon tarragon, chopped
Poached Eggs:
1 tablespoon white vinegar
2 teaspoon salt
4 eggs
2 Thomas' English muffins
1 cup arugula leaves
4 teaspoon salmon caviar
Heat the oil in a Dutch oven to 350*.  Preheat oven to 300*.
Bring a pot of water to a boil and add the lobster tails.  Cook for 2 minutes until the shells turn red. Cut the shells with scissors and remove the tail meat. 
Combine flour, corn starch, and salt in a bowl.  Whisk to combine.  Add the soda water.  Whisk until a smooth batter forms.
Cut each tail in half lengthwise and dip into the batter.  Let excess run off and place in the oil.  Cook for 3-4 minutes, turning occasionally with tongs until golden.  Remove and drain on a wire rack placed over a baking sheet.  Season with salt.   Keep warm in the oven until ready to plate.
Place the 3 egg yolks, salt, cayenne, and lemon juice in a blender.  Blend for about 30 seconds.  Reduce speed to lowest setting and VERY slowly drizzle the melted butter into the blender until thick and creamy.  Stir in the tarragon.
Boil 3-4 inches of water in a large non-stick saucepan with vinegar and salt.  When water is at a full rolling boil, turn off the heat, and gently crack each egg into the water.  Cover and let sit for 5-6 minutes until the whites are set.   Remove and drain on paper towels.
Toast the English muffins until golden brown and crispy. 
To plate, drizzle a couple of teaspoons of the hollandaise on one toasted muffin half.  Top with about ¼ cup of baby arugula, 1 piece of the tempura lobster, and 1 poached egg.  Ladle hollandaise over the egg and place a teaspoon of the caviar on top. 
A twist on the classic eggs Benedict – this English muffin is topped with spicy baby arugula, tempura fried lobster tail, a perfectly poached egg, and creamy hollandaise sauce with flecks of tarragon.  Garnished with salmon roe and slice of lemon, these toppings together on top of a crunchy Thomas' English muffin create a flavor explosion in your mouth with every bite!!
Select multiple categories to narrow your search! Want appetizers made with chicken? Just select both Appetizers and Chicken!