BLACKBERRY, GORGONZOLA, AND PROSCIUTTO PIZZA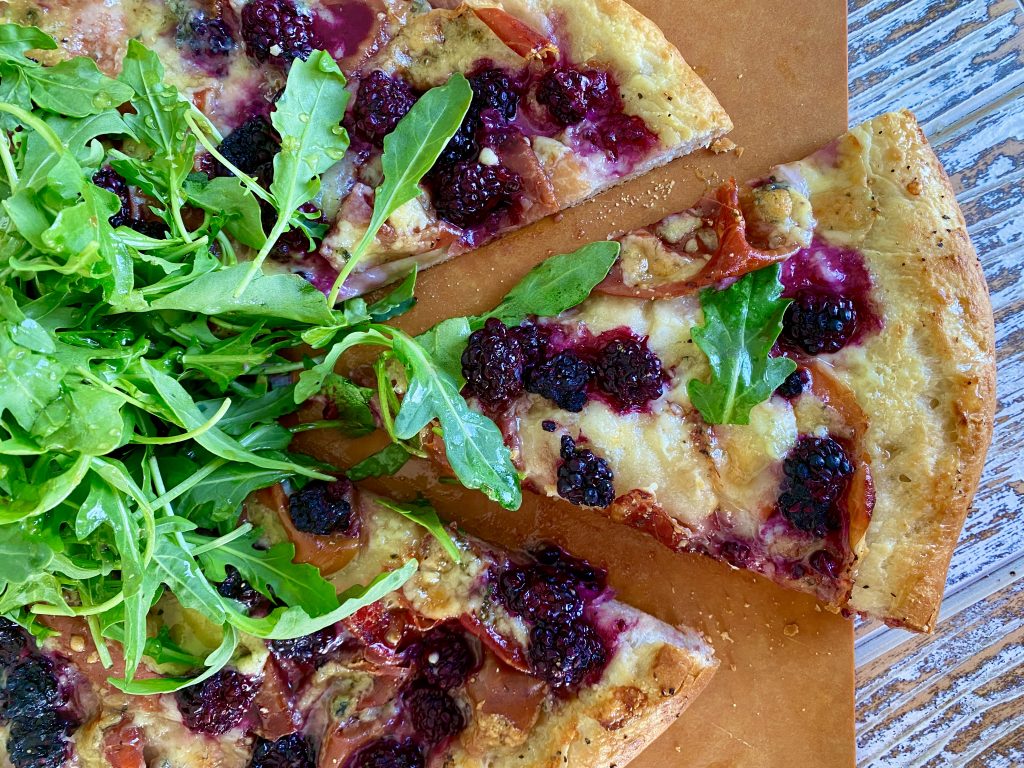 1 tablespoon cornmeal
1-pound pizza dough (recipe below or store-bought)
½ cup mascarpone cheese
2 tablespoons olive oil, divided
3-ounces prosciutto, very thinly sliced
½ cup blackberries
½ cup crumbled gorgonzola
2 tablespoons honey, divided
¼ teaspoon fresh cracked black pepper
½ cup baby arugula leaves
Place your pizza stone in the oven and preheat to 450 degrees for 30 minutes.  You can also make this pizza on a sheet pan, but a stone will give you the best crust.  Prepare the pizza peel by evenly sprinkling the cornmeal on top.  If you are using a sheet pan, line it with parchment paper and sprinkle the cornmeal on top.
Bring your dough to room temperature and knead it briefly. Set the dough on the counter and cover it with a clean kitchen towel.  Let it proof for 20-30 minutes (this will make the dough easier to work with) and then form the dough into a 12-14 inch circle and place it on the cornmeal on your peel.
Spread the mascarpone cheese over the top of the dough leaving about ½" of dough exposed around the edges.  Brush the exposed edge with one tablespoon of the olive oil.
Layer the prosciutto, blackberries, and gorgonzola evenly over the top of the mascarpone.  Drizzle 1 tablespoon of the honey over the top and sprinkle with the black pepper.  Slide the pizza off your peel onto the hot stone in the oven.  Bake for 10-12 minutes until the crust is golden brown and the toppings are bubbly.  Remove the pizza from the oven using the peel and let rest for 5-10 minutes.
Top the pizza in the center with the arugula leaves and drizzle the remaining tablespoon each of the olive oil and honey over the top.  Cut into slices and devour!
The Pizza Dough:
2 tablespoons olive oil (plus 2 teaspoons to oil the bowl)
1 tablespoon honey
1 ½ cups warm water (115-120 degrees)
1 packet yeast
2 teaspoons salt
3 ½ – 4 ½ cups flour
To make the pizza dough, place olive oil, honey, and water into the bowl of a stand mixer.  Stir to dissolve honey into the water (so it doesn't stick to the bottom of the bowl).  Sprinkle the yeast on top of the liquid mixture, stir, and let sit for 5-10 minutes until yeast becomes foamy.  Add salt and 2 ½ cups of the flour.  Mix using the dough hook attachment.  Gradually add as much of the remaining flour as needed until a ball forms.  Empty dough onto a floured countertop and knead for 8 minutes until dough is smooth and elastic adding flour as needed if sticky.
Place dough in a greased bowl and cover with a clean kitchen towel.  Let rise in a warm spot for 1 hour until doubled in bulk.  Knead dough briefly and divide into 2 equal parts and form balls.  Let rest for 30 minutes under a clean kitchen towel.  If you are not using both balls, refrigerate each ball in a plastic bag sprayed with cooking spray for up to 5 days.
Select multiple categories to narrow your search! Want appetizers made with chicken? Just select both Appetizers and Chicken!