GLAZED PORK LOIN STUFFED WITH DRIED FRUIT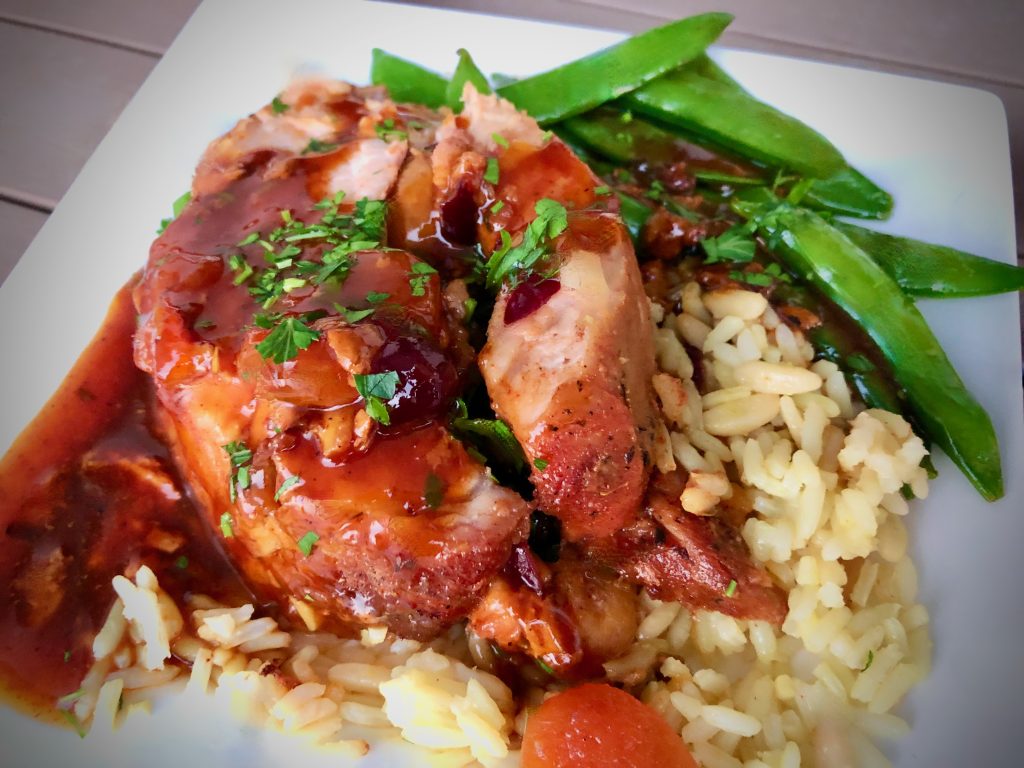 Stuffing
¼ cup maple syrup
¼ cup apricot preserves
¼ cup honey
1 teaspoon cinnamon
1 cup dried apples
1 cup dried apricots
½ cup  dried cranberries
Pork
1, 6-8-pound boneless pork loin
4-5 tablespoons Dish off the Block Ragin' Cajun Spice Blend
Glaze
⅓ cup apricot preserves
½ cup honey
Sauce:
½ cup milk
3 tablespoons corn starch
Prepare the filling – Mix maple syrup, apple jelly, honey, and cinnamon with the dried fruits in a saucepan over medium heat, stirring occasionally for 20 minutes until the fruit starts to become soft and is saturated in the sauce. Set aside to cool.
Prepare the meat – While filling is cooking, remove any excess fat from the roast leaving a thin layer where possible to seal in the juices.  Cut a 'pocket' lengthwise along the middle of the roast that reaches the back of the meat without breaking through and almost all the way to each end.
Stuff the meat –Using a spoon, stuff the fruit mixture into 'pork pocket'. Take care to distribute the fruit evenly, pushing the stuffing into the far back and ends of the pocket. Tie the roast with kitchen string to seal the pocket at 1" intervals or secure with toothpicks to keep the stuffing inside while cooking.
Spice the roast –Coat the loin on all sides with the Cajun spice rub, massaging the spices into the meat with your hands.
Cook the roast – Set the roast in a large roasting pan. Bake at 375 for 50 minutes-1 hour or until the temperature of the pork is 140 degrees. Halfway through cooking add 2 cups of water to the bottom of the pan.  This will help keep the meat moist and create the basis of your sauce.
Glaze the roast – Heat apple jelly and honey for the glaze in a small saucepan until melted together. Pour the glaze evenly over the roast and return to the oven for another 10 minutes.  Remove from oven and place the roast on a cutting board, cover with foil and let rest for 15-20 minutes before carving.
Make the sauce –Place the roasting pan with the drippings on the stove over medium heat (or if you pan is not metal, transfer the drippings to a large saucepan taking care to scrape up all of the browned bits).  Whisk the milk with the corn starch in a small bowl until combined and pour into the drippings, stirring as sauce thickens. If the sauce is too thick, gradually whisk more water into the pan until it reaches a gravy-like consistency.
Serve the roast –Cut off the kitchen string and carefully remove. Cut the roast at 1 inch intervals and drizzle each slice with gravy. Serve over rice with spring veggies or salad on the side.
Select multiple categories to narrow your search! Want appetizers made with chicken? Just select both Appetizers and Chicken!