APRICOT-SRIRACHA GLAZED BABY BACK RIBS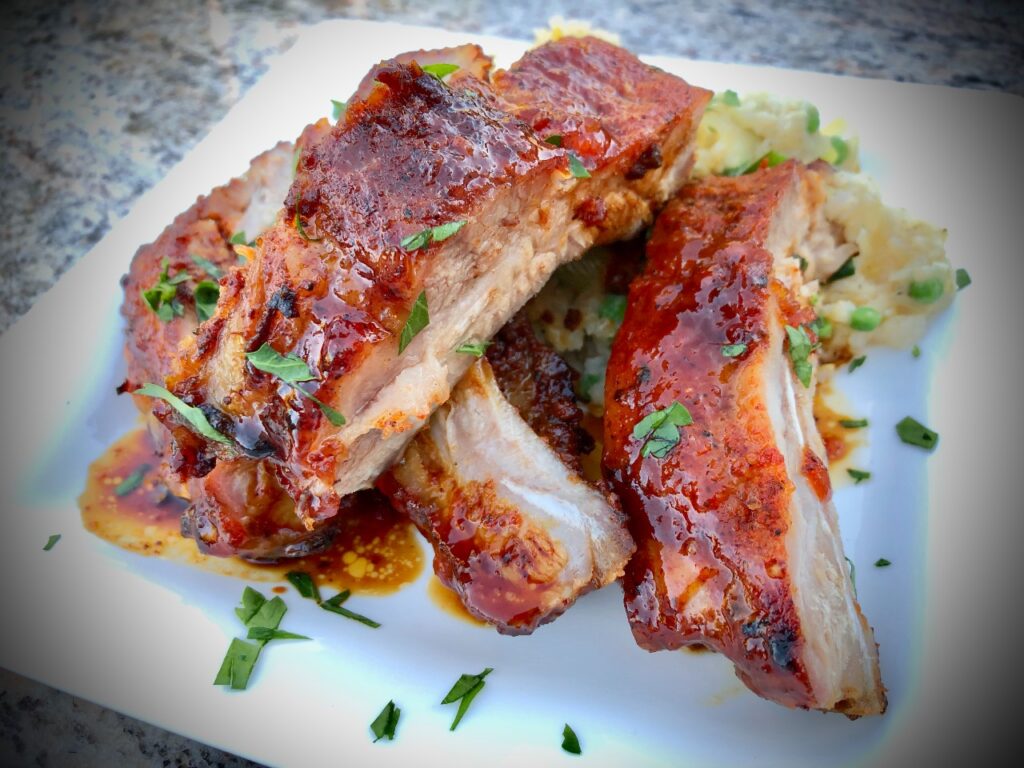 Remove the ribs from their packaging and rinse with cold water.  Pat dry with paper towels. Slide a table knife under the silverskin anywhere along the back of the rack. If it resists in one spot, try another. Lift and loosen it with the knife until you can grab it with a paper towel. Pull it off the ribs; it should peel away in one large sheet, but if it breaks, use the knife to restart at another section until you can peel it all off.  This will allow more flavor to absorb into the rack from the rub/marinade.
Rub the ribs all over on both sides with the Cajun spice mix.  Lay them in a roasting pan or on a rimmed baking sheet and cover tightly with foil.  Marinade in the refrigerator for 3- 4 hours or overnight.  Bring to room temperature 30 minutes before cooking.
Preheat oven to 325 degrees.  Place the ribs in the oven, still covered tightly with foil, and bake for 1½ hours.
While the ribs are cooking, combine the apricot preserves, sriracha, ginger, and garlic in a sauce pan.  Cook for 3-5 minutes over medium heat, stirring frequently, until melted and syrupy.
Remove ribs from the oven and brush with the glaze, reserving about ½ cup.  Increase oven temp to 375 and cook ribs, uncovered, for an additional 30-40 minutes until fragrant, sticky, and the meat falls off the bone easily.
Remove from oven and brush with the remaining sauce.  Garnish with fresh basil or parsley.
Select multiple categories to narrow your search! Want appetizers made with chicken? Just select both Appetizers and Chicken!