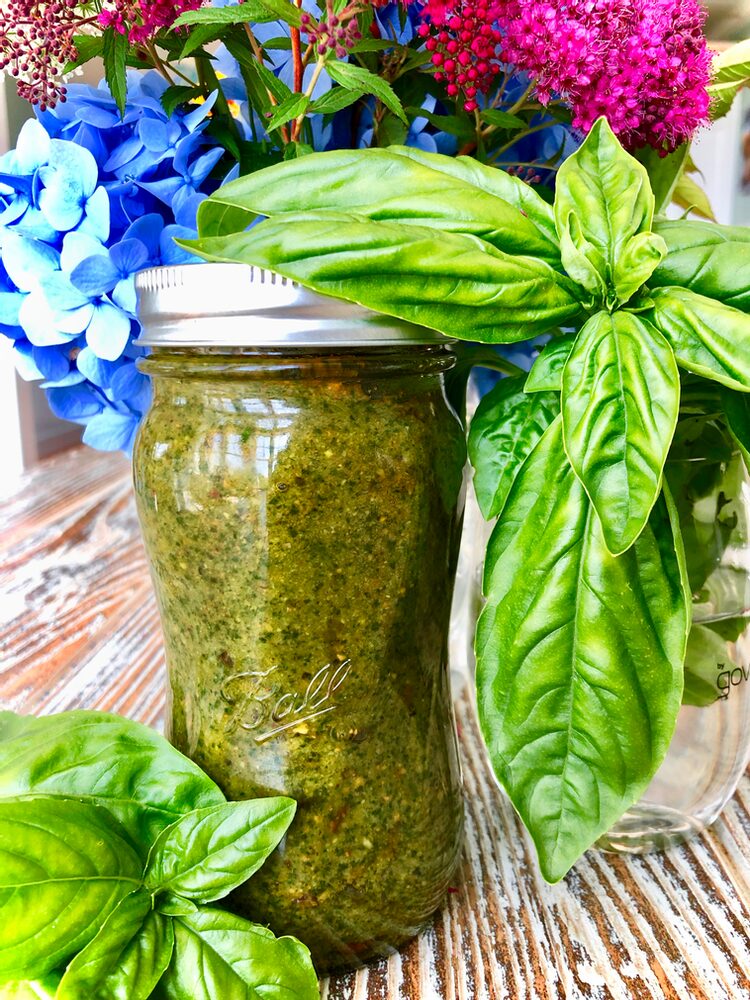 It's late August and my garden is bursting with fresh basil! The aroma is intoxicating!! In my house, that means it's time to make some pesto! Pesto, or to refer to the original dish 'pesto alla genovese', is a sauce originating in Genoa, the capital city of Liguria, Italy. It traditionally consists of crushed garlic, pine nuts, basil leaves, and Parmigiano-Reggiano cheese, all blended with olive oil.
The word 'pesto' comes from the Italian verb 'pestare' which means 'to crush' or 'to pound'. Before the days of food processors and blenders (or electricity for that matter), pesto was made by crushing the ingredients together in a mortar and 'pestle' to form a paste. Today, this herbaceous sauce comes together in minutes in the bowl of your food processor. It is extremely versatile and can be used as a dressing, a sauce, a rub – in salads, appetizers, soups – on pasta, fish, pork, chicken or beef.
The options are endless and I am going to share just a few of them here. You can click on each photo and it will bring you to the recipe link on the blog!
Caprese salad is a traditional salad that layers beautiful tomatoes with fresh mozzarella and basil leaves. This is my twist using cherry tomatoes from my garden and turning the pesto into a delicious dressing for the salad. Pesto is a paste and you can determine the 'thickness' of the paste by the amount of olive oil you add. When making the pesto into a dressing I use a little more oil and also add a touch of vinegar and Dijon mustard.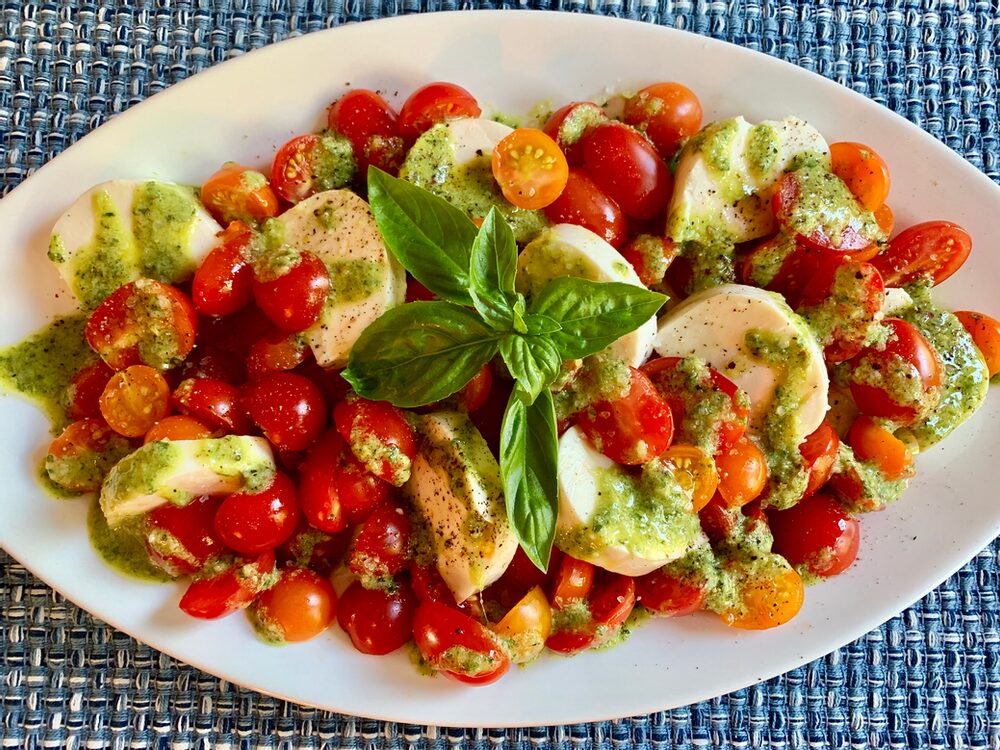 I created this recipe for Shrimp Pesto Quesadillas over 20 years ago as an entry in one of my very first recipe contests in a local paper and it won first prize for the appetizer category. I did a spin on a traditional quesadilla and swapped out the salsa for some basil pesto. With only 5 ingredients, it is super easy to make and people love the unique flavor profile that the pesto brings.
Pesto and seafood are old friends, so this summer when I found some beautiful large size mussels I decided to pair them with a basil pesto and top them with parmesan panko breadcrumbs. Deeeeelishhhh and a great twist on the classic steamed mussels preparation.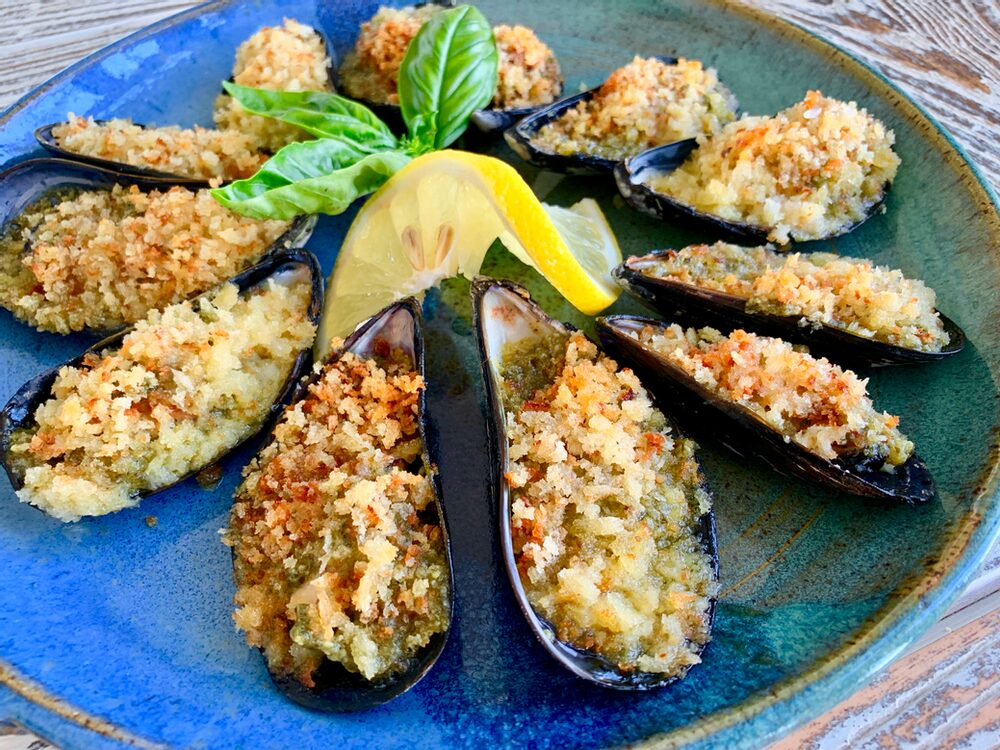 Probably one of the most classic uses of pesto is as a sauce on pasta. This pasta is bathed in a classic basil pesto and tossed with some peas for a bright pop and sprinkled with parmesan cheese. Comfort food to the max.
One of the many cool things about pesto is how versatile the ingredients are. In this dish I used pistachios in place of the pine nuts. You can also use walnuts, macadamia, or hazelnuts to create different flavors and textures. I marinated the shrimp in some of the pistachio pesto and then grilled them to intensify the flavor — you could make a meal out of just the shrimp, but I decided to put them over pasta with that same pistachio pesto and a touch of cream for a rich and decadent sauce. Be sure to put on your spandex before digging into this one. You won't be able to stop eating it… just sayin'…
Another twist! Shake it up baby now… twist and shout! Ok, I digress!
First, these are naan bread pizzas. Naan is a traditional Indian flatbread that you can buy prepared at the grocery store and they make an easy and delicious base for pizza. Second twist was to make a pizza with a middle Eastern flare. I love lamb and decided to pair with butternut squash. The pesto base is made with basil and mint, a classic pairing with lamb, and the cheese is feta in place of the traditional parmesan. Every naan-traditional bite is amazing…
Baby lamb chops are one of my favorite guilty pleasures. They are expensive, but so delicious. Here I paired the lamb with a pure mint pesto and served the chops over a creamy spring risotto dotted with asparagus and peas for a bright finish. Perfect for date night, anniversary dinner, or to simply treat yourself at the end of a long week… because you deserve it!
You HAVE to try this one. Here, I mixed it up again and made a sun-dried tomato pesto and layered it on top of salmon with parmesan cheese. Super easy and quick, but also luxurious to eat. Fresh, sweet, tangy, bright. My son came home from college and found the leftovers in the fridge and said his mind was blown when he tasted it — and, as you can imagine, he is a #1 tester in my kitchen and has developed quite the sophisticated pallet!
The other white meat – I marinated pork tenderloin in pistachio pesto and then grilled it and served topped with more of the earthy pesto sauce. This dish could also be done with chicken breasts or thighs. Such an easy dish to make and perfect to wow your guests with a flavor explosion at your next dinner party!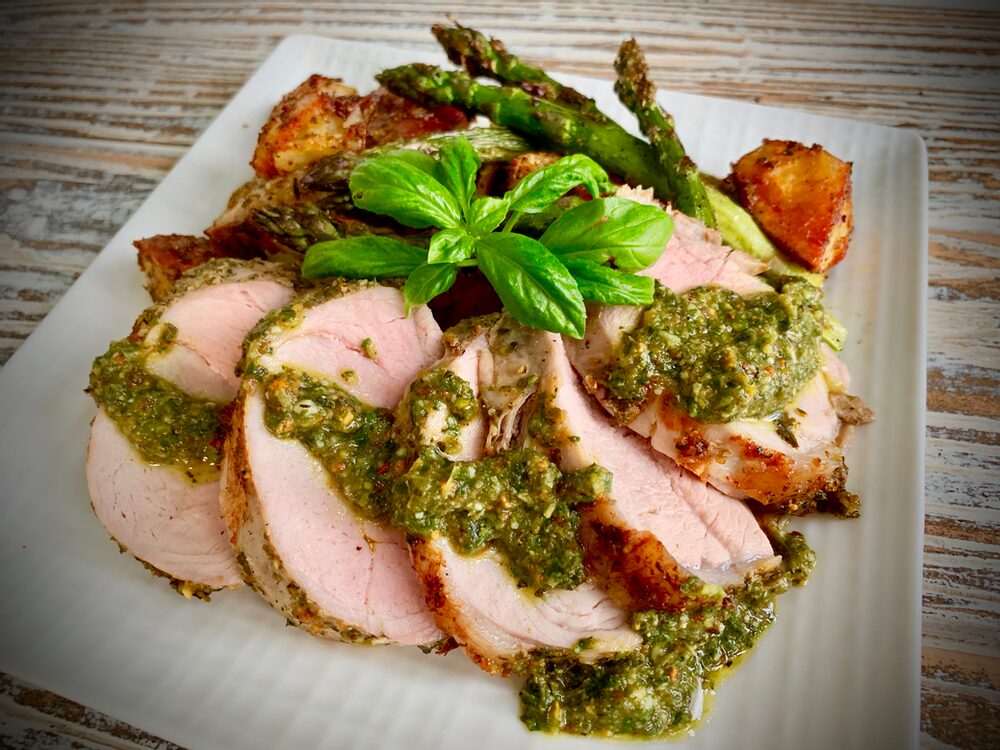 Pesto is also an easy way to kick up the flavor of your side dishes. The roasted red potatoes are simply tossed in the pesto and roasted until golden and crisp! Then, the next morning – if you have leftovers – they make the best hash browns! Just sauté a chopped onion and green pepper in a large skillet until soft and add the leftover potatoes and toss until hot and crispy! Top with fried or poached eggs …. magic.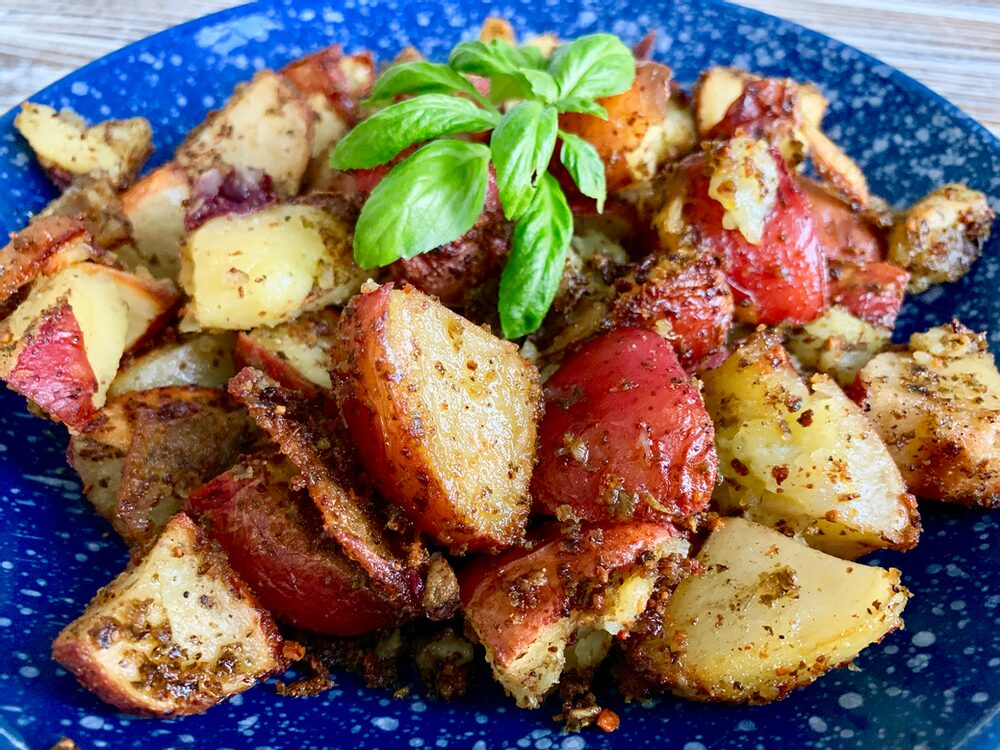 If your garden is bursting with basil like mine is, you are probably also inundated with beautiful ripe tomatoes. These Stuffed Tomatoes make a simple, perfect flavor-packed side dish…. Or the perfect lunch!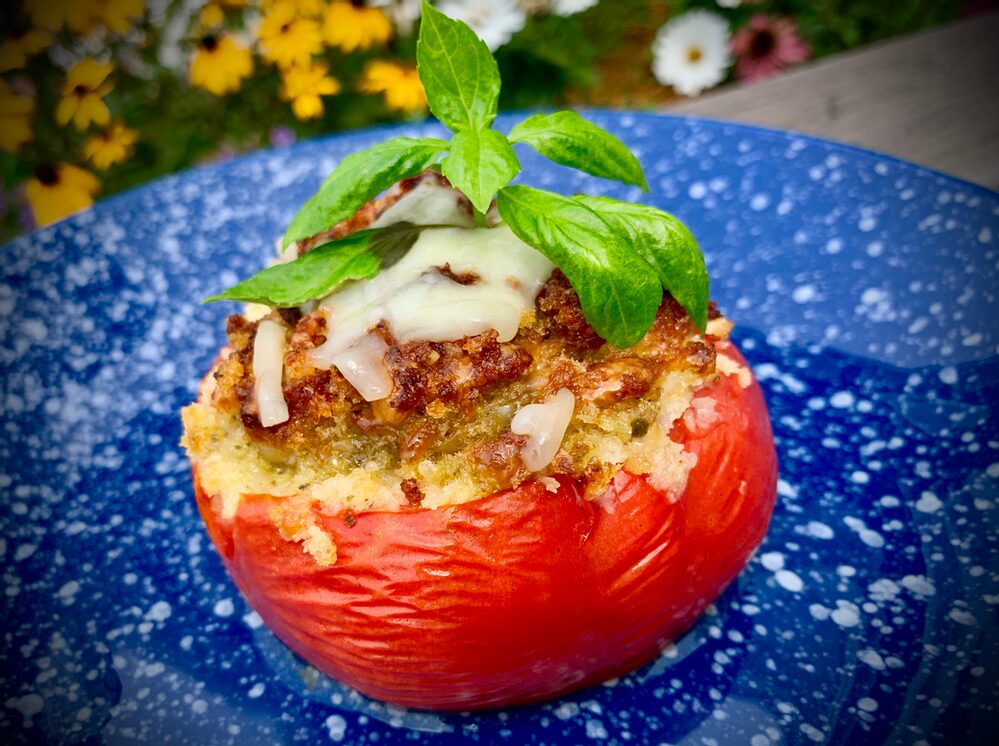 Anyone who knows me knows that mashed potatoes are one of my favorite foods and I rarely mess with my grandmother's recipe, but these Cheesy Pesto Whipped Potatoes are addicting. There is so much flavor packed into this 'side dish', I recommend a simple main like grilled steak tips or pork chops (rubbed with pesto, of course).
Quick tip! I make a double batch of pesto and freeze the extra in ice cube trays. When the cubes are frozen, I pop them into ziplock bags and keep in the freezer for up to 1 year. The pesto freezes beautifully and defrosts quickly so this is the perfect hack for quick weeknight meals and also having 'fresh' pesto all year long.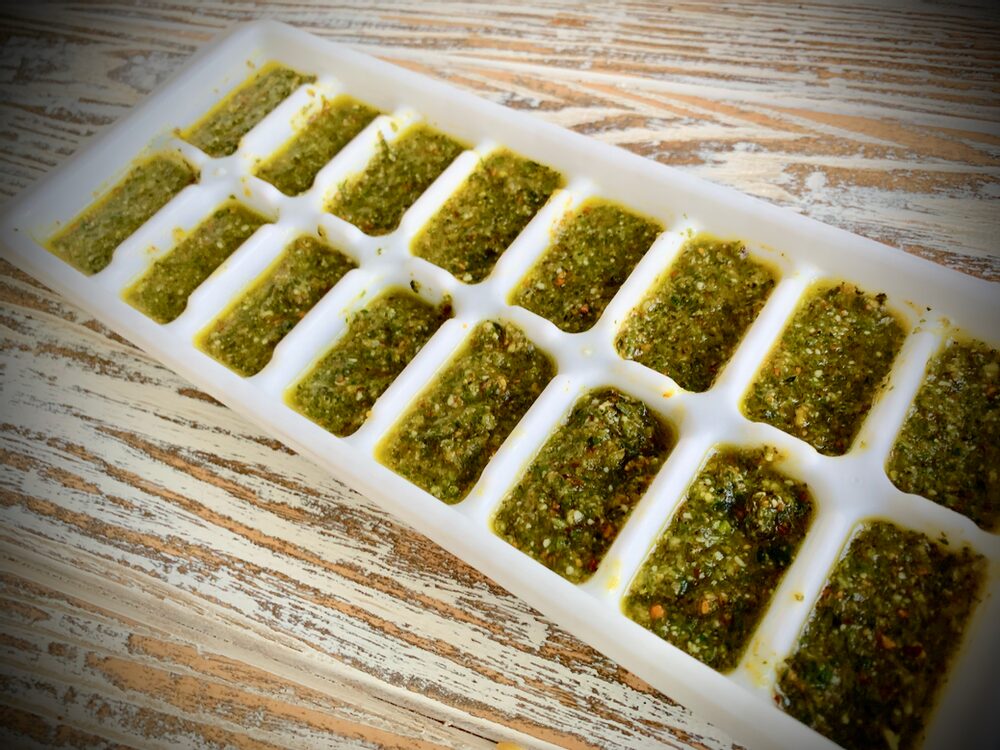 Did I also mention that you can switch up the leaves and do a combo of basil, spinach, arugula, parsley, mint, etc….? And it's good for you!! These greens are loaded with antioxidant vitamins and phenolics, are rich sources of vitamin K, zinc, calcium, magnesium, potassium, folic acid, and many other vitamins and nutrients.
Gentlemen (and ladies)… start your blenders!