GRILLED BABY LAMB CHOPS WITH MINT PESTO OVER SPRING RISOTTO WITH ASPARAGUS AND PEAS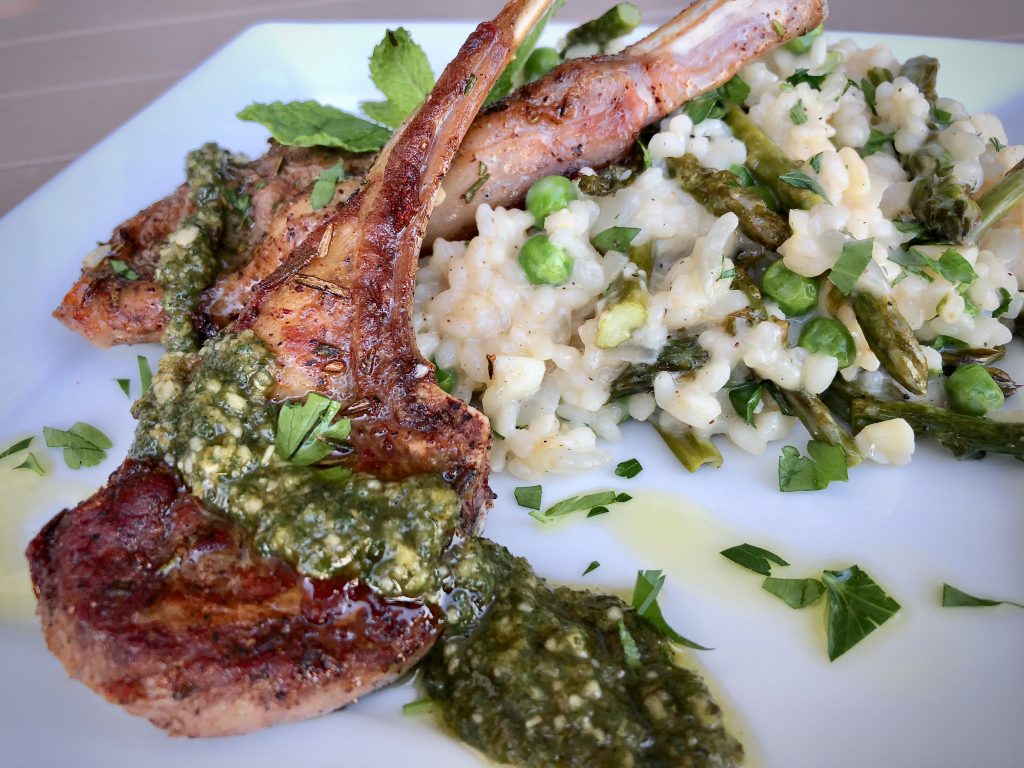 The Chops:
2.5-3-pounds baby lamb chops, cut into single chops
6 large cloves garlic, chopped
3 tablespoons fresh rosemary leaves, stripped from the stem and chopped
1 teaspoon salt
1 teaspoon black pepper
¼ cup olive oil
The Asparagus:
2 bunches of asparagus
¼ cup olive oil
½ teaspoon salt
½ teaspoon black pepper
The Risotto:
3 tablespoons butter
2 tablespoons olive oil
1 large sweet onion, chopped
6 large garlic cloves chopped
1 ½ cups Arborio rice
1 cup dry white wine
3-3 ½ cups chicken stock
½ teaspoon salt
½ teaspoon black pepper
½ cup heavy cream
¾ cup fresh grated parmesan cheese
1 cup frozen peas, defrosted
¼ cup flat leaf parsley leaves, chopped
The Pesto:
1 cup fresh mint leaves
3 garlic cloves, rough chopped
½ cup pine nuts
¼ teaspoon salt
⅓-½ cup olive oil
Place the lamb chops in a large bowl or ziplock bag.  Whisk together the remaining ingredients in a small bowl and pour over the chops.  Toss to thoroughly coat (or massage everything together if they are in a ziplock bag).  Let marinade at least 1 hour or up to overnight.  Let the chops come back to room temperature before grilling.
Preheat oven to 375 degrees.  Chop the woody ends (about 2-3") off the ends of the asparagus spears, then chop the remaining part in half and spread evenly on a foil lined baking sheet.  Drizzle with olive oil and season with salt and pepper.  Toss with your hands to evenly coat all of the asparagus pieces.  Bake for 10 minutes until the asparagus is crisp tender and fragrant.  Remove from oven and set aside.
To make the risotto heat the butter and olive oil in a large deep skillet over medium high heat.  Sauté the onions until soft and fragrant, about 5 minutes, stirring frequently.  Add the garlic and cook for one more minute.  Add the rice to the pan and cook for 2 minutes, stirring frequently until the rice is toasty.
At this point, stirring almost constantly is required to create a creamy delicious result.  Add the wine to the pan and stir until almost completely absorbed and the bottom of the pan shows no liquid when you pull the rice to the side.  Gradually add the chicken stock in ½ cup increments, stirring constantly, waiting to add more stock until the liquid is almost fully absorbed.  Continue adding the stock until the rice is plump and tender (but with some 'tooth) when you taste it.  You may not need all of the stock.
Add the salt, pepper, and heavy cream to the pan.  Stir to combine and let the cream absorb, about 1 minute.  Add the parmesan, peas, parsley, and asparagus to the rice and stir to fully combine, about 1-2 minutes.
To make the pesto, add the mint, garlic, pine nuts and salt to the bowl of a food processor.  Pulse several times until well combined.   Drizzle the olive oil in with the processor on low speed until a saucy paste forms.
Preheat your grill to 400 degrees.  Place marinated chops on the grill and cook about 3-4 minutes per side.  If there is a fatty edge, turn the chops on the side to render that fat as well.  Cook to about 130 degrees for medium rare doneness.  Let rest, covered with foil, for 10 minutes before serving.
Serve 2 lamb chops over about ¾ cup of the risotto and drizzle with the mint pesto.  Garnish with more parsley and mint leaves.
This recipe also works well for a crowd with a large leg of lamb (6-8 pounds ).  Cut slits all over the leg and insert slices of garlic into each slit.  Rub the leg all over with fresh chopped rosemary, salt, pepper, and olive oil.  Place in a large baking pan, cover with saran wrap, and let marinade overnight.  Place in a 325-degree oven and bake for 15-20 minutes per pound  Carve on the bias in thin slices.
Select multiple categories to narrow your search! Want appetizers made with chicken? Just select both Appetizers and Chicken!