LAMB AND BUTTERNUT SQUASH NAAN PIZZA WITH BASIL-MINT-FETA PESTO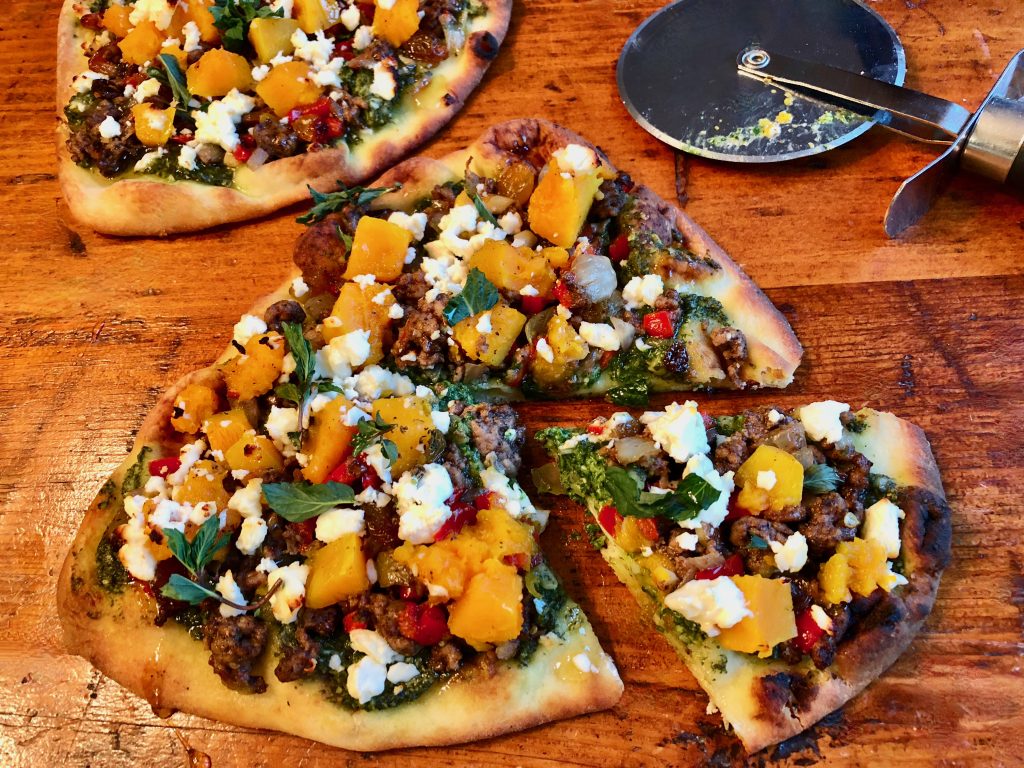 4 Naan flatbreads bread
Pesto:
3 garlic cloves
1 ½ cups fresh basil leaves, packed
½ cup fresh mint leaves, packed
⅓ cup feta cheese, crumbled
¼ cup pine nuts
3 tablespoons olive oil
Lamb and Butternut Topping:
2 tablespoons olive oil
1 small onion, chopped
4 large cloves garlic, chopped
1-pound ground lamb
1 small red bell pepper, chopped
½ cup yellow raisins
1 teaspoon cumin
1 teaspoon salt
1 teaspoon black pepper
1 teaspoon cinnamon
½ teaspoon red pepper flakes
1 ½ cups chopped butternut squash, cooked
1 cup crumbled feta cheese
½ cup pine nuts
Toppings and Garnishes after cooking:
¼ cup mint, baby leaves or chiffonade
⅓ cup honey
Preheat oven to 400 degrees with pizza stone inside.
To make the pesto, combine the garlic, packed basil, mint, feta, and pine nuts in a food processor and pulse to combine.  Then drizzle in olive oil while the processor is running until a loose paste forms.  Set aside.
In a large skillet, heat olive oil over medium heat and sauté the onions and garlic until soft and fragrant.  Add the ground lamb and cook for about 10 minutes, breaking up the meat until it is cooked through.  Drain off any excess fat from the pan and add the red bell pepper, raisins and spices.  Cook for another 5-7 minutes.
Spread about ¼ cup of the pesto on each naan bread.  Top with the lamb mixture, ¼ of the chopped butternut, and sprinkle with the feta and pine nuts.  Drizzle the crust with olive oil.  Put in the oven on the hot pizza stone and bake for 8-10 minutes until crust is browned and feta has just started to lightly brown.
Remove and garnish with the fresh mint and drizzle with honey.
Select multiple categories to narrow your search! Want appetizers made with chicken? Just select both Appetizers and Chicken!